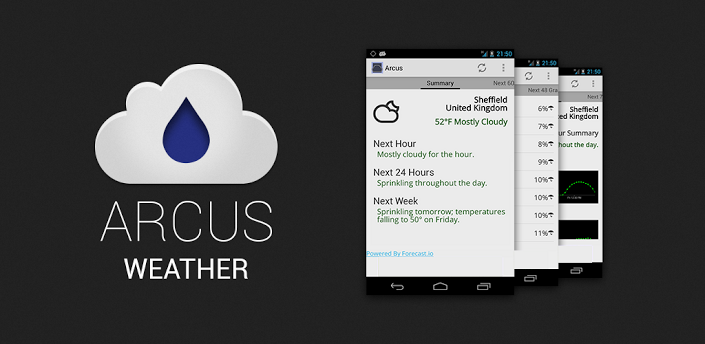 Arcus will tell you when rain is going to fall within the hour, down to the minute, how long it'll rain for and how strong the rain will be.
"Heavy rain starting in 4 minutes, for the next 35 minutes".
Arcus uses the new Forecast.io (previously Dark Sky) API to get the most accurate, and most current weather information.
Bold claims indeed but this app has to be used to be actually believed. Being from the UK we obsess about the weather because it's so temperate. You could have all the 4 seasons in one day, over here. We often leave home without a coat to be caught in heavy showers just half an hour later.  Also the weather is the most talked about topic with strangers or even people you know, you could call it sad but you have to be prepared. This is where Arcus really stands out for me….. This application is extremely accurate even down to what time the rain is due and how long it'll last. A complete time frame breakdown in Holo.
A highly informative application built in Google's recommended guidelines. 
Lets have a look at what information Arcus provides
Screen shot 1,  This is basically the front page which is pretty standard in most weather applications, of this kind.  Location, temperature, condition, wind, humidity, forecast. With most apps this is where it ends…
Screen shot 2,  The next 60 hours with a graph showing precipitation intensity. I love graphs! Will it rain and how hard.
Screen shot 3,  Next 48 hours list. An hour by hour breakdown by time with a chance, in percentage, of rainfall. (Nice umbrella icon)
Screen shot 4,   Did I mention I like graphs? Another with the next 48 hours plotted.
Screen shot 5, Ah. You don't have to have the various pages in the order I used. This is where you choose what to view and in which order.  Long press to move up and down, all very familiar and easy to grasp.
Screen shot 6, These are actually widgets on my home screen. You have a choice of.. Dark, Light, Transparent – Dark and Transparent – Light. This looks awesome on you screen with just enough information on display.
Conclusion
Yes there are too many weather apps and I'm pretty sure you started reading this thinking "OMG I needz another weather appz," well you won't once you start to use this. When Arcus informed me it was going to rain in 6 minutes, I sat and waited to see if it would. Guess what, it didn't but it started to rain in 7 minutes. That blew my mind! Take a second and think about it. It's witchcraft or Voodoo. As close as a minute prediction in a crappy city no one knows where it is. I was very very impressed with the accuracy and still am. A beautiful application and packed with intelligent and useful weather information. I couldn't recommend this more if you obsess over the weather, like me. (That advert is pretty garish but the pro version can be purchased for £1.)
(A link for download has been provided. Free with ads)