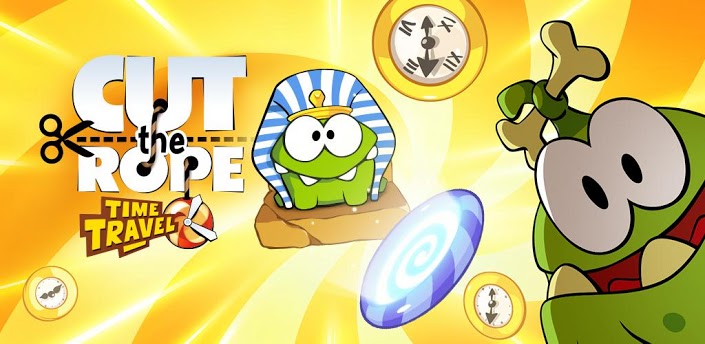 Cut the Rope: Time Travel – Review
For anyone unfamiliar with the Cut the Rope series (though I can't believe there are many out there), they are simple yet fun game based around getting a piece of candy into the little green creatures mouth, this creature is called Om Nom. The candy is normally suspended via a piece of rope in a very awkward place, the only to get this candy down is to slice your finger across, cut the rope and land it in Om Nom's mouth.
Cut the Rope: Time Travel doesn't stray too far from this path. The basic gameplay is the same, but the main difference is that in most levels, you'll be feeding two Om Noms instead of one — one being from "our" time, while the other is one of his ancestors from the time period each of the sets of levels is based around. Both Om Noms must be successfully fed in order to pass the level.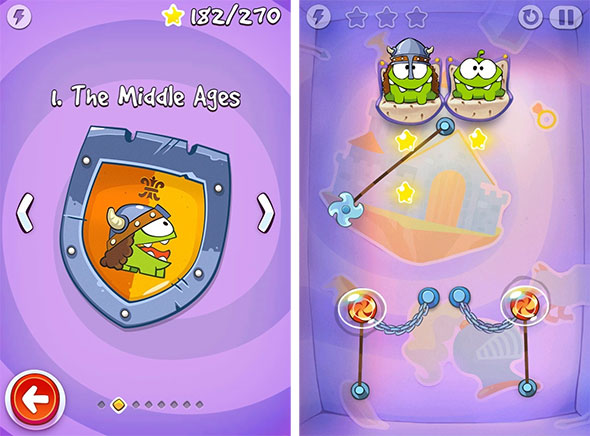 As you progresses through the game, various new game mechanics start to show themselves. For example, chains can only be cut by dropping blades on them, but blades will also destroy candies if they hit them. You'll never get bored of the gameplay as when you progress through new mechanics start to appear. I actually found this game a lot harder than the previous two games Cut the Rope and Cut the Rope: Experiments. This is probably due to the much larger percentage of puzzles that require perfect timing as well as forward planning. You would need to of at least played one of the previous games as this is arguably the hardest of the 3 games. It's a very clever idea — inexperienced, casual players can start with the easier, earlier games, and those who have already seen everything they have to offer can move on to the tougher challenges in this new version.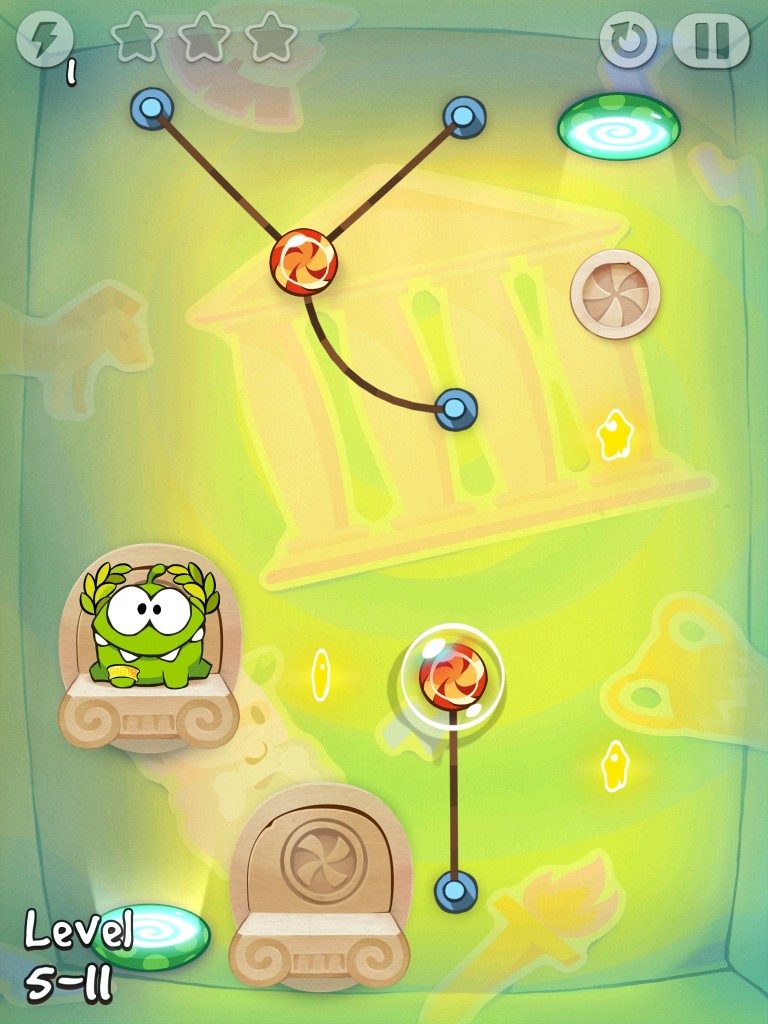 The game features only one method of making additional money for the company, this being superpowers. These can be purchased at any point during the game, and when activated allow you to control the candy. It will never fall of the screen and you can even grab an extra 4th star per level.
Cut the Rope: Time Travel is a great sequel that I'm sure will appeal to those of us who enjoyed the previous titles. I think it may be time for the developers to look into another style of game, their last attempt of that was Pudding Monsters and that never really took off. I would love for them to do what Rovio did with Bad Piggies and make a game based on the franchise but running in a different direction.
The link for the game is included below: