Ebox Air i Android Projector Review
Today I am looking at the Ebox Air i Android projector. Running Android 4.4, this Rockchip RK3128 powered projector allows me to enjoy gaming and movies on any flat surface. No need to connect to another device as the OS is on the projector itself, and an internal battery, the future of entertainment is here!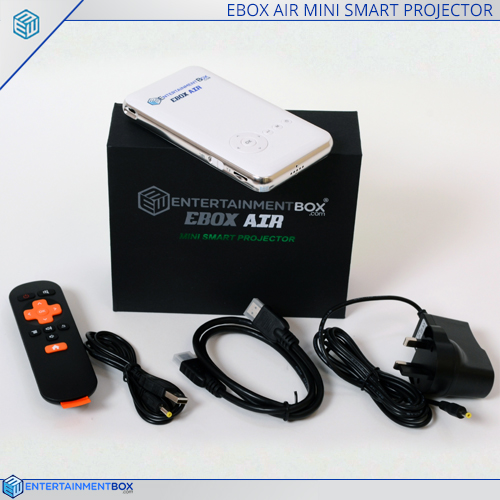 Specifications:
Operating System: Android 4.4.2
CPU: RK3128 Quad-core ARM Cortex-A7 CPU
Memory: 32GB eMMc on-board memory
Storage: Supports Micro SD / TF Card (Up to 32G)
Ram: 1gb
Projection Technology: DLP
HDMI In/Out: HDMI out
USB: 2 high speed ports
Bluetooth: Yes 4.0
Kodi: EBMC 16.1 Installed
Brightness: Up to 100 lumens
Resolution: 854*480(FWVGA)
Optical Resolution: 854×480 dpi
Imaging: USA TX DLP 50 Technology; 0.3DMD + RGB LED (better then pico led mini projectors)
Lamp Type: RGB three-color LED light source, 30000 Hours Lamp Life
Aspect Ratio: 4:3 / 16:9 / 16:10
Contrast Ratio: 2000:1
Throw Ratio: 1.19:1 (76 inch @ 2M)
Projection Cover Size: 30-120 inches
Projection Distance: 1-5M
Operating Mode: Touch Key-press
Lens: Manual Lens * Auto focus immediately, move forward or backward, it is always clear. (There is a manual focus roll too for small adjusting)
HDMI input: Support HDMI input
Audio Frequency Out: Support Audio Frequency Out
I / O (Input / Output) Port : 1 * HDMI input port; 2 * USB 2.0 Input port (Support USB flash disk, Mobile Hard Disk, etc.), 1 * 3.5mm Audio Output port (for Earphone, Loud speaker); 1 * Micro SD / TF Card Slot (Up to 32G), 1 * Power Input port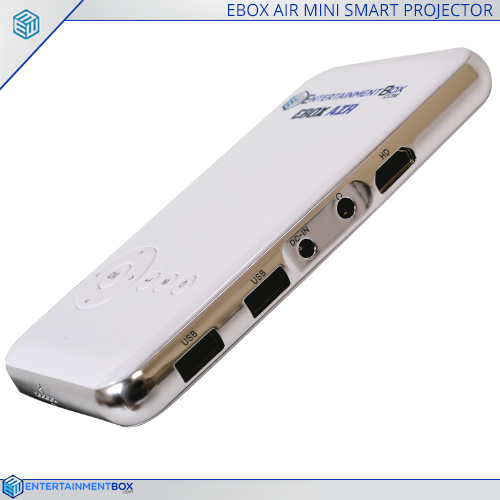 The Ebox Air i is slightly bigger than a phone, but smaller than a tablet, but still fits perfectly in my pocket. The whole device may not be a looker, but it's a solid piece of kit and feels very durable. The 4200mAh battery means that I can project on the go, and no need to bring a remote as all controls are on the top. There's a headphone port on the right meaning that I don't have to use the speaker on the back. Though I was was impressed by how loud that speaker grill could get.
The UI is pretty basic, but as it's android you can always install a different launcher. This launcher will be great for beginners as everything is a click away and marginally intuitive. Though you can whack on something like Nova Launcher and customize as you go.
I tested various media programs like Kodi, Youtube and Netflix, all worked really well. I didn't notice a single skip or issue when watching 1080p videos on any of those programs. Streaming from an external device worked well too, and didn't have any issues. I wouldn't suggest 4K as I think that is too much for it to handle, but watching 720p – 1080p videos are no problem for the Ebox Air i.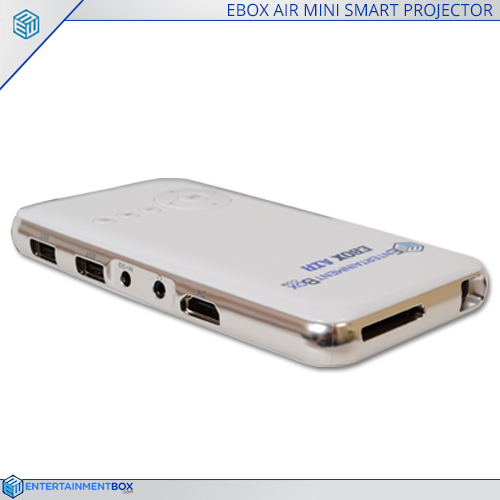 Ideal conditions for the projector are gonna need to be flat and darkness. I tested this on the ceiling at night to watch Youtube and it worked perfectly, though on a dark wall with the sun coming in, it did become quite hard to see.
The Android OS meant I could install things like games and they played pretty well. The specs aren't amazing on this, so I wouldn't expect to be playing big games, but for low resource games this is perfect.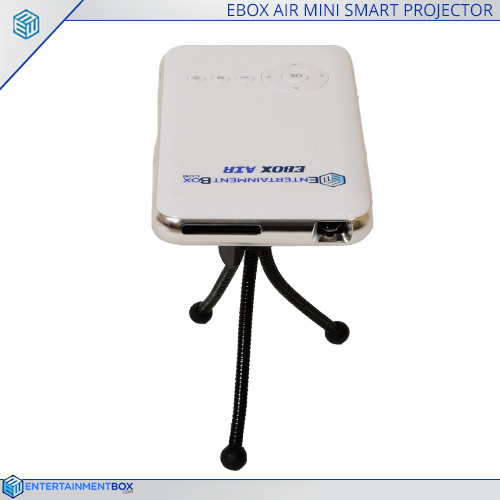 The price for this freedom is £189, and is a perfect addition to anyone who travels around a lot and wants to film on the go. I found this great for hotel rooms, as it meant I could stream Kodi onto the wall and watch what I wanted.
entertainmentbox.com/product/ebox-air-smart-mini-projector-android-4-4/