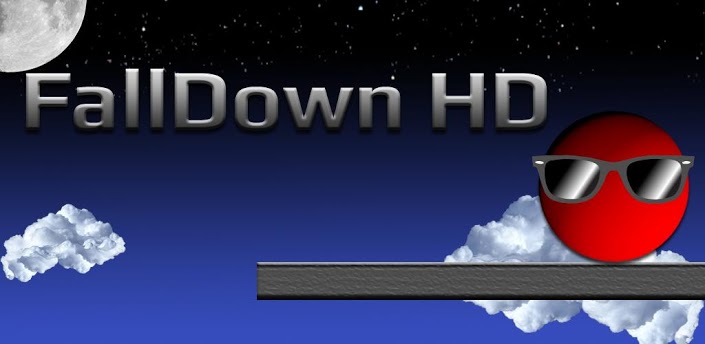 Google Play Description
This is the ad-supported version of the game. If you like the game, get the Ad-free version!Pack your bags cos FallDown HD will bring you to an endless and exciting journey!**NEW** Realtime multiplayer and cloud save with Google Play Games !Features :* Play either with the gravity or the touchscreen
* Classic version, without ball inertial
* Great music
* Great background
* Share your best scores online !
* NEW: Play online in real-time against other players !
* NEW: Unlock achievements !
* NEW: Cloud save and sync scores and achievements with Google Play Games !Your mission is to bring the red ball from outer space back to Earth's Core.
Easy you say? You have to Falldown through the holes and avoid getting hit by the top.
During this journey you will meet sea-creatures and Tom the Diver among other surprises!
Hop on this unforgettable ride to the Centre of the Earth!
FallDown HD is fun. Simple fun. Keep making your way down the screen for as long as you can.  Two control options, touchscreen or phone tilt, as the app calls it. Normally I'd opt for touchscreen, using the accelerometer for games just feels unnatural to me but for some reason I actually prefer it with this game. I also found I preferred playing it on my phone over my tablet, possibly because my reaction times felt faster with the smaller screen. It's addictive, infuriating, and perfect for quick blasts.
The multiplayer was fun too, when it worked. Ste and I spent about an hour trying it out, and had a good laugh. It's buggy, whether that's on the game's side or Google Play Games' side remains to be seen, but we'd often start a game only to get an error message, usually that one player had left the game, so it wasn't smooth sailing. But, as I said, it was fun when it worked, probably helped by the fact that we were in a hangout at the same time. If the day ever comes when Android games can handle voice chat (unlikely) then social gaming on the platform would most likely explode.
The inclusion of leaderboards and achievements is a plus, extending the lifespan of the game if you are the competetive type.
Screenshots don't really do this game justice, so I'll leave you with a couple of videos, one of both multiplayer and singleplayer.
It's free, fun and addictive, so go grab it if you haven't already

Better yet, support the dev by purchasing the ad free version