Gunslugs is the most chaotic, fun, arcade action game you'll find on any platform! Non-stop action from the guys behind Meganoid, Meganoid 2 and Stardash !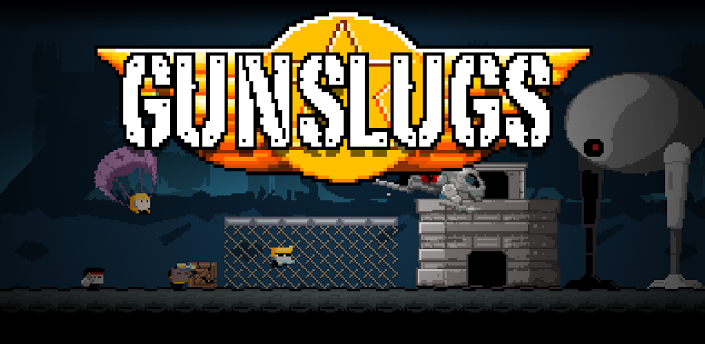 – We grabbed a bunch of expendable action hero's from the 80s and we made them team up as the Gunslugs to fight the war against the always evil Black Duck Army. Can you save the planet? maybe even the universe?

FEATURES
* Random level generation – no 2 game sessions will be the same!
* Unlockable characters
* Thumping sound track
* Fun variation of weapons
* Tank driving!
* Jetpack flying!
* Secret levels
* Objectives/achievements
* Destruction
* Chaos
* Rain, snow, and big bad hell worms
* Wizards, princesses, geeks, voodoo priests and many more surprises… !
– Two player co-op mode is supported by use of the BT controllers, Wiimotes, OUYA controllers and more, check http://orangepixel.net/gunslugs for more info.
Played on Nexus7 & Nexus4
Not sure if it's nostalgia or I'm of a certain age but i love these types of games. 8bit look, old school sound track. Addictive, rapid firing, simple buttons. A simple time. I'm actually fairly new to Android gaming in general so I must have missed Orangepixel's game back-catalogue. So glad I downloaded Gunslugs though…..
Looks
8-bit, pixelated and very easy on the eye. Menus and buttons look nice, everything looks like something I played as a kid. 'No insert coins' font flashing.
Gameplay
Runs smoothly on both devices I played on. Not even a slight lag or stuttering. Blasting everything on site with a lot happening on the screen, nothing seemed glitchy or slowing down. Not actually sure what the official storyline is. Pick your dude go blasting everything, destroy some towers, more blasting. The introduction mentions tanks and jet packs, although I haven't got that far yet.
Controls
I just used the on-screen controls to start with. Don't really think you need a gaming control for this, which usually I prefer. (Except for 2 player) On screen everything is simple to tap, didn't notice any misses on key presses that stood out and spaced out well so you don't hit the wrong button.
Music
You'll love it! Enough said.Think mid 80's arcade or playing Nintendo.
Repalyability
I just made that word up but I'm hooked. It would be fair to say that this game won't have you putting in a silly amount of hours play to get anywhere. It isn't supposed to be. Reach for your phone or tablet and blast away for a few levels when you have 10 minutes spare then go back when you're on the John and do another few levels. A great game to waste some time on.
Conclusion
I couldn't recommend this more. It is what it is. I say that all the time but you are now expecting a retro 80's game to have fun and this is what you will get. I downloaded the free version first, played a few levels then purchased the paid for. More of appreciation for developing a fun game that I'm certainly going to enjoy for a week or two and recommend here and  to my friends at work or whatever. I think most will enjoy it but maybe some won't, if you don't like this sort of game.
As always you can download from the widget below, It's the paid for version, priced at £1.65
If you'd like to try before you buy please search for other titles from this developer. Have fun and enjoy.