Huawei has today announced the launch of StorySign, an app that will help enrich story time for deaf children and their parents. There are approximately 32 million deaf children globally, and many struggle to learn to read, often due to a lack of resources bridging sign language and reading. StorySign uses the power of Huawei's AI to create an authentic reading experience, helping to open the world of books to deaf children and their families.
Pioneered by Huawei and launching in the UK on the 3rd December, StorySign will feature popular children's book, Spot the Dog, at launch. With the help of StorySign's friendly avatar Star, and using the power of Huawei AI, the app will translate the featured book into perfect sign language page by page, delivering a seamless user experience.
"At Huawei, we believe in the power of AI and that technology can make a positive difference in the world", comments Andrew Garrihy, CMO Huawei Western Europe. "We created StorySign to help make it possible for families with deaf children to enjoy an enriched story time. We hope that by raising awareness of deaf literacy issues, people will be encouraged to donate to or support one of the fantastic charity partners we are working with across Europe."

"With StorySign, Huawei is using the power of its AI and innovative technology in a meaningful way." comments Mark Wheatley, Executive Director, European Union of the Deaf. "We're very hopeful that it will make a significant impact in the deaf community, helping more deaf children learn how to read at the same level as hearing children. We also hope the launch of StorySign will support a wider conversation about ensuring equality in every aspect of their lives for deaf people across Europe."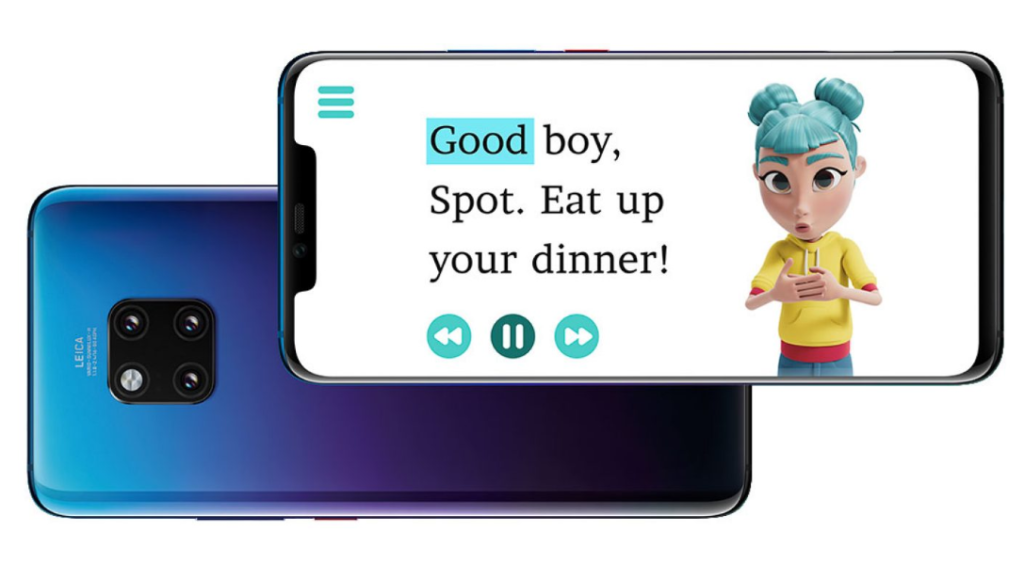 Huawei has created StorySign in conjunction with experts and charities from the deaf community to offer a genuinely useful tool for deaf children and their families. Deaf children can struggle to learn to read due to not being able to hear their parents read them a bedtime story or a teacher repeating sentences – all key milestones for a hearing child at the crucial early learning stages. What's more, Sign has no written form as there is no direct English word-for-word translation, which poses a huge challenge to deaf children when learning to read. The StorySign app, in conjunction with a smartphone and a physical book, delivers the best story time experience for both parent and child.
Optimised for Huawei AI, features including Image Recognition and Optical Character Recognition (OCR) will create the best possible reading experience. The Image Recognition allows children to position the phone at an angle from the book and the app will still recognise the words perfectly, whilst the OCR permits the app to function with greater accuracy. The AI performance will also power the speed at which pages from the book can load in the app, meaning that children won't be left waiting too long to find out what happens next in the story.
StorySign can be downloaded for free from Google Play Store and the Huawei AppGallery in 10 markets across Western Europe. Huawei worked with the European Union of the Deaf and its local charities across WEU, publishing partner Penguin and animation specialists Aardman to develop the app.
To watch the film and learn how you can help, visit www.storysign.com. Donations can be made via the StorySign campaign hub on the Huawei website throughout December and all money raised will support deaf child literacy projects across Europe, including more books for StorySign.