Smartphones, tablets, portable games consoles, Bluetooth accessories and now even Smartwatches. We love our gadgets but their increasingly large batteries need to get charged, and charged quickly. Chargers and cables tripping you up and hanging around looking untidy? There's gotta be a better way while we wait for wireless charging to really take off.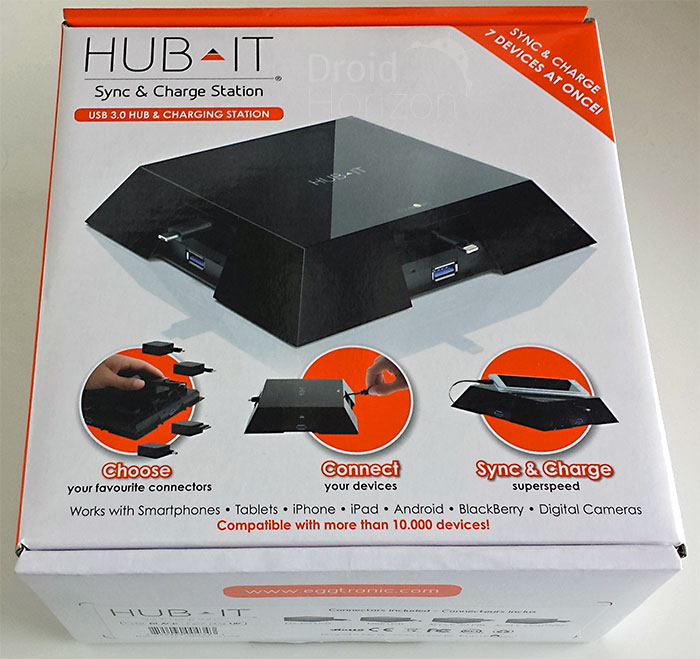 Eggtronic are addressing this problem with the HUB IT Sync & Charge Station – a modular charging station which will also act as a powered USB 3.0 hub for your PC or laptop with full syncing capability.
HUB IT can charge up to 7 devices at the same time, limited only by it's 5V 4A power adapter (all connected devices have to share those 4 amps, so charging may happen more slowly with multiple devices connected).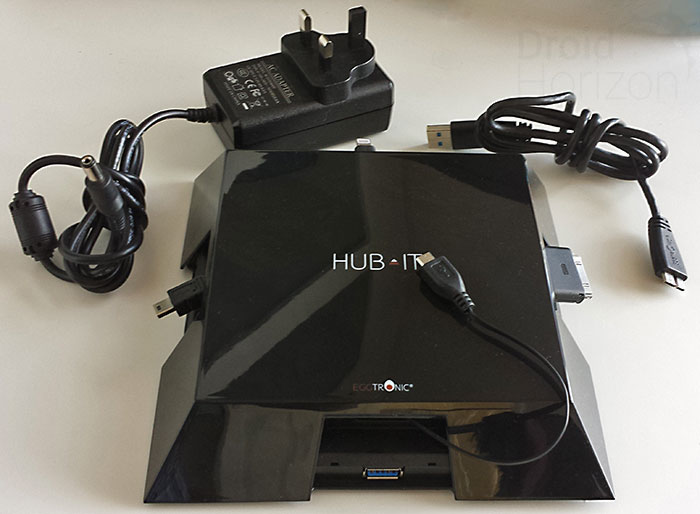 You can use your own cables with the 3 standard USB 3.0 ports, but the HUB IT also comes with 4 exchangeable cartridge connectors which have short retractable cables – just the right length for placing your gadget on top. Out of the box there's a micro USB, a mini USB, an Apple 30 pin and an Apple lightning connector. If these don't match your current complement of gadgets you can buy a range of replacements for a wide variety of devices for around $8 a piece. Probably most useful for us Android users would be having a spare micro USB cartridge or two.
The top shell of the HUB IT is made from glossy black (fingerprint magnet) plastic which can be used to place your device on while charging. Four notches at the base keep it in place and to remove it you just need to pull the cover out at either side and lift. This reveals the modular insides with the 4 included cartridge connectors which can simply lift out and be removed or inserted in a different position. There are also spaces where Eggtronic can add modules for additional functionality in the future. They are working on a battery to allow charging off the grid, a wireless charger and even a Wi-Fi repeater.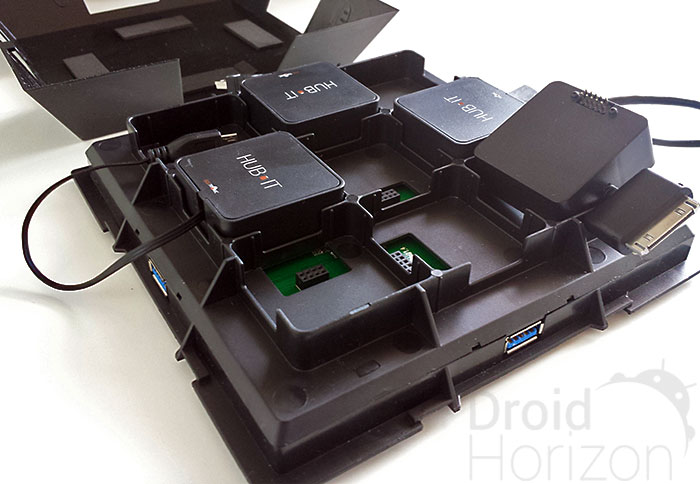 Setup couldn't be easier – for charging you just need to connect the power adapter. One thing that bugs me about a lot of chargers is that they are inefficient. When they're warm to the touch you just know they're wasting electricity, and I feel compelled to unplug them when not in use. Thankfully this isn't the case here, with the adapter remaining nice and cool and giving a negligible standby power consumption of less than 0.2W.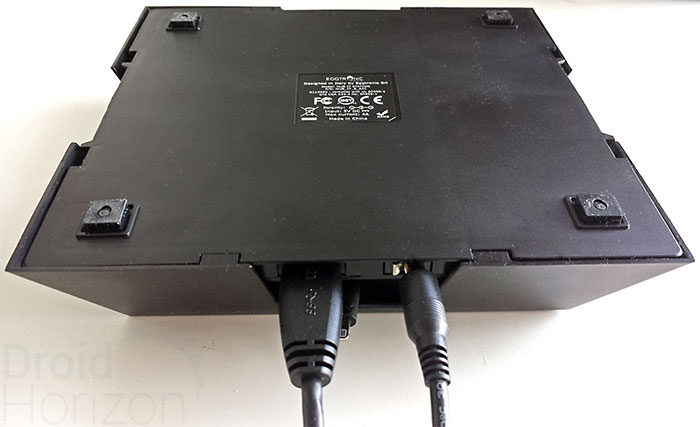 The HUB IT performed well out of the box, having no trouble supplying power to multiple devices. Despite claims of fast charging, tests did show that the charge seemed to max out around 1A which is lower than the 2A chargers supplied with my phone and tablet. Longer charging times confirmed this, but again 1A is fine for an overnight charge. There's a little orange LED for each charging port which lights up when something is drawing power – very handy confirmation that your device is actually charging. When your device is fully charged the LED begins to flicker.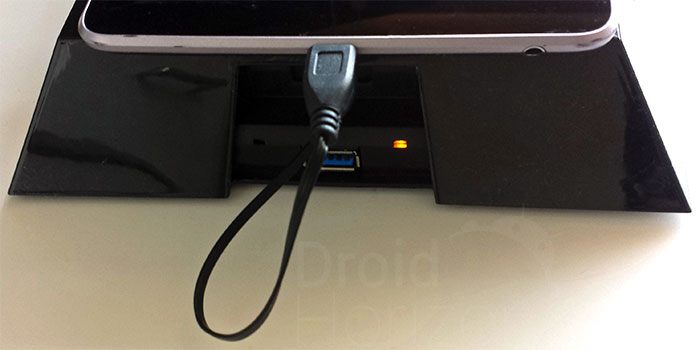 If you also want to sync with your PC then there's also a USB 3.0 cable supplied. When attached to a PC (even an Android mini-PC) the HUB IT performed flawlessly as a powered USB 3.0 hub. I never seem to have enough USB ports and unlike some hubs, with this I have no worries that my external hard drives won't be getting enough power.
Currently priced at $77 on Amazon US, the HUB IT would be around the middle of the price-range for these types of devices. There are cheaper powered USB hubs and multi-port USB chargers, but none with the convenience, modularity and style of the HUB IT. If you are looking for a neat solution to tidy up your mess of chargers (and which you'll also be able to tailor to meet your future needs) then I can highly recommend the HUB IT.
You can find full details of the HUB IT on the Eggtronic website…