NERF N-Strike Mega and Elite Blaster Review
NERF N-Strike Mega Mastodon Blaster
There are NERF guns, and then there is the Mega Mastodon Blaster. This bad boy needs 6 D Batteries to power it, which shows how much power is has. The 24 darts which are included fit nicely into the drum, which is easily attached.
The gun has two triggers, one needs to be held down, and the other can then be used to fire darts. The power on this bad boy is immense, this will fire through all 24 darts in under 30 seconds, with a satisfying thump with each fire. This is definitely the gun you would bring to a knife fight.
The whole thing can be put together in under 5 mins, and even has a strap as it is that big. I was disappointed to see that the batteries weren't included, and that was an added cost to me. The distance is fantastic around 23 meters, and I was genuinely worried about breaking glass when firing around the house.
First motorised Nerf Mega blaster
24-dart rotating drum
Includes 24 Mega Whistler darts
Suitable for ages 8+
amazon.co.uk/dp/B01CZYOFAY?tag=ps-uk-hasbro-02-21
NERF N-Strike Elite Hyper Fire Blaster
This is a slightly smaller version of the Mastodon, yet still packs a huge punch. The Hyper Fire was easy to load and even had room for additional darts if needed. The gun comes with 25 darts in the box.
The Hyper Fire can fire up to 5 darts per second, which means in 5 seconds I have blown the entire load of darts all over the room. This requires 4 D Batteries, which aren't included in the pack, so they would need to be bought.
Distance was good, a bit further than the mastodon around 27 meters. The Hyper Fire is more about speed, then power. This is actually my favourite of the two, with it being easier to just pick up and use.
Fires up to 5 darts per second with fresh batteries
25-dart drum
Fires darts up to 90 feet (27 meters) and comes with 25 Elite darts
Motorised dart blasting
Suitable for ages 8+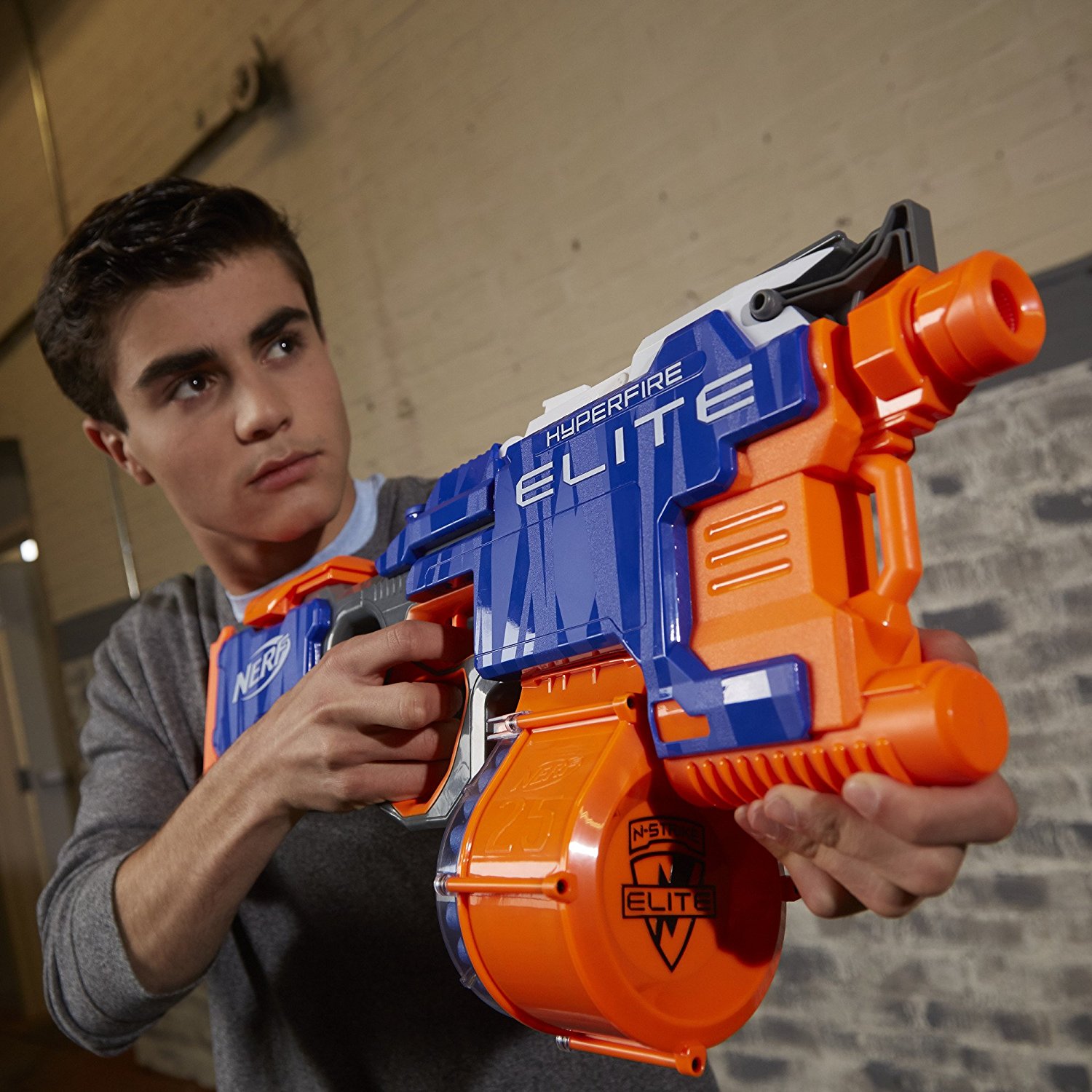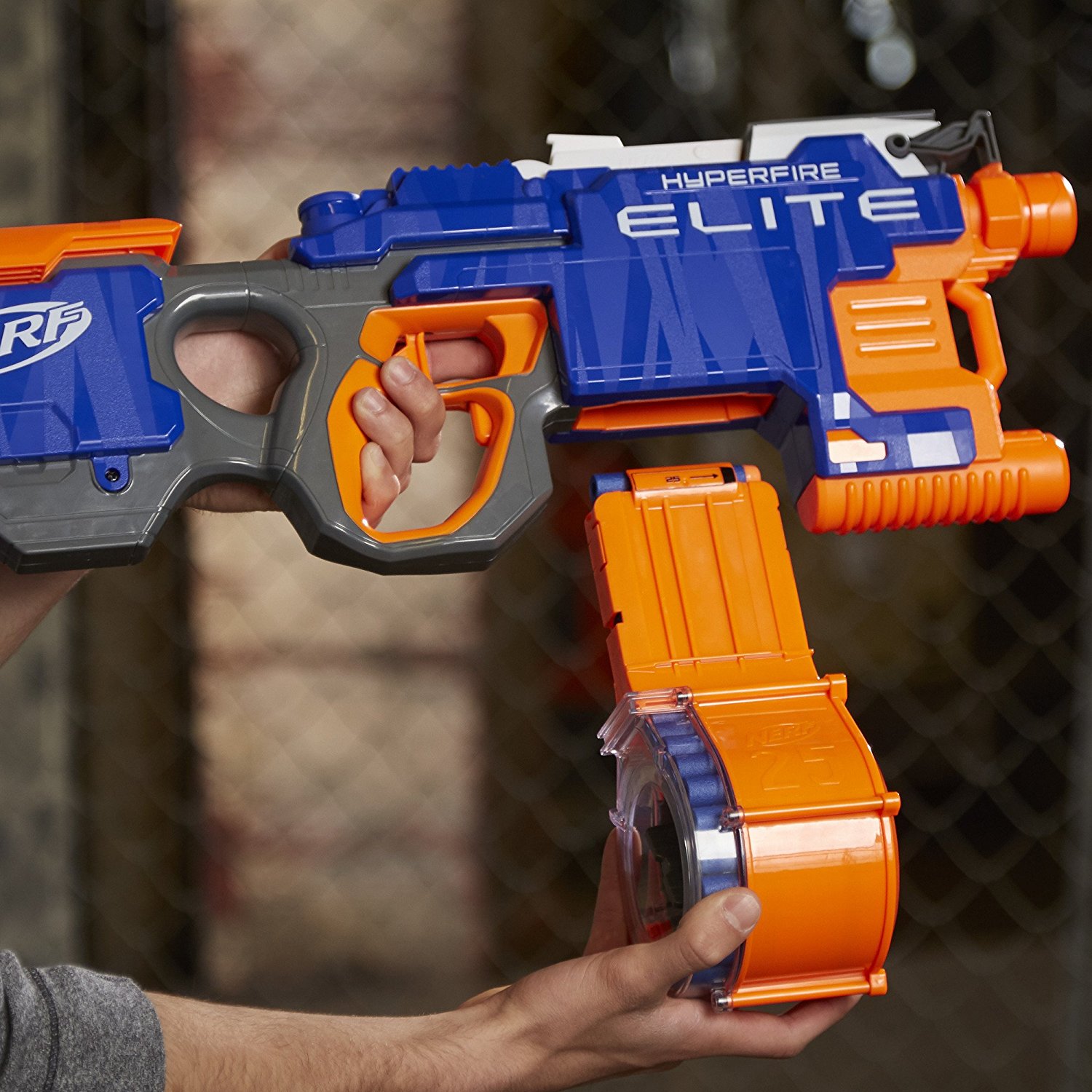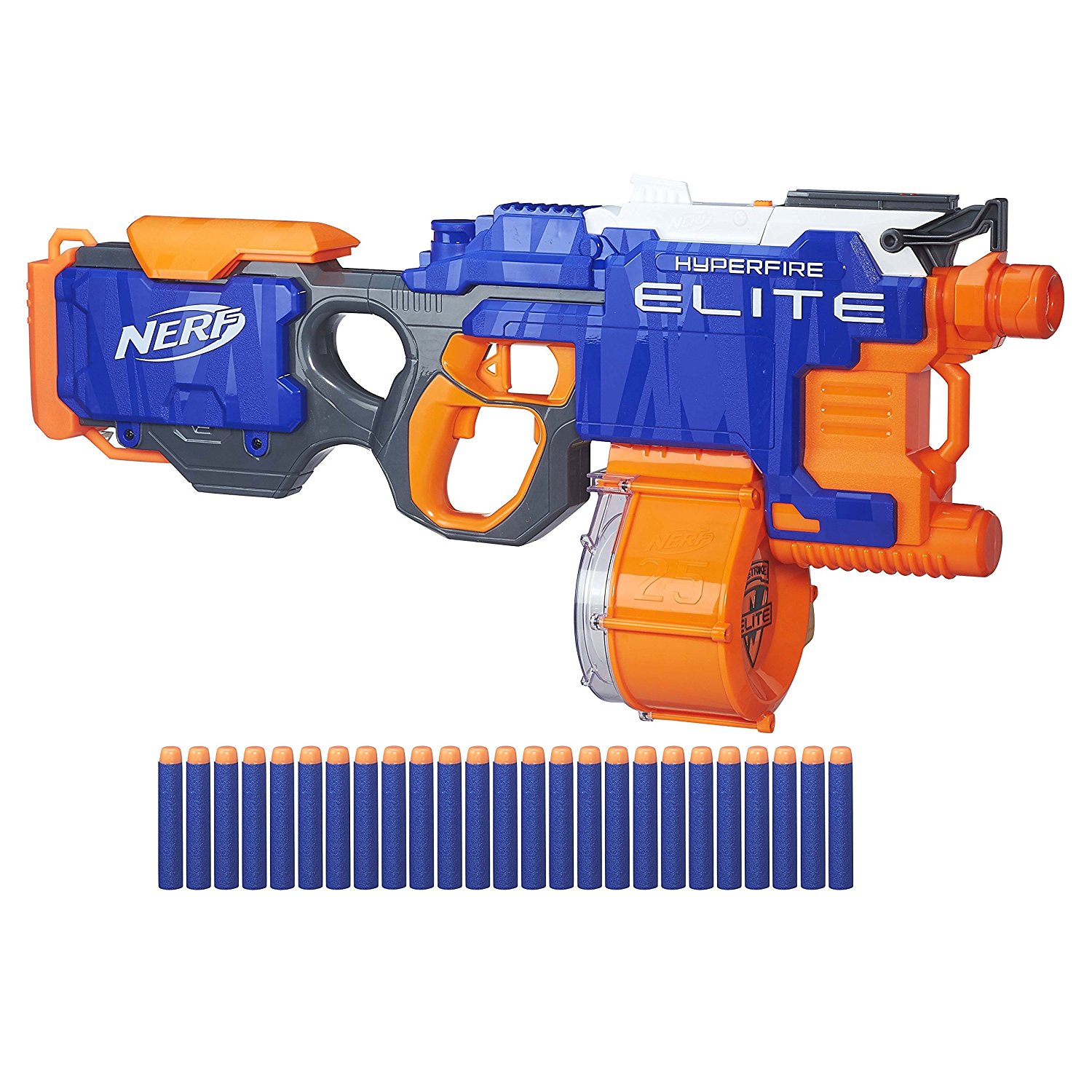 amazon.co.uk/dp/B01BP6GPV0?tag=ps-uk-hasbro-02-21