Android: Be together. Not the same. The new Nexus line

 Nexus 6 specs
SCREEN
5.96-inch AMOLED, 1440×2560 (493 ppi)
Corning Gorilla Glass 3
SIZE
82.98mm x 159.26mm x 10.06mm
WEIGHT
6.49 ounces (184 grams)
CAMERA
Rear camera:
13 MP IMX 214 Image Sensor
f / 2.0 aperture
Optical Image Stabilization
Ring flash with dual LEDs
4K UHD video capture
2160p (4K) UHD, 1080p HD and 720p HD video capture modes (30fps)
4X digital zoom
HDR+
Panorama, PhotoSphere and Lens Blur​
Front camera:
2MP
AUDIO
Stereo front facing speakers; 3.5mm headphone jack with 4 button headset compatibility
MEMORY
32GB, 64GB
CPU
2.7GHZ Qualcomm Snapdragon™ 805 – Quad Core (APQ 8084-AB)
GPU
Adreno 420
RAM
3GB RAM
WIRELESS
Broadcom 802.11ac 2×2 (MIMO)
NETWORK
Americas SKU: (XT1103)
GSM: 850/900/1800/1900 MHz
CDMA: Band Class: 0/1/10
WCDMA: Bands: 1/2/4/5/8
LTE: Bands: 2/3/4/5/7/12/13/17/25/26/29/41
CA DL: Bands: B2-B13, B2-B17, B2-29, B4-B5, B4-B13, B4-B17, B4-B29
Rest of World SKU: (XT1100)
GSM: 850/900/1800/1900 MHz
CDMA: not supported
WCDMA: Bands: 1/2/4/5/6/8/9/19
LTE: Bands: 1/3/5/7/8/9/19/20/28/41
CA DL: B3-B5, B3-B8
POWER
3220 mAh Talk time: up to 24 hours
Standby time up to 300 hours
Internet use time up to 8.5 hrs Wi-Fi, 7 hrs LTE
Qi wireless charging built-in
Turbo charger gives up to 6 hours of power in 1 minutes
SENSORS
Accelerometer, Gyro, Magnetometer, Prox, Ambient Light Sensor, Haptics, Hall effect, Barometer
PORTS AND CONNECTORS
Micro USB
Single nano SIM
Power and Volume key on Right Hand Side of the device
3.5mm audio jack
OTHER
Water resistant
OS
Android 5.0 Lollipop
COLORS
Midnight Blue, Cloud White

Nexus 9 specs
SCREEN
8.9″ IPS LCD TFT, 4:3 aspect ratio, QXGA (2048×1536)
SIZE
153.68 mm x 228.25 mm x 7.95 mm
WEIGHT
WiFi: 14.99 ounces (425g)
LTE: 15.38 ounces (436g)
CAMERA
Rear Camera: 8MP, f/2.4, 29.2mm focal length (35mm equiv), Auto-focus, LED flash
Front Camera: 1.6MP, f/2.4, 26.1mm focal length (35mm equiv), Fixed-focus, no flash
AUDIO
Front-facing stereo speakers, complete with HTC's BoomSound™ technology
MEMORY
16, 32 GB eMMC 4.51 storage (actual formatted capacity will be less)
CPU
NVIDIA Tegra K1 – 64 bit; Dual Denver CPUs @ 2.3 GHz
GPU
Kepler 192-core GPU
RAM
2GB LPDDR3
WIRELESS
Broadcom 802.11ac 2×2 (MIMO)
NETWORK
Quad-band GSM, CDMA, Penta-band HSPA, 4G LTE
POWER
6700 mAh
Wifi Browsing: Up to 9.5 hours
LTE Browsing: Up to 8.5 hours
Video Playback: Up to 9.5 hours
Wifi Standby: Up to 30 days
LTE Standby: Up to 30 days
SENSORS
GNSS support for GPS, GLONASS, and Beidou
Bosch gyroscope and accelerometer
AKM magnetometer & hall effect sensor
Capella ambient light sensor
PORTS AND CONNECTORS
Single micro-USB 2.0 for USB data/charging
3.5mm audio jack
Dual front-facing speakers
Dual microphones, top/bottom
OS
Android 5.0 Lollipop
That 4.3 screen ratio seems to be an issue with some folk, it's certainly a different step agreed by HTC and Google. You've got the famous Boom Sound, a choice of colours and storage sizes (again no SDCard slot.) The tablet is fairly lightweight and with a great screen resolution and DPI. NVIDIA Tegra K1 – 64 bit;  & Dual Denver CPUs make the Nexus 9 a benchmark beast. What this equates to in real world usage will been seen over the coming months. Promoted as the device to use at work or just for playing with, the brushed steel finish screams of high quality in the looks department.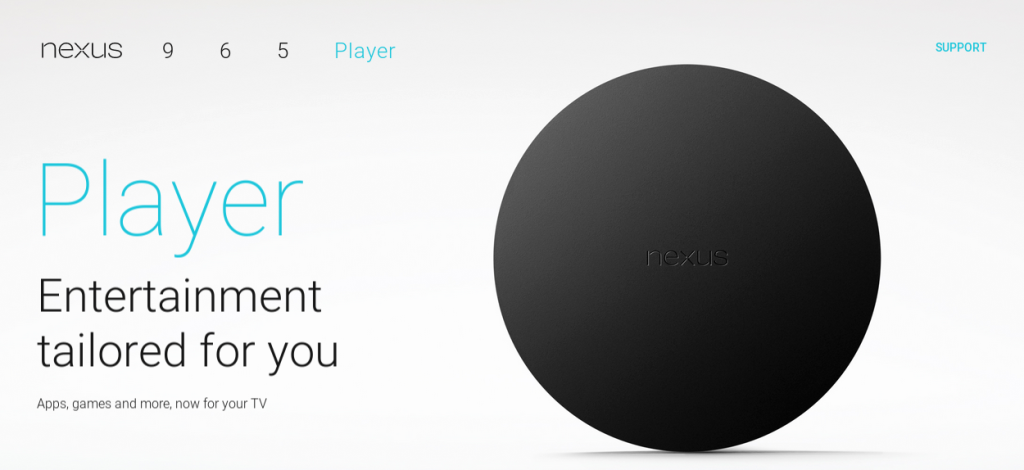 Nexus Player specs
1.8GHz Quad Core, Intel® Atom™
802.11ac 2×2 (MIMO)
HDMI out
In-box
Nexus Player
Remote with voice search
Power adapter
2 AAA batteries
Quick-start guide
Warranty, Safety and Regulatory booklet
Requirements
TV with HDMI input & HDMI cable
Internet connectivity (Wi-Fi only)
No ethernet port or HDMI out the Nexus Player will launch for around £100. You'll be able to cast directly to the box from your phone because it has Google Cast built in. The Player won't replace your Chromecast just yet when you think of how portable it is. A game controller will be available at launch for around £40. All those games you bought on Play Store sales can now be played on the big screen. I wonder how well the box handles up-scaling and input lag, these things can only be known when we get to review the product.
Pre-orders start 17th October with expected delivery likely 2 weeks later. We'd love to hear from our readers on which device they fancy most. Have you been impressed with the announcement? Which device in particular? Hit us up on our social streams or via the comments section below.