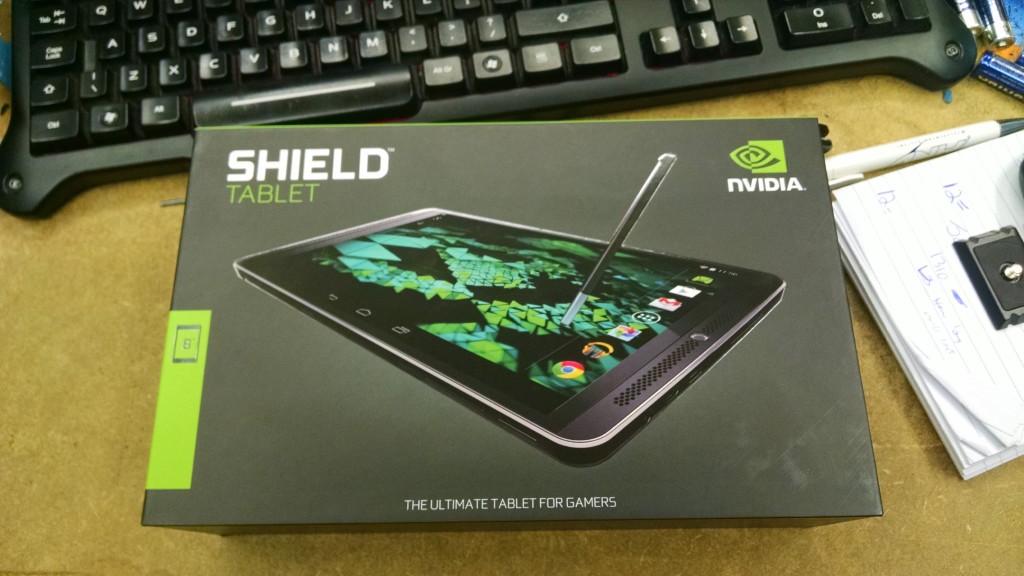 When the Nvidia shield started hitting the rumour mill we all knew it would be something rather impressive and by jove it really is! What Nvidia have done is take the Nexus 7 and put it on steroids. It's bigger, louder and has a shed load more power. The tablet is being pushed as a "gaming tablet" by Nvidia, whilst it does have the most powerful GPU in any android tablet at the moment this tablet is suited to everyone looking for a new tablet.
Priced at £239.99 this is only £40 more than the current Nexus 7 and £10 less than the Samsung TabPRO 8.4". The Ipad mini 16gb with no expandable storage is £79 more. For £240 you get all of this:
Processor
• NVIDIA® Tegra® K1 192 core Kepler GPU, 2.2 GHz Quad Core A15 CPU, 2GB RAM
Display
• 8-inch 1920×1200 multi-touch IPS display
Audio
• Front facing stereo speakers Dual bass reflex port
Cameras
• Front: 5MP HDR; Back: 5MP auto focus HDR
Extras
• Stylus, NVIDIA GameStream, NVIDIA ShadowPlay, GRID Cloud Gaming Beta, Micro SD Card, up to additional 128GB, Mini-HDMI 1.4a output and so much more.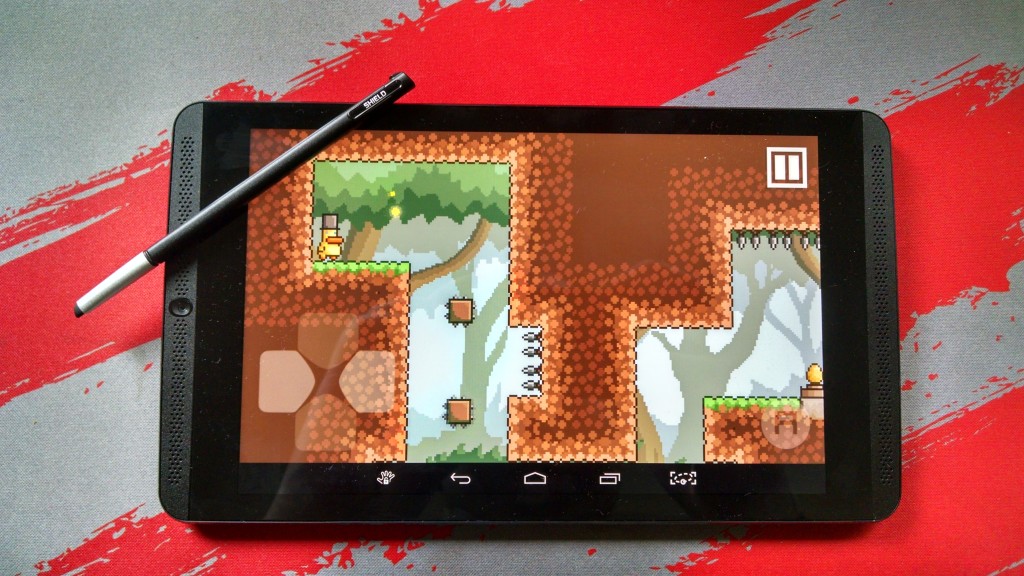 The build quality is mixed. The tablet as a whole feels strong, like it could take a few drops. The stylus clips in really well, you don't feel you are going to lose it randomly. There are no bending or creeks but the screen bezel is a little bit sharp and you can feel it with your fingers. The buttons are the biggest disappointment of the build – they are soft and offer no tactile response. Sometimes I'm not sure if I have even pressed the power button and end up turning the screen off and on a few times. The SDcard port makes it a bit tricky to get the card in, but it works really well. I have moved a couple of games onto the SD card and they launch just as quickly, no problems there. I shall be getting a 128gb SD card to replace the 32gb I had lying about. The USB port feels sturdy and the micro USB connector plugs in and holds well. – You also get a charging LED to confirm it's plugged in and working.
The hardware: from the offset you notice those front facing speakers with bass ports on each end. While they are not the loudest at about 79dB (LAeq, 1 min), they offer a full and rich sound. Being forward facing it suits watching Netflix, Youtube and it even helps playing games as you can hear where things are coming from. The screen is an 8" IPS with 1920×1200 resolution. This is far from the best in the market but it shows gameplay beautifully – putting any higher resolution in would raise the price and draw more power from the GPU. However, if you do want 4K gaming you can plug it into a 4K TV and put it to console mode.
Onto the cameras: in my opinion no tablet needs a rear facing camera, only a front one for use with hangouts and other video call apps. So as I'm writing this I'm only going to talk about the front 5mp camera. The camera is perfect for twitch broadcasts and even when taking photos colours are picked up nicely. See below examples. Nvidia have used their own camera app rather than the google one with a custom UI that has plenty of options to help with taking photos. The camera opens quickly and photos save instantly. No lag shown at all. I have noticed most mobile cameras take a second or so to start showing images, that is not the case here.
You also get a stylus called DirectStylus 2.0 which clips nicely into the back of the tablet. Whilst this isn't an active stylus like those on the Samsung note range, it is helped by cleaver software from Nvidia again using the power of that 192 cuda core GPU. It has a wedged shape so you can change the thickness of your lines with ease and it is in a different league from other passive styluses on the market. Also worth mentioning is the back of the tablet, which feels amazing and proves really hard to leave fingerprints on. I discovered this by finding someone in my office who was eating twiglets and had them rub their hands on the tablet. This did leave marks but these rubbed right off with just my t-shirt. This is a far cry from the fingerprint magnet back of the Nexus 7.
The Nvidia shield isn't pure android but it does a good job to feel and act like it but with added extra features.
So, onto the negatives; Nvidia bundled on Evernote & write.  These cannot be uninstalled but can be disabled. While some users may find these handy they can be found on the play store so there was no need for them to be pre-installed. Twitch has also been pre-installed which I can understand because of the broadcasting features but the app is still the same, it can be found on the PlayStore so again it should be removable for non gamers. These are about the only negatives I have found in the software.
Now for the many positives: Dabbler is an art program that uses the GPU to make realistic art. With adjustable features including lighting, water blending and colour mixing it is really rather impressive and kept my wife entertained. I would love to see what a real artist can do with it. The stylus also lets you copy any section of the screen from any app or website into a nice JPEG. This can be used to share to social media websites or import into Dabbler to get the right colours for your art. Shield also uses the new version of Tegrazone called ShieldHub where you can find all the apps that have been Tegra and K1 optimised. They have put in links to buy the games from the PlayStore which is nice as they have avoided using other app stores.
The main reason I purchased the Shield Tablet was for the screen recording capabilities as it can record full resolution videos. I haven't been able to do this on my Nexus 7 and have been making 720p videos with missing frames most of the time. The screen recording has plenty of options – you can toggle audio, change quality and have a twitch style webcam image in a corner. You can also broadcast your screen directly to Twitch, the biggest website for gaming videos. Well… as long as you have a fast enough wifi connection! – You need at least 40 ms ping time, 10 Mbps download and a 5GHz Wi-Fi router. You will be seeing many of these videos from me in the future.
Even with adding all these features Nvidia have shipped it with KitKat 4.4.2. On first boot I got a 700mb update to fix wifi and audio bugs. It would be a PR nightmare if it doesn't get the Android L update, but just how quickly that will happen I just couldn't say. One nice update feature that I have never seen before is a option for Beta software updates, sadly there are no Beta updates as of yet so I cannot say how well this will work.
Overall this is the best Android tablet for heavy use that you can buy. It has features for everyone and the battery to back it up, solid build quality and an up to date version of android. It may not be suited for fashion or high resolution lovers but they have Samsung and Apple to keep them happy. The positives massively outweigh the negatives and I hope that in later model's the buttons are changed. This will be my tablet recommendation of choice from now on.
Check out the video below if you are still on the fence.
[youtube http://www.youtube.com/watch?v=-dtTHdmun8A?rel=0&w=1280&h=720]
P.S it's the current Benchmark King!!