Review: Braven 570
The market is full of similar Bluetooth speaker units that offer different options, quality of sound, robustness and likely most important.. Price. We've reviewed a fair few ourselves over the last few years too and even this speaker's bigger brother the Braven 705. The Braven 570 we are taking a look today sits in the under £50 price point where usually you'll find not great products that sound awful. I can confirm the 570 differs from the rest and if I can make a bold statement.. Likely one of the best Bluetooth speaker units at this price point. The 570 isn't brilliant though but for the actual £40 tag, you'll get bang for your buck.
This Braven 570 comes in an Arctic White colour. The design is bold with the speaker grills taking up the entire front and back. With very few buttons on the ends, the lines are clean and Braven went for a minimal look. I'm certainly pleased with the design choice here, the 570 is about the sound and those grills are it's most prominent feature. A classic rectangle in shape but definitely not boring either, the Braven 570 is kind of understated in a group of speakers.
Compact with its dimensions of 158 x 64 x 45mm, making the 570 easily portable. Lightweight too at only 312 grams, you could fire this little speaker into your hand luggage or bag easily when travelling. Braven have made the 570 light but strong, using an impact resistant casing that I'd guess to be some kind of polycarbonate. The speaker feels like if it did happen to take a tumble and hit the floor, it might not be a bad outcome.  The ends feel like they are well sealed, the buttons are tactile enough, that's pretty good build quality from the company in my opinion. As far as my research has found, there's zero protection against splashes or any kind of waterproofing, if this is something that might make or break a person from buying a speaker, sadly, you wont find any IP rating so look at more suitable speakers for taking outdoors or into the shower with you.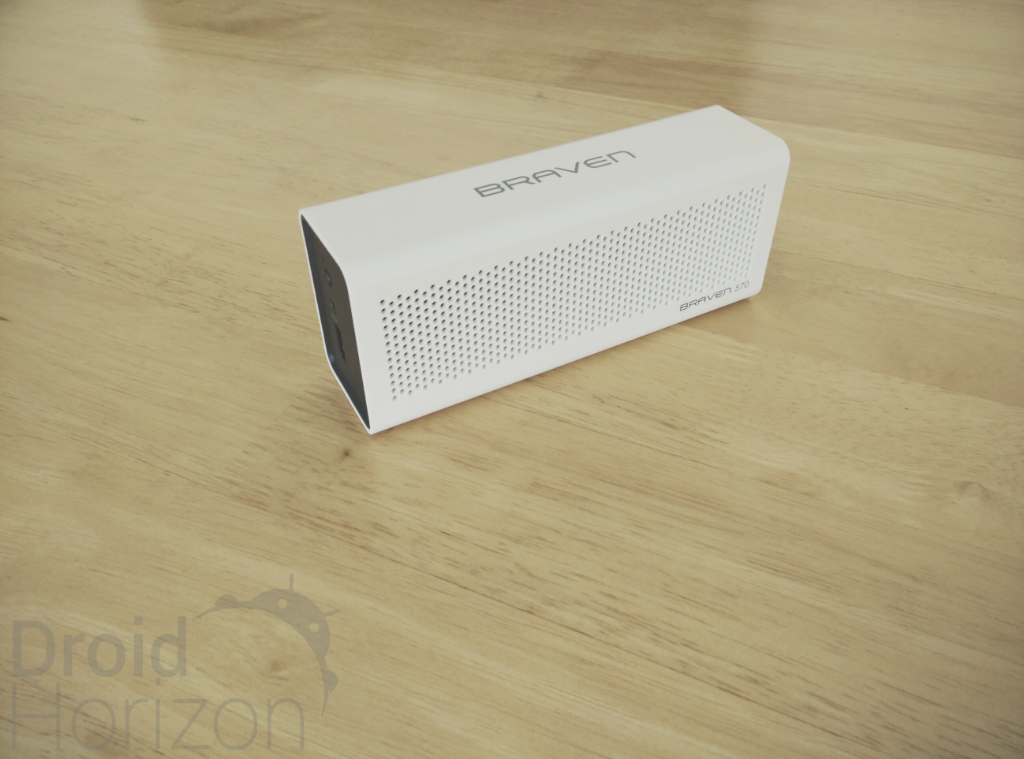 Now on to the most important part.. What's it sound like?
The Braven 570 features two powerful custom made 3W HD drivers and left and right channel passive subs, providing you with a total output of 6W., obviously. They've aimed at enhancing the low end and adding more bass than I'd actually prefer, it isn't always about the bass for me. The bass is rich though and tight enough if that's your thing, perfect for drum & bass, pop and a bit of electronic drops. If you fiddle with your EQ on your device, you can get a tidy enough midrange and a fair soundstage on some tracks. At full volume the Braven 570 doesn't perform very well either, I streamed some .FLAC files stored locally and there was a lot of hissing at the top. Let me state again that the Braven 570 is a £40 speaker, if you left it in a hotel room, you won't be crying yourself to sleep every night for a fortnight.
The Braven 570 offers a speaker phone feature that does the job OK. Upon testing, the caller could hear my voice well but he sounded a bit rattly on my end. I honestly wouldn't care if this feature was dropped completely from Bluetooth speakers anyway, I rarely get a phone call and when I do, I don't want the whole room hearing my business. Sadly, the Braven uses Bluetooth 2.0, the range is poor, the connection will drop even 10 feet away, never mind the 10 meters that 2.0 is supposed to offer. No NFC features either for tap and connect. In my opinion again, corners were cut here to keep costs down, I do use NFC on my audio set-ups and assumed that to be the standard now.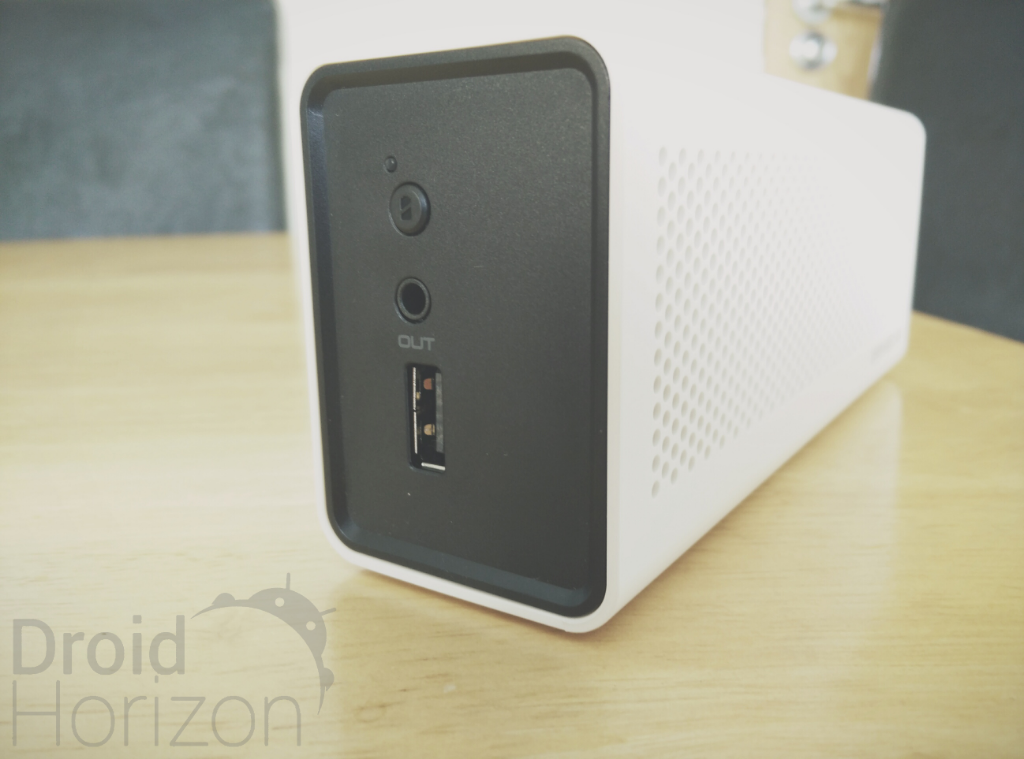 The Braven 570 has a rechargeable 1200mAh lithium ion battery, which provides you with up to 10 hours of wireless play time. Recharging the 570's battery from flat should take around 2-3 hours. Braven included a micro USB cable, maybe you don't already have 1000 cables lying around. Being a technology enthusiast and reviewing accessories on DroidHorizon I already own a few power banks / battery packs to charge my devices, it's fantastic that Braven included this on it's 570 speaker though. Using Braven's Charge Extreme (TM?) technology, this is just one more cool feature.. Quoting the official documentation, "Braven is designed to charge USB devices that draw from 0.3A – 1A." Maybe just in an emergency then..
Would I recommend our readers to purchase the Braven 570? Yes, I certainly would. As mentioned a few times in the review, it's a £40 Bluetooth speaker that offers good bang for the buck. In conclusion, yes, corners have been cut to keep the price down. If you've never owned a speaker in this style you won't be disappointed, it's a great starter. The 570 is solidly built, offers an OK sound and has the option to charge your phone or MP3 player. It's easy to set up even without NFC, connect once and it'll work every time. The audio alert for pairing, battery dying and turning on/off can't be missed. I like that in a speaker too. The styling is clean with the speaker grill being the prominent look front and back.
You can purchase the Braven 570 from our friends at MobileFun. Order from the the UK site which offers worldwide shipping.