iClever's IC-BTS03 waterproof Bluetooth speaker comes in a cardboard box along with an instruction leaflet and both micro USB and 3.5mm audio cables. It's a fairly small speaker coming in at just under 4" wide, and has a square shape with speakers located at the front and back. The control buttons are along the top, with ports behind a rubber seal along the side and a standard 1/4″ tripod screw hole at the bottom.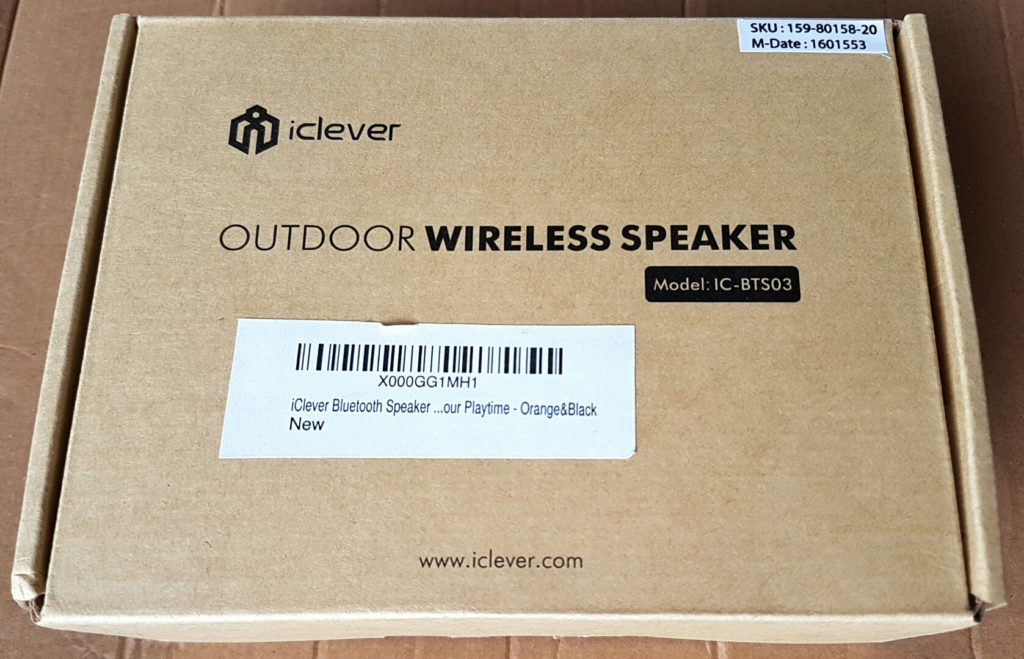 I like the look of this speaker with orange highlights on a rugged black plastic and rubber shell. There's also a sturdy rubber strap at one corner for hanging it up. Judging by the build I'd expect the IC-BTS03 to stand loads of abuse, especially factoring in the IP65 waterproofing that allows it to be used outdoors or in the shower.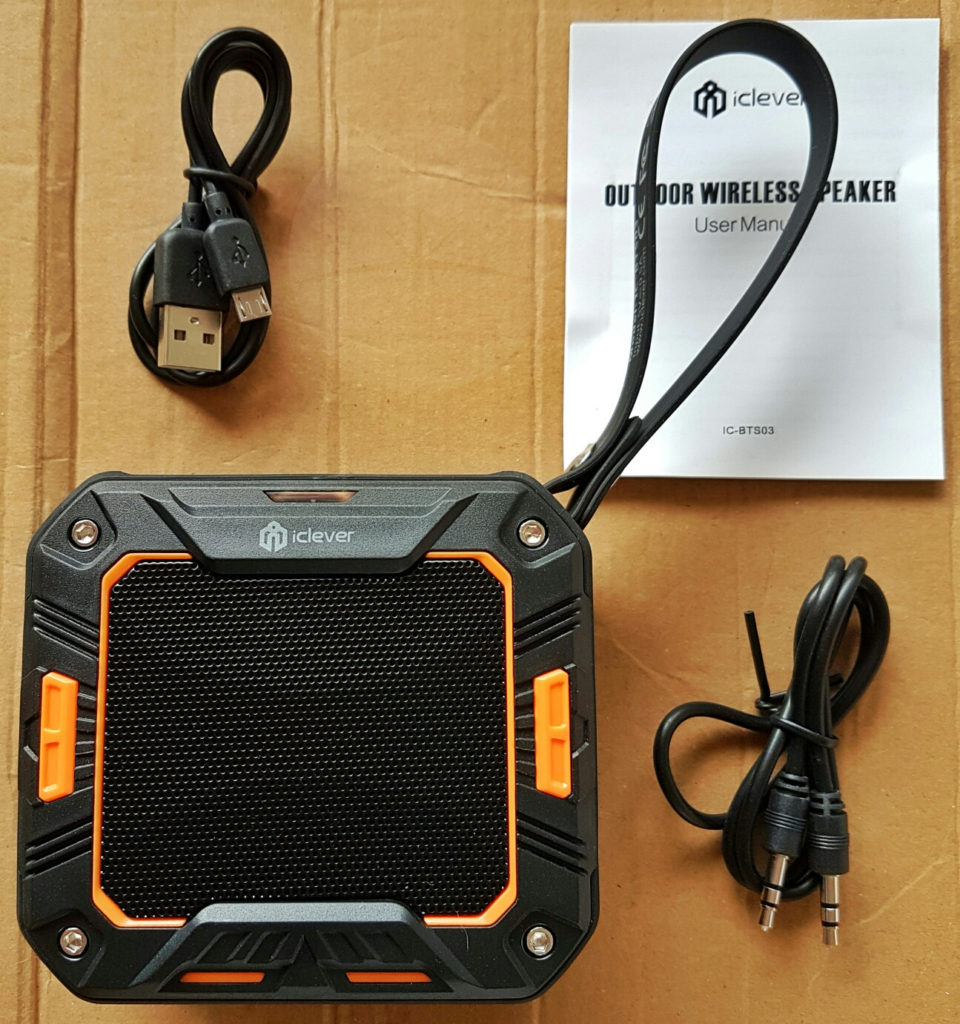 The controls are the usual on/off, play/pause/answer call and +/- buttons, which can be tapped to adjust volume or held down to skip tracks.. For ports it has a 3.5mm audio-in jack and a micro USB charging port allowing it to be charged from your PC or wall plug using the included USB cable – or pretty much any micro USB charger. The 2000mAh battery lasts for up to 10 hours which is well above average for Bluetooth speakers – especially in this price range.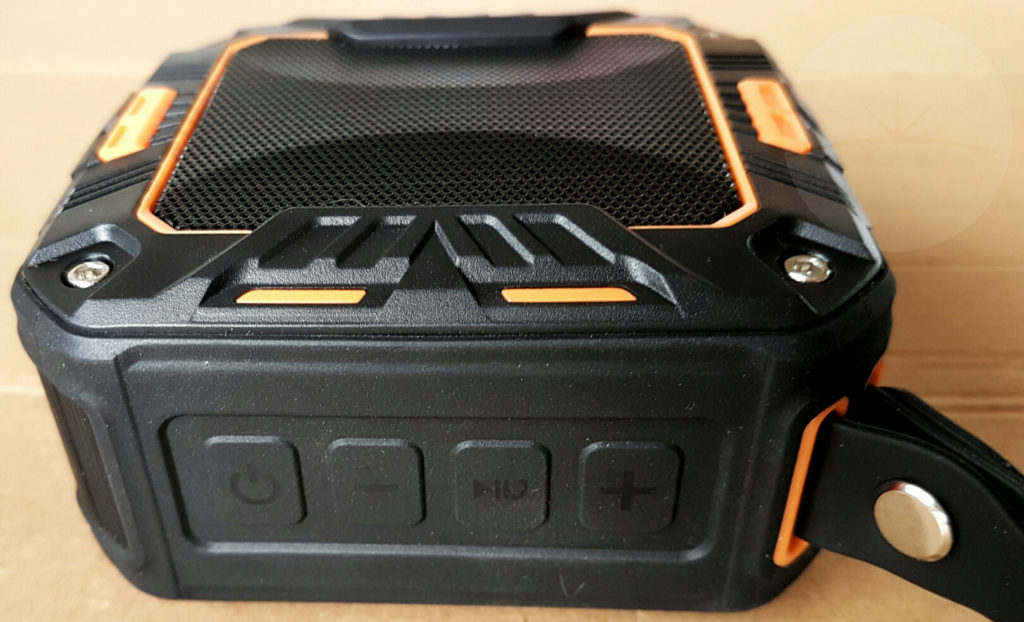 Once you turn the speaker on a blue LED on the front started flashing and I was able to find and pair with it in the Bluetooth settings of my phone. Bluetooth signal reception was pretty solid, allowing me to walk around my home with very few dropouts.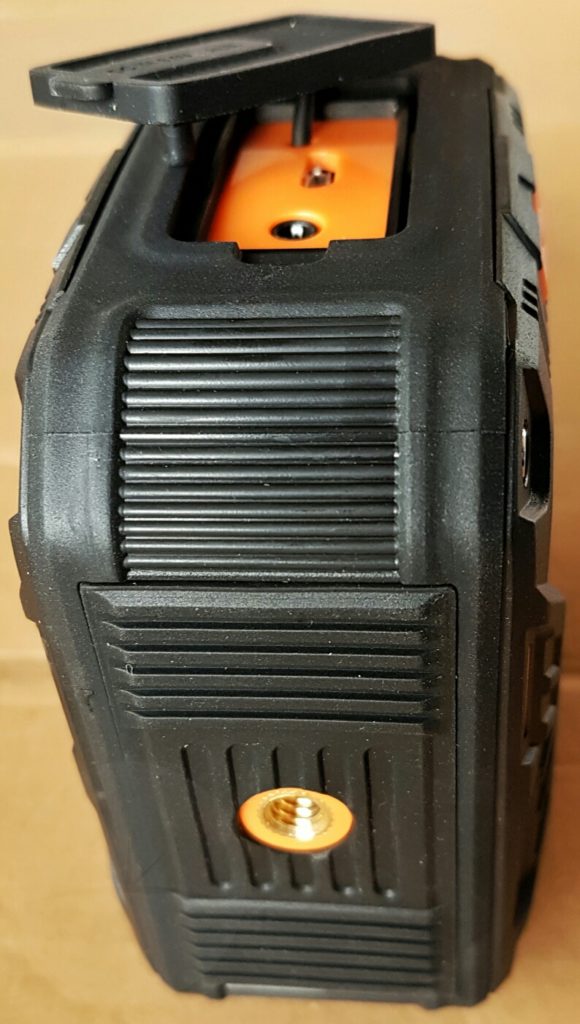 While the IC-BTS03 has two speaker drivers, it isn't what I'd consider true stereo – the front speaker is optimised for the mids and highs, while the rear is all about the bass. Together they manage to output a decent overall listening experience with good clarity and respectable bass. For a small speaker it also gets pretty loud which again makes it well suited for outdoors.

Of course the audio performance and plastic build can't compete with high-end models. However iClever's IC-BTS03 sounds good and the portability, rugged waterproof shell and long battery life make it a great all-rounder. There's very little to complain about here considering the £16.99 / $23.99 price tag, so budget speaker shoppers will definitely want to check it out from the links below…