When we reviewed Jabra's Elite 85h over-ear headphones last year we were mightily impressed, and so were keen to check out their Elite 75t true wireless earphones to see how they stack up.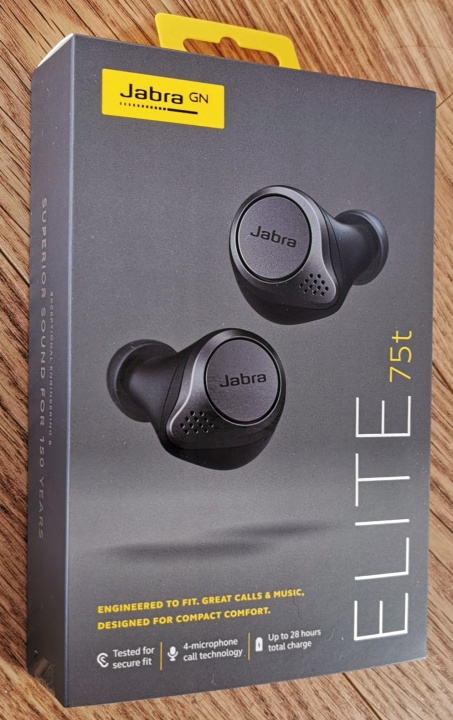 This model has an IP55 sweat/rain/splash-proof rating, but Jabra also sell a slightly more expensive IP57 version called Elite Active 75t that's basically the same thing apart from being able to handle being submerged. Both are backed up by a two year warranty.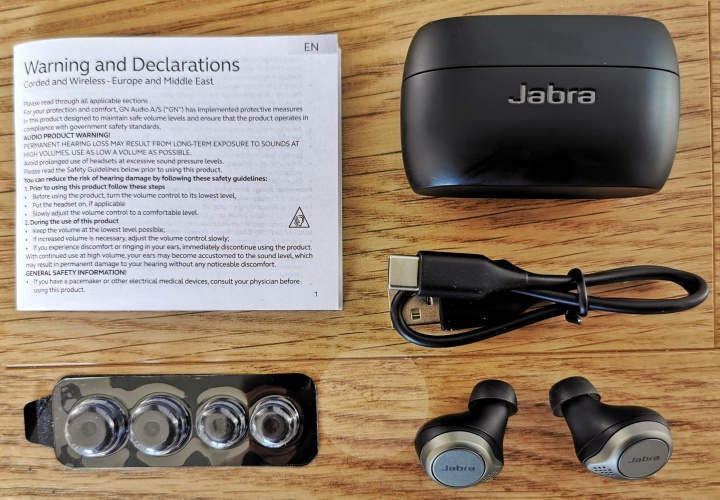 The two earpieces come fitted with medium-size silicone ear-tips inside a small charging case. Also in the box there are small and large sized ear-tips, a short USB-C charging cable and warranty leaflets.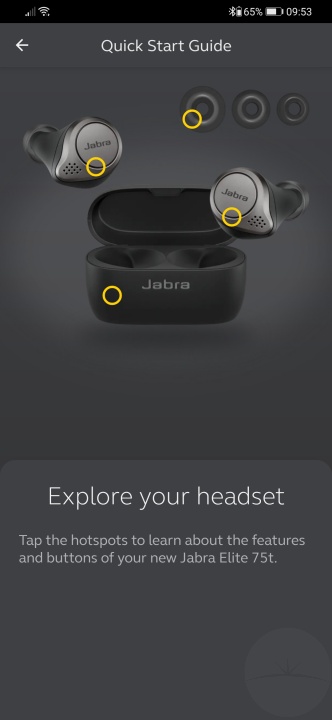 There's no physical user manual since Jabra's companion Sound+ app walks you through everything and lets you personalise your headset. There are various music presets available, a custom equalizer, and various other settings. The app also features MySound which gives you a hearing test and then tailors the audio specifically to your ears.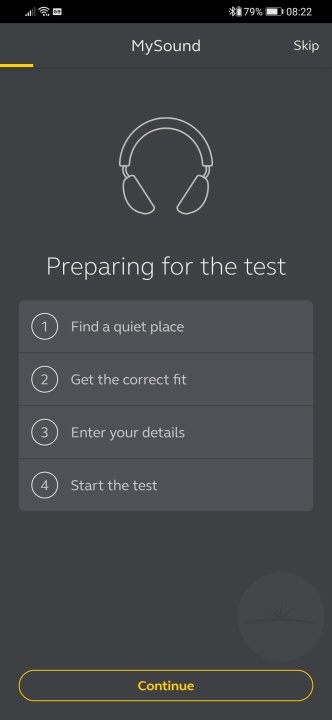 Back to the hardware and the first thing that stands out is the size of both the earpieces and charging case – significantly smaller than many alternatives on the market. The case feels lightweight and is barely noticeable in your pocket with a size of only around 6cm x 4cm x 2cm.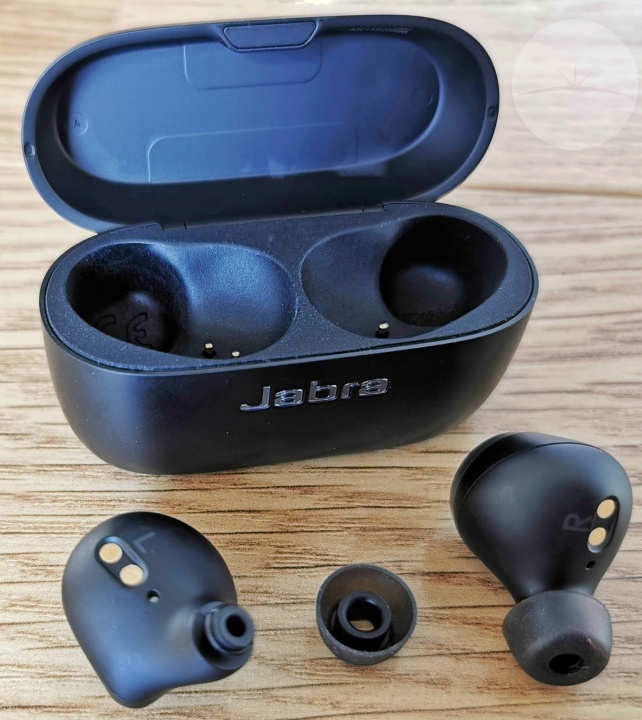 The charging case has the usual TWS design, with a flip-lid and a cut-out for each earpiece that holds them firmly in place using magnets. The USB Type-C charging port is round the back beside a small LED. This little status light has a green, amber or red colour to indicate battery level during charging and also lights up for a few seconds every time you open or close the case. While in use, a notification from the Sound+ app also keeps you informed of both the earpiece and case battery percentage.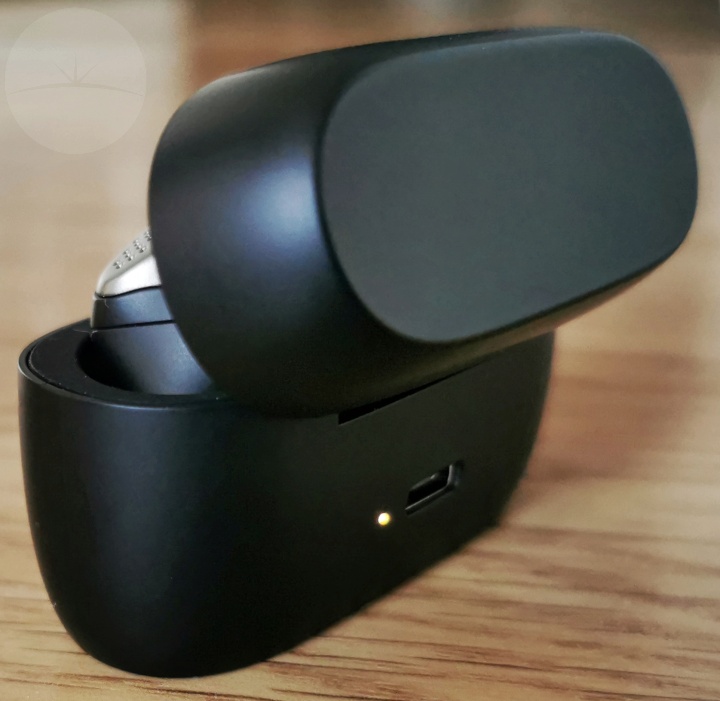 The earbuds are small and neat, with the ergonomic shape fitting nicely in the ear without protruding very far or looking conspicuous. The silicone tips are shallower than the usual size you get with most in-ear headphones, but we had no trouble getting a good seal and they gave decent passive isolation. The earbuds feel very light, stay in the ear well and are comfortable enough to wear all day. We loved the metallic look of the titanium/black colour (pictured), but if you prefer there are also gold/beige and all-black versions available.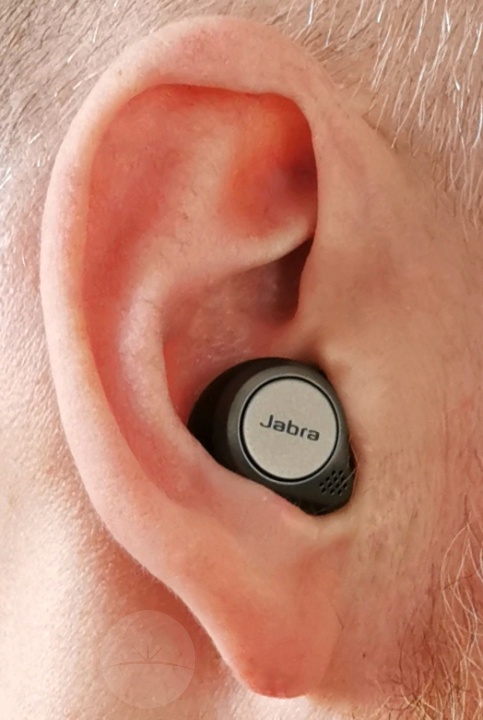 There's one large physical button on each earpiece that you hold down to adjust volume. Acting independently, these two buttons also cover all the other controls via single, double or triple presses. These functions (including play/pause, skip track, answer call, mute, voice assistant and HearThrough mode) are all fully customisable using the Sound+ app. No other controls are needed – when the earpieces are removed from the case, they automatically switch on and connect, while automatically turning off again once returned. You can also set an inactivity time limit that will automatically power them off.

The two potential weaknesses we often find with True Wireless earbuds are wireless reception and battery life. However you'll have none of these worries with the Elite 75t. Not only does Jabra's Bluetooth 5.0 implementation deliver rock solid, drop-out free wireless connectivity – it gives decent battery life as well. Despite the small size of the earpieces, they're still capable of offering up to 7.5 hours of use (although from our tests we found this was usually closer to 6 hours). The charging case extends this to a respectable total of 28 hours. You only need to pop the buds back in the case for 15 minutes to get back another full hour of usage. Mono listeners can use the right (master) earpiece on it's own, but not the left (slave).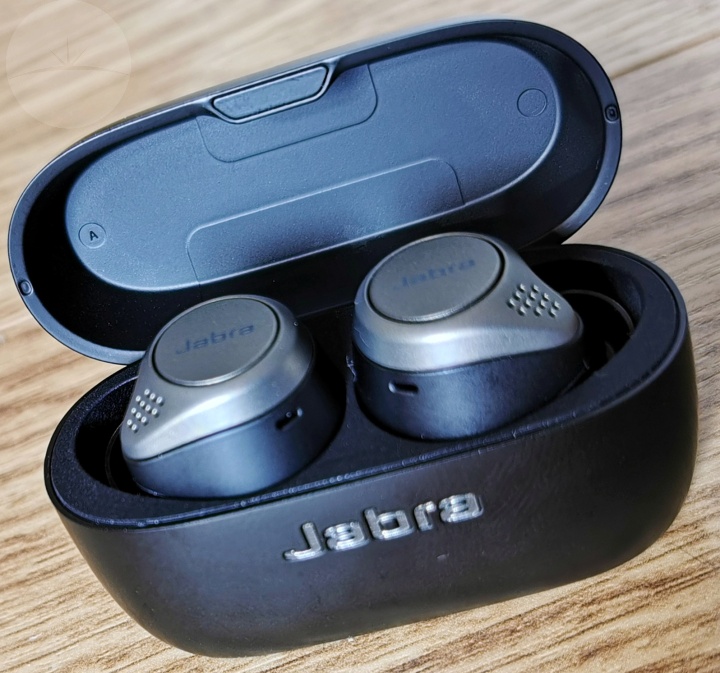 We've no complaints on the audio performance, with the 6mm drivers providing a warm, detailed sound that's well balanced across the entire soundstage. Again this sound signature can be easily tweaked to suit your individual taste using the various profile and EQ settings inside the Sound+ app.

Each earbud has two separate microphones that enhance call audio and filter out background noise. Considering these are TWS earphones, call quality is remarkably good and we'd no trouble being heard – even in relatively noisy environments. These microphones are also used for the Sidetone and HearThrough features. Sidetone lets you hear your voice on calls, while HearThrough also bypasses the passive noise cancellation by mixing in audio from the outside world. When Elite 75t detects you've removed the earpieces, it automatically pauses the music. However by using HearThrough we found we could easily converse with those around us without feeling the need to pause the music or remove the earbuds.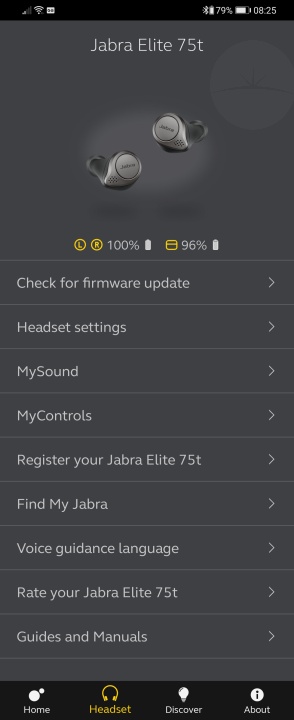 Every audio manufacturer is selling their own version of TWS earphones at the moment and we've covered quite a few. At £169 / $179.99, the Jabra Elite 75t are by no means the cheapest, but they're now the pair we prefer to use on a daily basis. As with their Elite 85h headphones, Jabra continue to impress us with their industry-leading design and performance.
While the passive isolation works well, at this price point we'd have loved to have seen ANC included. Otherwise it's difficult to fault the excellent design, performance and extensive feature set provided by Jabra's Elite 75t. They're small, comfortable, look and sound great (for both music and calls), maintain a strong wireless connection and offer decent battery life. The Sound+ app also adds loads of useful features including those reconfigurable controls that give a personalised experience that you just won't get from the majority of competitors.
Jabra Elite 75t won't disappoint those looking for a great all-round listening experience from their true wireless earbuds. You can pick a pair up from the links below…