Bluetooth speakers, the ease of use and convenience of them is great. Music anywhere, all the time! The Mrice Portable Bluetooth Speaker is just that, plus shockproof, dustproof and splashproof.

I've been using the Campers 1.0 for a couple weeks now and I've taken it for a spin. When I received this device, of course outdoor use was the first thing I thought of, so I took it with me when I left the house as much as possible. First I tossed in my car, for a couple days, let it play on my 50 minute commute, connected to the Spotify Android app. I have a paracord bracelet that never got any use, so I attached it to the metal bar/handle that the Campers 1.0 is designed with. This allowed me to hang it from pretty much anywhere. In my specific case, from random locations on my Jeep as I worked on it or rides through the country side, playing tunes I was in the mood for that day. Even from the beach chair, as I sat in the sun relaxing with a drink and some music.  In the yard, in the garage, the Jeep, on the road, in the woods.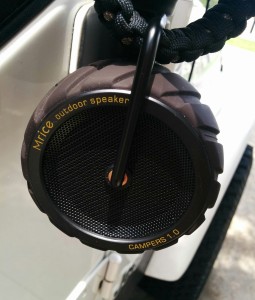 The results were in all use cases, satisfying. This small 3.5-inch speaker puts out plenty of clear sound of a decent quality. Now don't go comparing it to your larger more powerful, more expensive devices, because you will be disappointed by this $34 unit. The device is small and portable, including a micro usb charger, instructions for use, and micro sd card reader. Uniquely designed to look like a rugged off-road tire, coming in 3 styles on Amazon: Camo, Red, and Yellow. The Campers 1.0 uses Bluetooth v2.1 + Enhanced Data Rate (EDR) spec, which is known to increase battery life. Also featuring a lighting fast connection, in other words, immediate connection when you power on the speaker. I was pleasantly surprised as to how quickly it connected to my Nexus 5 compared to a few of my other bluetooth speakers. Handling the bluetooth speaker, it has some weight and feels like a solid design. I've not worried about dropping it or tossing it on the table or into the car. With it's "shockproof" design, combining rubber and metal, there's no need to baby it. As someone who enjoys the outdoors, camping and more, this Mrice Bluetooth Speaker will work great for evenings by the fire at the campsite or in the backyard, or an afternoon at the beach and lake.

Technical Specs:
Brand: Mrice
Model: M-C-1.0
Dimensions:3.54 * 1.69 inch
Buttons and interface: Open/Off key, volume + / Next / pick / hang up button, volume – / on a button, TF card slot, micro USB port
Bluetooth Version: EDR
Charging time: 2.5H
Playing time: about 6H
USB charge voltage: DC 5V
Adapter charging voltage: 12V