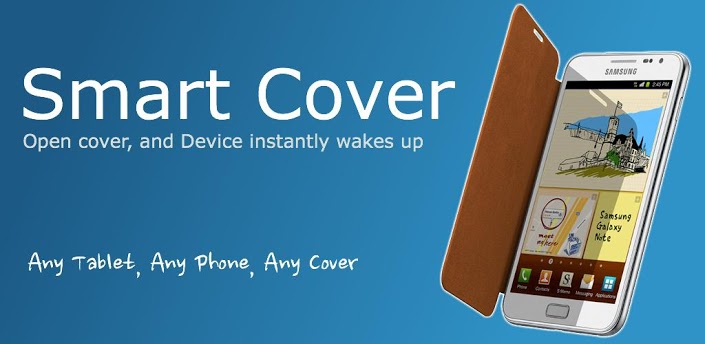 If your device has a proximity sensor.. Close cover, and Device automatically goes to sleep. Open cover, and Device instantly wakes up.
Any Tablet, Any Phone, Any Cover.
For example flip cover, Leather cover, Diary cover, Book cover etc…
– How to uninstall app :
Setting -> Security -> Device administrators -> Uncheck the smart cover -> Try uninstall app
Funny when reviewing something, you stumble upon something else. 
When we took a look at the Nexus4 Leather Wallet Case i found that on closing, the screen wouldn't turn off like a Nexus7 case I have. This annoyed me. I asked about in our private place and Dave from the team sent me 5 or 6 links to the Play Store for what I was looking for. If I'm honest most were buggy, fuggly and not really easy to use. In the end I purchased Smart Cover.
It looks clean, has all the functions I need and was exactly what I was looking for.
Turn it on, select quick or slower function and my screen turns off when I close my case then turns on when I open it again. Awesome.  Setting the interval that turns off the screen has 2 options.
Short interval (For a fast response)

Long interval (To prevent mistake)
This app can also run in the notification area for fast toggle and can be turned off in the app settings, if you wish. The description mentions that it works on phones and tablets with various different case types. Works like a charm for me.
You can download Smart Cover from below, priced at £0.86 which is very reasonable considering I'm too lazy to turn off and on my screen now.