OnePlus found success targeting phones to Android enthusiasts who appreciate the performance you get from high-end hardware specs combined with frequently updated, unbloated software for a reasonable price. The OnePlus 7T is their latest handset to follow this winning formula, delivering top performance for only £549 / $599.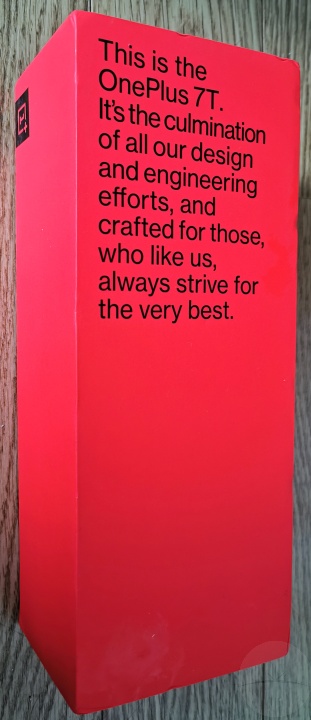 Quick Specs
Display: 6.55″ 1080 x 2400p 90Hz AMOLED
CPU: Snapdragon 855+
GPU: Adreno 640
RAM: 8GB
Storage: 128GB (non-expandable)
Battery: 3800mAh
Rear Cameras: 48MP f/1.6 OIS main, 12MP f/2.2 2x telephoto, 16MP f/2.2 EIS ultra-wide
Front Camera: 16MP Dew Drop f/2.0
Video: 2160p@30/60fps, 1080p@30/60/240fps, 720p@960fps
OS: Android 10, OxygenOS 10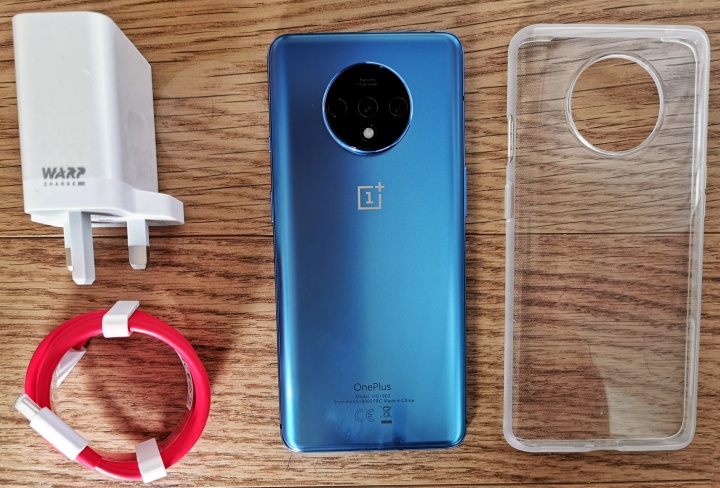 The 7T has an all-metal chassis with a matte glass back that's available in
either frosted silver or glacial blue colours. The back also has a protruding black circular camera bump housing three lenses and flash. We liked the distinctive looking metallic finish that avoids fingerprints and gives the phone a premium look and feel. While the glass tends to be quite slippery, you do get a transparent silicone case in the box and there's also a nice selection of cases available from the OnePlus website.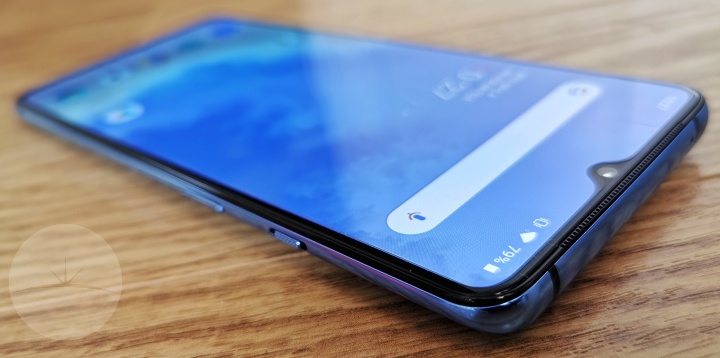 The flat 6.55″ touchscreen has a fairly tall 20:9 aspect ratio with a thin speaker strip and subtle teardrop notch camera at the top. Volume keys are located on the left, while you get a silent/vibrate/loud slider above the power button on the right. The USB-C socket is at the bottom along with the second speaker and sim-card slot. There's no 3.5mm headphone jack or MicroSD card slot to expand the 128GB internal storage.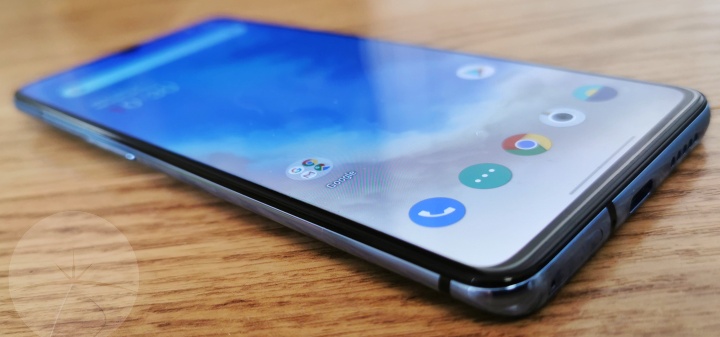 The selfie cam supports 2D face unlock and this works nicely on the 7T, reliably unlocking the phone when there's reasonable light. There's also an in-display fingerprint scanner behind the glass at the bottom of the screen.  This works well most of the time but could occasionally be a little hit-or-miss – maybe because of the pre-fitted screen protector on the review unit.
The 'Fluid' AMOLED display is bright with accurate colour reproduction, making it easily readable in bright sunlight. Fluid refers to the 90Hz refresh rate that generally makes the UI (especially scrolling) react more smoothly. You'll also notice this extra smoothness in games that support higher refresh rates. In terms of resolution, we're in agreement with OnePlus – 1080p is plenty sharp for a panel of this size and anything more isn't worth the impact to battery life. Unfortunately there's no notification LED and the ambient display isn't always-on (only showing briefly while raising or tapping the screen).
With it's stereo speakers the 7T can get considerably loud without significant distortion. The front-facing earpiece seems to handle both the treble and bass frequencies, while the bottom-facing speaker takes care of the mid-range. We'd say overall sound output is generally very good – certainly a big improvement over the down-facing mono speakered phones we've tested.

Qualcomm's Snapdragon 855+ CPU was made for gaming and combining this with 8GB of RAM and UFS 3.0 storage lets the 7T deliver the top performance we've come to expect on a OnePlus phone. There's zero lag and fantastic frame rates while gaming. However heavy gaming does tend to drain the battery, and the phone can sometimes get a little warm after a long session.
Otherwise with moderate use we found the 3,800mAh battery easily gets you through the day with 20%-30% to spare. Using the included 30W "Warp" charger you can recharge 70% in just 30 minutes, and you'll get a full charge in around an hour.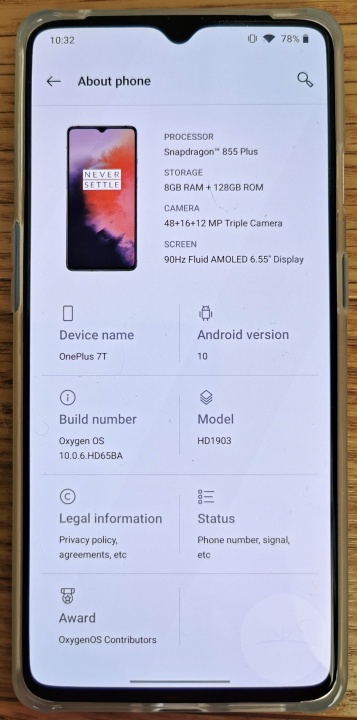 The 7T is OnePlus' first phone to release with OxygenOS 10 – their close-to stock version of Google's latest Android 10 operating system. The interface is smooth and clean, while the few additions you get over stock Android are genuinely useful. Similarly there's very little bloatware, with the phone coming with a scattering of OnePlus apps complementing the standard suite of Google's (we're not sure why they also felt the need to include Netflix though).
The previous implementation of navigation gestures from OnePlus were one of our favourites. However with Android 10, Google have now standardised these gestures meaning the 7T (and most other new phones) are using these going forward. Swipe from the left or right edge to go back, swipe up from the bottom to go home or swipe up from the bottom and hold for recent apps. These gestures generally work well and become second nature with a little practice, but you can always revert to using nav-bar buttons if you prefer.
For the main camera, OnePlus have used the same Sony sensor that impressed us on the Huawei Nova 5T.  However these days image processing can make a huge difference to photo quality and we'll also be holding the 7T to a higher standard since it's a more expensive handset.
OnePlus' UltraShot engine takes advantage of pixel binning raw 48MP images to give better lighted 12MP photos by default. Overall this gives good looking, nicely exposed photos with accurate colour reproduction and decent dynamic range – even in low light. It's only when we zoomed-in on these photos that we noticed they tended to be a little soft and lacking in detail. We'd say OnePlus may be going a little overboard in terms of noise reduction and image compression.
We got similar results from the 0.6x ultra-wide and 2x telephoto lenses, and also noticed some colour inconsistencies between lenses. We needed to check our wide-angle low-light photos closely for blur – focus speed and camera shake were often an issue (maybe due to the use of electronic stabilisation compared to optical on the main lens).
Nightscape (longer exposure) mode generally worked well and made significant improvements to low-light shots. Portrait (bokeh / blurred background) mode shots look pretty good, but aren't quite as clean as you'd get from higher-end phones due to the lack of a dedicated depth sensor.
One area where the 7T cameras excels is it's Super Macro mode. This uses the 16MP wide-angle lens to get between 2.5cm and 8cm from the subject for extreme close-ups.
Selfies from the front-facing camera generally look good. Video also works well on the 7T – you get smooth, detailed recordings with accurate colour levels. Up to 4K 60fps is supported using the main sensor, and 1080p recording has "Super Stable" mode which factors in data from the wide-angle lens to give impressive hand-held stabilisation.
If you're a fan of wireless charging then the omission may mean this isn't the phone for you. OnePlus have also skipped the extra cost involved in getting an official IP rating (but in the past have been known to unofficially include waterproofing in their handsets). While there are certainly phones with better camera performance and battery life, we feel the 7T does a decent job in these areas – good enough to satisfy most people's needs.
Overall it's very easy to recommend the OnePlus 7T for the money. There are certainly compromises here and there, but nothing we felt significantly impacts the pleasurable experience of using this phone. Thanks to the marriage of high-end specs with peerless OxygenOS software, the everyday usability provided by the OnePlus 7T is second to none.