European technology brand BQ launched in the UK with an event hosted by the company's founders.
Founded by six students in 2010, BQ is part of the technologically focused Mundo Reader holding company – a conglomerate of enterprises engaged in the design and manufacturing of electronic devices and accessories – and it stands among the leading European companies operating in the consumer electronics sector.
With over a thousand employees from 26 nations and teams located in Spain, Portugal, France, Germany, Italy, Russia and Sweden, BQ is now the third top selling smartphone brand in Spain. Today it announced its entrance into the UK market with the new Aquaris X5, M range of smartphones, 3D printers, 3D scanners and solutions dedicated to the emerging maker world, as well as to technological education, such as educational robotics kits, robots and electronic boards.
With the primary objective of helping people understand technology, encouraging them to use it and inspiring them to create it, BQ is a company committed to technological training, the development of open source products and promoting the do it yourself (DIY) philosophy. The company consistently applies this philosophy to its products and software solutions, in order to transform technology into a democratizing tool, with the aim of improving the world and the lives of users.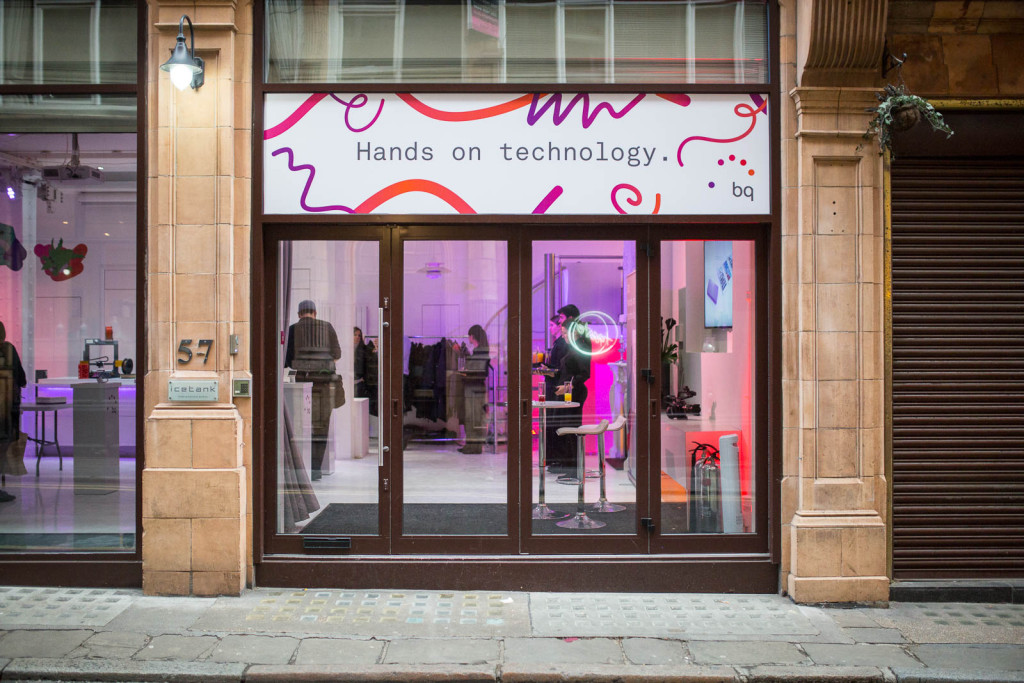 Plans for the UK
Deputy CEO, Rodrigo del Prado, unveiled BQ's plans for the UK, which include taking on the iOS-dominated smartphone market, and supporting the UK's vibrant maker community.  
"We firmly believe there is a need for high-quality technology that offers real alternatives."
del Prado said speaking at the launch last week.
New products
Xavier Gastaminza, BQ's Executive Vice President and General Manager for Europe, showcased the brand's latest smartphone release, the Aquaris X5, which is available with Cyanogen OS, offering users advanced customization and security options. Gastaminza said, "By offering the X5 with Cyanogen, we want to offer users more diversity." The handset (also available with Android 5.1.1 Lollipop OS) is on sale via O2, from £19.50 per month..
Mobile World Congress
Del Prado confirmed the details of BQ's latest developments, which will be unveiled in full at Mobile World Congress on 22nd February. BQ has partnered with Canonical to create the M10 Ubuntu Edition tablet: the first ever converged device to offer the Ubuntu PC experience. This project is the latest in a series of partnerships between Canonical and BQ, who have also released the Aquaris E4.5 and Aquaris E5 Ubuntu Editions together. Del Prado said, "It's this kind of innovation that makes BQ and Ubuntu such a great fit."
Del Prado confirmed that BQ will also showcase the Aquaris X5 Plus at Mobile World Congress, which is an updated version of the brand's X5 smartphone.
Educational Ecosystem
With the goal of developing awareness of what is hidden behind electronic devices, BQ offers an entire ecosystem of educational products. The company is strongly committed to technological education – in particular that of children – that drive the creative and collaborative spirit within increasingly larger communities.
In line with these objectives, Educational Project Director, Alberto Valero, introduced guests to 'Zowi', the company's latest educational robot. Zowi teaches basic coding skills using a visual programming tool called bitbloq (a BQ-designed programme which replaces long lines of code with coloured blocks). With the accompanying app, children will be able to access the robot's circuits or in order to create their own programming projects. Every time they complete a new project, they will unlock new features. Valero explained, "Zowi is teaching children that technology can be transparent and fun. We want to replicate that success here in the UK."
The brand's latest 3D printer offering, the Witbox 2, was also on display. The original Witbox was ranked among the top five 3D printers in the world and is distributed in over 50 countries. The updated version offers an auto-levelling system and a greater variety of compatible filaments, such as PLA, bronze, wood, copper and FilaFlex.
<Credit BQ for images. Sample products are un-route so check back in a few weeks for our review(s)>
All BQ products are available at www.bq.com