WeTek Play2 Review
WeTek were happy to send over their Play2 for us to review. This is slightly different than an average Android TV box, as it has aerial inputs. This allows me to watch terrestrial TV on my Android box, with functions like play/pause live TV and recording shows. All this and it offers an awesome UI and a good solid build quality.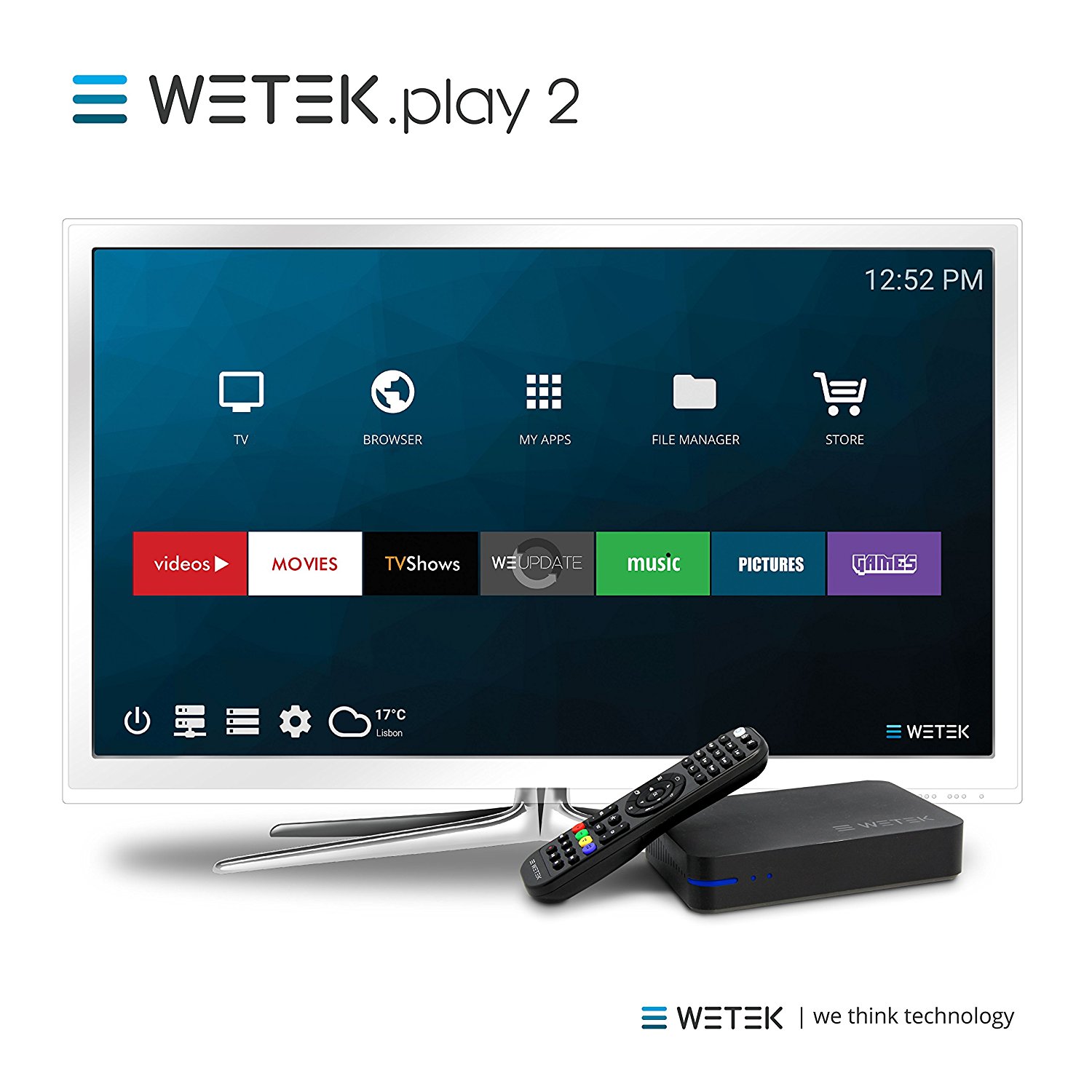 As this was untested waters for me, I decided to stick with the custom Kodi version installed on the WeTek Play2, as it has been optimised for the hardware. The wizard, was simple to use, and started scanning all available tv channels from my satellite port. I did find the overall app experience to be a little clunky, this was coming from using Sky+, so I think I was expecting a lot.
I found the app crashed a couple of times during use. Features weren't obvious out of the box, and I did have to look at the online help guide for some help. I was particularly impressed by the TV quality. Shows in 480i, 720p and even 1080i all looked great. Sound was really good, and have been assured that 5.1 sounds great too.
I will say that it is far from perfect, as I had issues with the EPG guide, and scheduling recordings.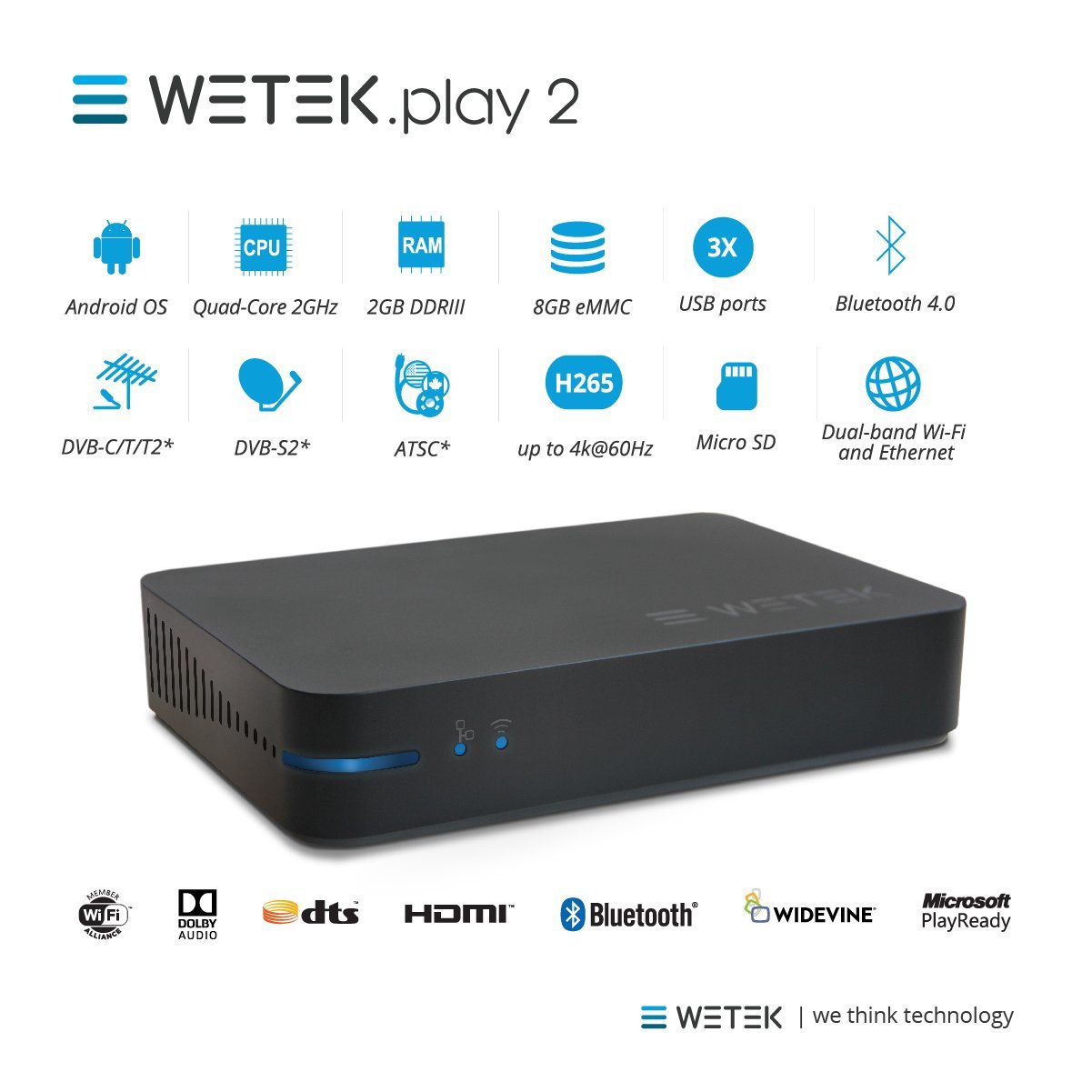 Specs:
Processor (CPU): Quad-core (Amlogic S905H)
GPU: Mali MP-450 Penta core
RAM Memory: 2 GB DDR III
Flash memory: 8 GB eMMC
Modular Tuners*: DVB-S2 (satellite), DVB-C/T/T2 (cable/terrestrial) and ATSC (North America, South Korea)
Wireless LAN: 802.11 B/G/N
Supported Wi-Fi: 2.4/5 Ghz (AP6330)
Ethernet: 1000 Mbit/s (Gigabit Ethernet)
Bluetooth: 4.0
S PDIF optical out: 1x
HDMI: 1x 2.0
A/V Output: compatible only with 17mm TRRS jack
MicroSD: 1x
USB 2.0: 3 External
Serial Debug: Yes, external
Power socket: DC In
There is an ability to set favourite channels, which is useful for navigation. I would hope that the TV app is developed over time and they can make it perfect. I am aware comparison to Sky+ isn't good, but it's my only point of reference. The EPG guide is lacking in layout and features, and the remote doesn't work well with it, feeling like a simple task can take 5 button presses.
I do feel that WeTek are just at the gates of releasing a great set of products, and the new UI released recently works well towards that. But I still feel that there should be an "expert" mode, which does away with the flush design, and gives the user access to all the functionality quickly.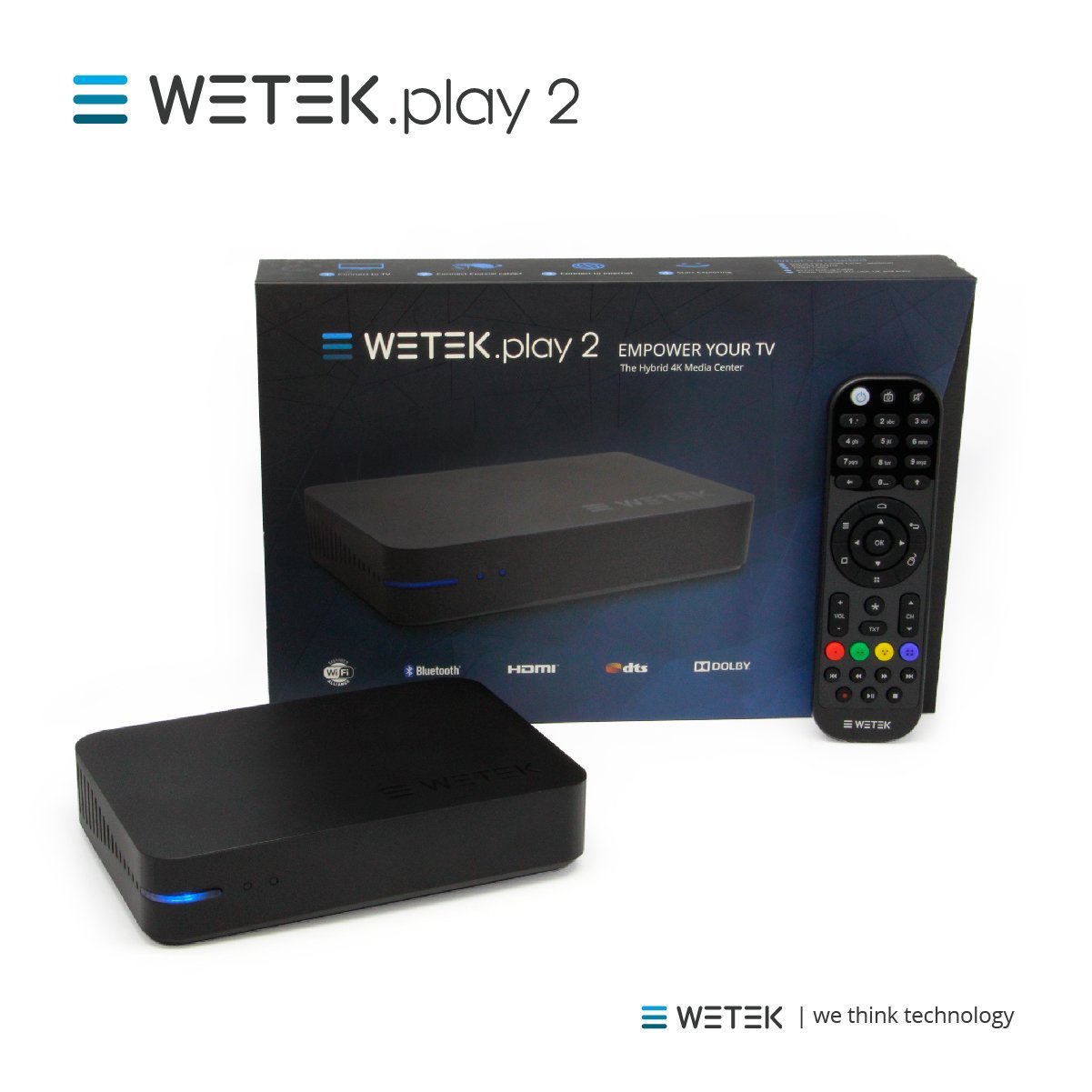 The WeTek Play2 is a really great combo box. I just think that we should watch this space, and hope over 2017 they spend a bit of time with the software side of things, and even updating the help centre a bit more.