Most gamers will already be familiar with accessories from well-known brand Razer. Having had the chance to try out some of their latest products, today we'll give you a quick summary of what we thought.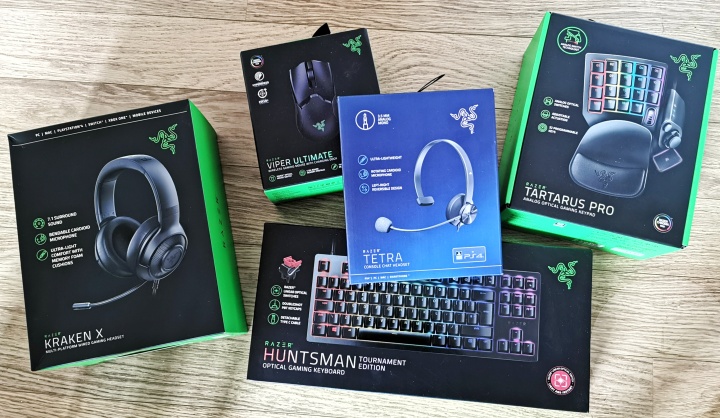 I'll preface this round-up by saying that Razer didn't get their great reputation from selling cheap rubbish. These products are a little pricey, but have all been well designed and manufactured to the high standard demanded by hard-core gamers.
Viper Ultimate Gaming Mouse (£149.99 / $149.99)
The Viper Ultimate is a wireless mouse that approaches wired-level performance thanks to its high-speed transmission and low click latency. In addition, the infrared optical sensor is capable of 20,000 DPI with a 99.6% resolution accuracy and 650 IPS tracking speed.
It comes with a handy USB-C charging dock and a full charge gives up to 70 hours of battery life. Despite the big battery, Viper Ultimate weighs only 74g which makes it nice and light in the hand. The ambidextrous design will suit both left and right handers, plus you get no less than 8 buttons that can be programmed as desired.
I liked the Viper Ultimate's neat, classic mouse design that's set off with the customizable LED Razer logo. It's very comfortable to use and mousing feels smooth, accurate and very responsive. Performance wise, I couldn't really tell I wasn't using wired. I can certainly recommend this if you're looking for a wireless gaming mouse that'll let you keep your edge.
Huntsman TE Keyboard (£129.99 / $129.99)
The Huntsman Tournament Edition is a compact keyboard that uses linear optical switches to give gamers a faster keystroke response. This keyboard also has a 100 million keystroke lifespan with an aluminum matte top plate and doubleshot PBT keycaps giving a hard-wearing matte finish.
Keys and backlighting are fully programmable, with onboard storage letting you save up to 5 setting profiles and bring them with the keyboard. The keyboard's size and detachable USB-C braided cable also aid portability.
The Huntsman TE gives a smooth and quiet typing experience compared to mechanical keyboards favoured by many gamers. I found it a good keyboard to type with and highly responsive when gaming. Skipping the numeric keypad also gives a neat footprint that'll be great for those that need mobility or extra desk space (maybe to make room for the next accessory).
Tartarus Pro Gaming Keypad (£129.99 / $129.99)
A keypad like the Tartarus Pro will appeal to anyone wanting to take their gaming to the next level. At your fingertips you'll have 20 main programmable keys, a D-pad joystick and a scroll wheel. It supports unlimited macro lengths and settings can be quickly switched between 8 different profiles. I found this keypad to be very comfortable to use thanks to the padded rubber wrist rest.
While there are cheaper gaming keypads available (including the similar Tartarus V2), the Pro's big selling point are its analogue optical switches. These allow you to treat keypresses like an analogue joystick, with more movement the further you press down the key. You can also set dual actuation points for each key – so for instance a light press could send the key for walking while a heavy press will send the run key combination.
To make the Tartarus Pro worthwhile you'll need to be prepared to spend some time getting it set up properly and practicing with those dual actuation keys. However once your muscle memory has grasped these controls, this keypad could be well worth the investment considering the sheer amount of nuanced control it places under your left hand.
Kraken X Headset (£49.99 / $99.99)
Kraken X are wired gaming over-ear headphones with a bendable unidirectional microphone. They connect to any device with a 3.5mm audio jack (a splitter cable is also supplied for PCs with separate audio and microphone jacks). A cable length of 1.3m means you will need to sit close-by.
Weighing just 250g, this is a fairly light headset. The oval faux leather ear cushions completely cover the ears and give decent sound isolation and comfort. The left ear cup also has a handy volume dial and mic mute button. Speech captured by the microphone is very clear, but it is non-removable making these headphones less suited to non-gaming use.
In terms of sound, the audio signature boosts bass and vocal frequencies (but not to extremes like some gaming headsets). I'd say it gives a fairly natural sound with good spacial awareness when gaming. Windows 10 64-bit users can also download a free app that enables full 7.1 Surround Sound. Overall I'd definitely consider Kraken X to be a good gaming headset for the money.
Tetra Chat Headset (£29.99 / $29.99)
Tetra is a lightweight chat headset with a cardioid mic designed to capture crystal clear speech while suppressing the background game audio blasting from your speakers. It has a 1.3M fixed cable with in-line volume and mic mute controls, plus a 3.5mm combined audio + mic jack compatible with most consoles (and other gadgets). A single padded leather earpiece can be worn on either ear thanks to the rotating microphone arm.
At 70g this headset is very light, but my bald head would have preferred a little padding on the headband. Overall, while Tetra isn't as high-end as the other gear on this page, I couldn't fault its performance – chat audio is really clear.