Hi guys and welcome back to another fantastic indie game review and this time i have a great one, it's called Bunny Leap by Streaky Games.
Now, Bunny Leap is a retro styled puzzler not so dissimilar to an age old fellow I grew up playing called Q*bert, you younger guys and gals would have seen him in the 2012 Disney smash Wreck it Ralph.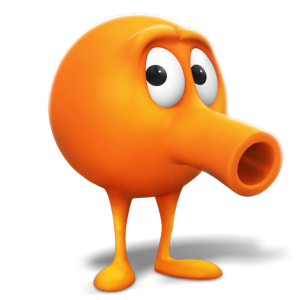 That's right this guy!!
Bunny Leap has the same mechanics leap around to change the colour of each platform to advance to the next level with the dreaded fur balls jumping in your way.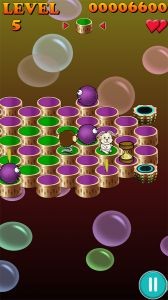 Like I mentioned, it's retro styled so no fancy graphics here just smooth game play and a refreshing fun approach to mobile gaming, and why not the golden age of console gaming was founded upon games just like this so it seems only fitting that games like this should be firmly sat in the foundations of mobile gaming.
it costs 95 great British pence in the Play Store and 79 pence in the Apple app store which as of the 30th November 2015 is around 1.04 USD (Android) and 1.19 USD (Apple)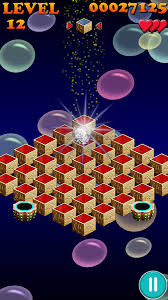 When I first started playing Bunny Leap, first things I noticed were no IAP's (in app purchases) and no tutorial which for me personally was a massive bonus as i feel IAP's have taken some of the fun out of gaming another thing I noticed was no Google Play Games integration which I was a little disappointed with but didn't ruin the fun however it did mean no game save which meant that if you exit the game to read a message or write an email or read the latest droidhorizon review you will loose how far you had got, which for me many times didn't seem that far.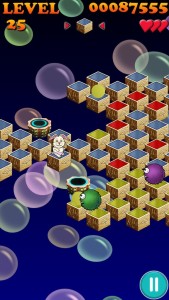 Controls are very simple, swipe in the direction you want to go and the bunny will hop that way, there are of course little things here and there to help you on your way like the teleporter platforms on each level.
Like I mentioned earlier, I had some much fun with this game a lot more than i gave it at face value however I'm 100% sure it would enter a top 10 of indie game must haves if the price was lowered to 69p but as i always mention to people i speak to you never know how much of the developers time and effort go into these kind of games and i can see this dev has put a lot of thought to make sure its not like its 80's cousin.
I hope you guys have enjoyed this review and I hope you enjoy Bunny Leap as much as I have the link is below also as a bonus I have included some gameplay footage so please let us know if it's something you'd like us to continue doing and please leave your comments below, I look forward to reading them.