The Cambridge Biltong Company produces award winning biltong from the picturesque villiage of Grantchester just outside Cambridge. During the summer months a heard of Red Poll Cattle can be seen lazily grazing on Grantchester meadows or some of the Cambridge commons.
The beef from this traditional British breed provides the perfect starting point. To this they add their secret blend of spices. The company can 100% confirm that preservatives nor sugar are added to ensure a healthy and delicious end product. The marinated steaks are then air dried, sliced and packaged ready to enjoy.
No Preservatives | No MSG | No Added Sugar | Gluten Free

Spicy Chilli;
Serves a punchy yet wonderful beefy biltong. The slicing is the perfect size with the perfect amount of chilli flakes. First you get the quality of the beef, next, you'll get the delayed kick of the hotness. By far, Spicy Chilli is my favourite.
Classic Black Pepper;
Provides an aromatic and warm peppery biltong with very subtle hints of coriander. I do like peppery foods and this flavour really pops.
Teriyaki and Horseradish;
Provides a flavour knockout. I was weary the horseradish was going to be too overpowering, but, it compliments the mild teriyaki perfectly.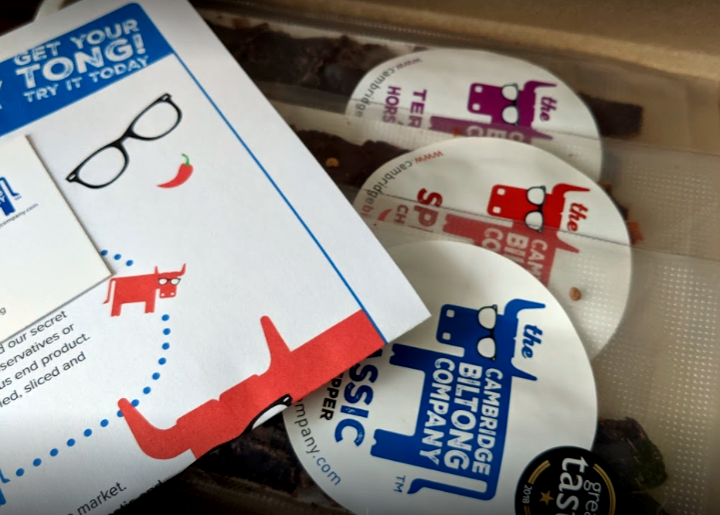 This was my first time sampling proper biltong and I must say I'm mighty impressed. I'm not sure why but I was expecting some kind of rubbery beef jerky kind of stuff that my jaws would hurt having to chew for half an hour. The flakes are perfectly sized, the beef is so tender the Cambridge Biltong just melts in the mouth, perfectly seasoned too with nothing overpowered. The samples provided from the company were devoured in ten minutes by myself and friends at work, I'm definitely going to order more of the spicy beef for myself. Maybe try to match with a nice Pinot Noir or other soft wed wine.
Pricing wise… It would seem a 32g (which we tested) pouch will cost £3. If you buy 4 or more pouches the price lowers to £2.75. You can also buy in bulk for £6 per 100g. Free shipping is provided if you spend over £35. Pop over to the Cambridge Biltong Company and check it out for yourself.