Portable bluetooth speakers are always a great accessory to any bluetooth enabled audio output device. Be it your smartphone, mp3 player, even your laptop. Sometimes they can be utter crap, other times they can push out a sounds so good, you cant stop swayin' to the beat! Well that why DroidHorizon is here, to let you know what rules and what drools. Today will be a review of the EasyAcc Mini 2 Portable Bluetooth Speaker.
DESIGN
Right from the start the speaker feels very solid. It has some good weight to it, which doesn't always mean quality. In the case of the EasyAcc Mini 2 I've come to think after 2 weeks of use that quality was a factor in this design. It's design is cylindrical, made of polished stainless steel, with the lower input portion being plastic. The speaker is covered with a metal grille, sporting the brand name.
You'll find all the features you need are at your fingertips. Including a micro SD slot, auxiliary input for wired playing, play/pause, volume/next track, microphone for calls, and microUSB for charging. The bottom of the speaker has skid-proof padding. This is a very welcome addition, as I've used many bluetooth speakers, some of which overlook this, making it just a hassle to set the speaker in a location that it won't slide from its surface. This heavy little guy stays put, and does not slide around!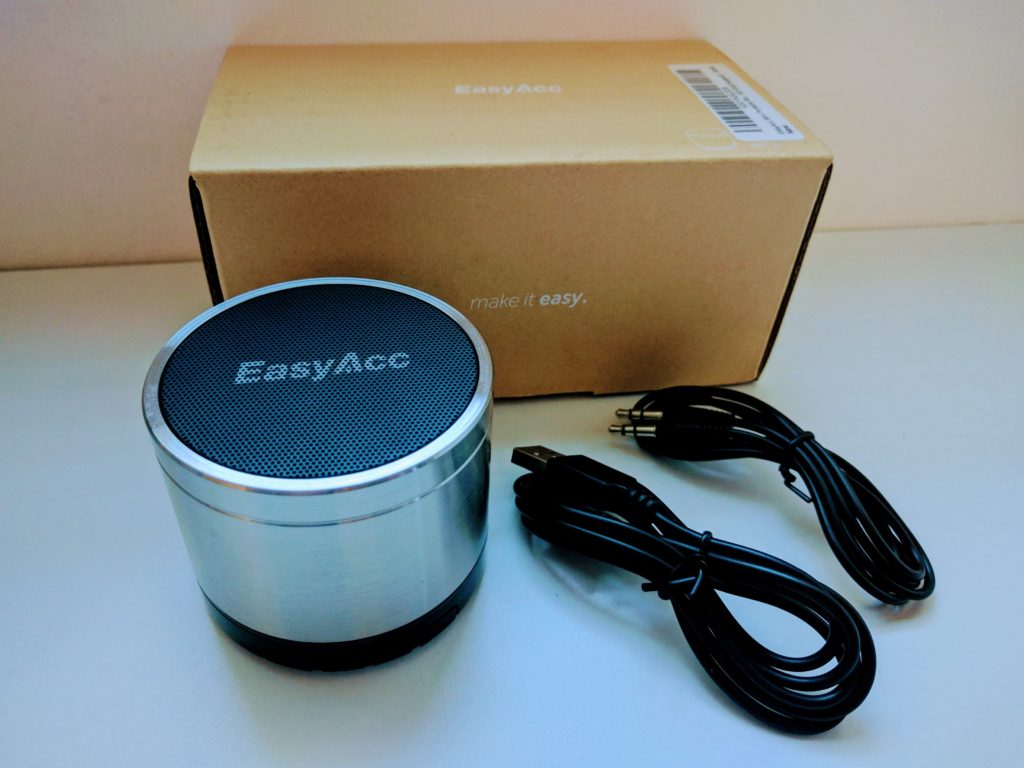 SOUND
It's super easy to find a budget bluetooth speaker that sounds subpar. They come a dime a dozen actually. In contrast, to find something on the cheap and still get a good quality sound is a task that takes some research. Well this EasyAcc Mini 2 is in that small group of budget devices that present quality sound, and does it in such a small and appealing package. I was able to play all the music I wanted for hours. The highs were clear, crisp and enjoyable. The bass kicked in nicely, without any distortion, even when the volume was up. There is no adjusting the bass or treble, but thats what you'd expect from a small speaker with very little room for extra features.
Battery Note: I didn't hit the max, but the information on the speaker touts 10 hours of playtime, which is impressive, all being powered by a 1500Mah battery.
OVERALL
If you're looking for a small, astetically pleasing portable bluetooth speaker that sports a great design and great sound, then this EasyAcc Mini 2 is definitely worth your time. This one will now take the place of my current go-to device, and it'll look beautiful doing it. If what you just read leads you to want to buy this little speaker then here a discount code for Amazon US RKH75IOM