father.io: Massive Multiplayer Laser Tag Review
Back in the early 90's as a child I would run around with my mates and shot each other with our fingers, or if it was hot out little water guns, and if we were lucky laser quest for someones birthday. 20 years later, and now the future has arrived! All you need is a phone and $40 and you can shot lasers at friends till your phones battery dies. The bluetooth device,clips onto the back of your phone and uses infrared sensors to turn any mobile device into a Augmented Reality weapon.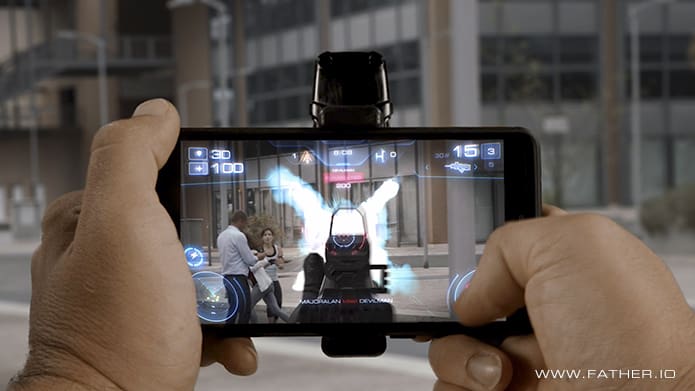 The set-up process was the same as most newer Bluetooth devices, easy peasy. You need to install the Father.IO app, then connect the Interceptor via Bluetooth. This is helped along with the inclusion of a QR code. I found it best to fully charge them before connecting, as my units had little to no charge in them.
The Interceptors include an LED light to show the status of the device. Orange is charging needed, Green is charged and Blue is Bluetooth connected. They connect with the included clip, and work best when close to the phone camera.
The game currently has two gaming modes:
Quickmatch allows people to host or join a game. There a quick setup portion for the host, as they need to decide if it is inside or out, as the Interceptor will use different infrared settings. Quickmatch can then be played in either Deathmatch or Team Deathmatch. The former is a free-for-all and the latter is when people are in teams of Human or Evolved. There are additional options for re-spawning or instant kill.
Each player gets a handgun for their secondary weapon, and abilities which are based on their GPS location. The primary weapon is based on the class they are, assault classes have an assault rifle and can drop crates of ammo. Snipers get a rifle and can drop mines. Medics and engineers both get a sub-machine gun, with the medic getting health packs and the engineer getting EMP mines.
Headshot, was a bit of a surprise, its for people who are playing solo. It allows you to shoot anyone with a face, and has a limit of 2 mins.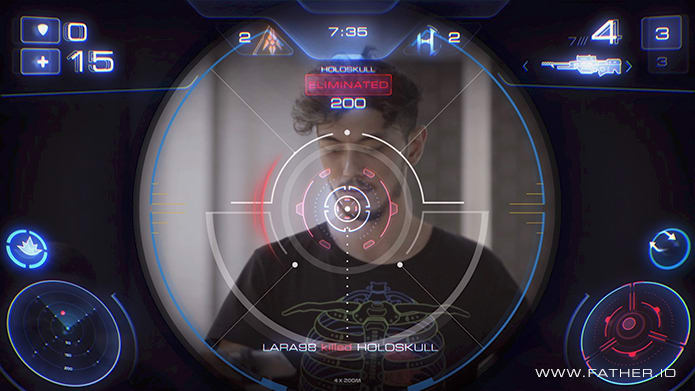 Overall, I really loved this game. The mechanics were easy to get into and felt familiar. The game worked well and even though I noticed a few glitches, its still early days and these can be fixed with app updates.
Indiegogo.com/projects/father-io-massive-multiplayer-laser-tag-app