Gaming Cast – Review for Chromecast.
The first mobile gaming console using ChromeCast!
Play retro games on your TV screen with your mobile device as the controller.
Have a look at the future of Android gaming on Chromecast, by playing these popular games from the past.  Not exactly the high-end games that'll stretch your hardware to the limits but I'd be sure that's the idea here. You'll certainly be familiar with the selection on offer to play on the big screen. If you've played any games in the last 25/30 years, you'll be aware of..
Snake
Pong
Xonix
Tetrominoes
A new section has been added in the latest update with [Coming Soon]

What potential users will want to know when playing over Chromecast are such things like latency, touch control or responsiveness being an issue. You can go ahead right here and tick those boxes as a no. Everything works well with zero issues on latency or input lag. As we mentioned in the introduction, the game was built using these selected titles because of how easy they are to run. The stand out game so far, for me, is Tetrominoes. (No particular reason why, I just seem to prefer picking it.) Spinning the shapes around to fit then smashing it down feels so familiar from when I had the original Game Boy. Ah, such a simpler time then.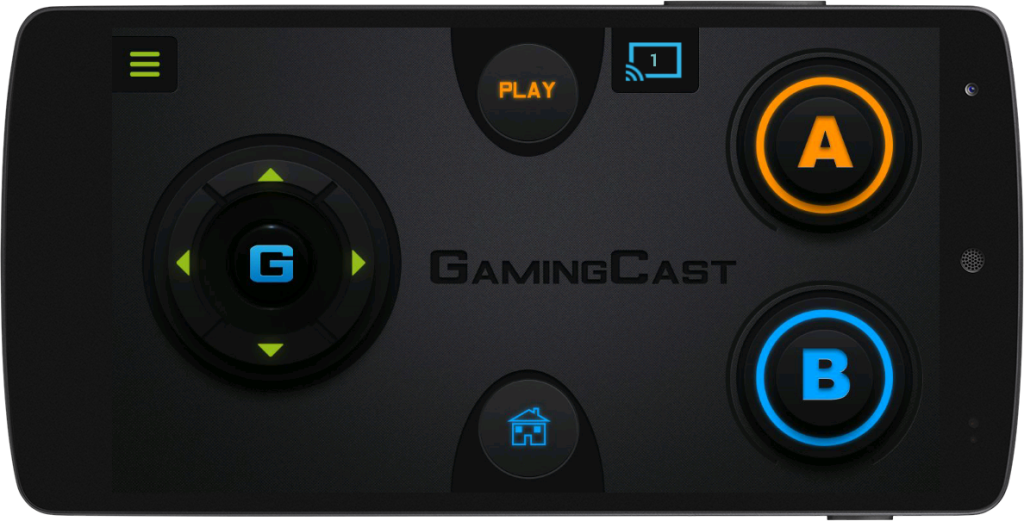 When GamingCast first launched, the developer has moved certain parts of the control pad display around. I seem to remember the Cast button was placed somewhere else. You'll certainly not hit any buttons by accident when your fingers slip and move round the screen. All the on-screen buttons are well spaced out and your fingers will soon remember where everything is. For added comfort we'd certainly recommend turning on heptic feedback. You'll not miss a press with this is turned way up, that's for sure. Another worthy mention too for Immersive Mode on KitKat devices too. You'll get the complete screen for your control pad with no ugly navigation bar taking up valuable screen real estate.
Setting up the package of games couldn't be simpler. You'll see the very familiar cast button where you select which Chromecast to play on, select a game, hit play and away you go. The menus are all laid out well for ease of navigation using the on-screen control pad. I think this can be said for my thoughts throughout the entire experience of using GamingCast. Very simple but definitely worth £0.85 GBP. That's a brilliant price for a good few hours of fun, in my opinion.
Download GamingCast below;