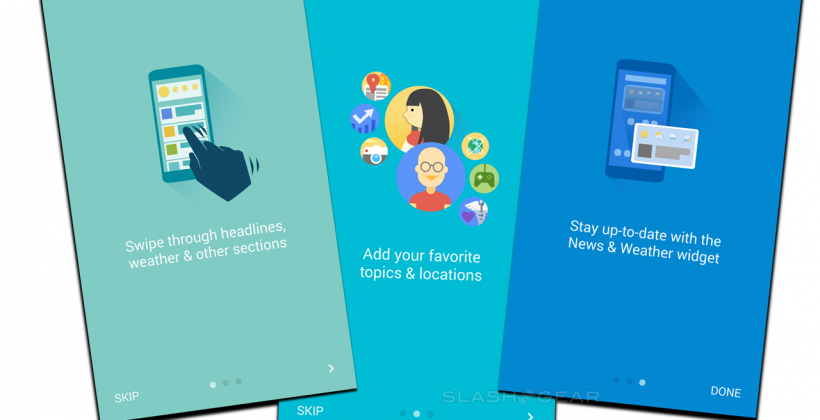 Image via SlashGear
Google News And Weather Re-Launch
The forgotten app that we all used at a time has gotten a material makeover and re-launched today. Google News And Weather is likely installed on everyone's device but has just sat there unloved and un-opened in a very long time. If I'm honest I can't remember the last time Genie Widget was updated but I'm going to guess around the time Ice Cream Sandwich released. Why now you'll ask? I'll tell you. Hopefully we'll see lots of Google's own applications getting updated to the new and very beautiful (In my opinion) Material Design. If Google are going to push for developers to adopt their guidelines they have to start doing it first themselves. Google News And Weather used to be the inside joke, everyone assumed it had just been cast aside like an old toy you no longer play with. This came out of the blue and it's such a pleasant surprise..
 With a new design we are also offered some cool and very welcome features.
• Enjoy news.google.com personalization by signing in with your Google account
• Tablet support
• Expand stories for snippets and related articles, including genres E.g. Opinion, In-depth
• Navigate sections via the menu or simple swipes
• Change editions for news in different languages and countries
• Weather and local news for multiple places
• New resizable homescreen widget
It's honestly like having a new news app!
Syncing using your Google account is very welcome and you'll find so many different topics and stories that will keep you in the loop with the latest news. Find your own topics using the search options and pick up where you left off later on your tablet. This is a very welcome update by Google and we'll be keeping an eye out for more apps and services getting a Material makeover. Possible hashtag? #MaterialMakeover
Download Google News And Weather below;

If you can't grab it from the Play Store, a follower on Google Plus provided the .apk to sideload here