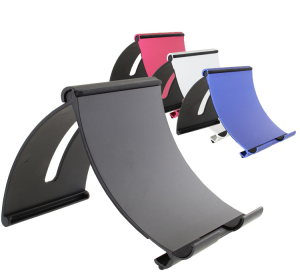 Built from Aircraft Grade Aluminium, with 4 different viewing angles. This a very good stand for your 7 inch tablet or E-Reader. I have only one issue but I`ll leave that until the very end. The different viewing modes are..
Type     (Obviously for typing. It's at a great angle,  Nice and comfortable. Zero issues)
View     (I've been using this angle the most and set up a keyboard and mouse combo with the Nexus7 at a perfect angle for viewing)
Share    (Possibly a  more suitable angle for watching videos or such things. Portrait or landscape view)
Present( 100 % portrait only here. Not sure why it's known as present but they had to call it something.
In use
This 2 part kickstand actually comes as 2 plates. One is the Aluminium front with padded squares that your tablet sits on. The other plate is made of a dull plastic, in the same shape. The trick here is working which way to connect the two together, thus giving you the desired angle for what task you're about to do. Sounds a little tricky? I'll be honest if you purchase this, take 10 minutes and have a play sliding the 2 pieces together. More to familiarize yourself and find the setting you're comfortable with, then you'll be flying.
Looks 
Your Nexus7 will look awesome on this! I shared a few pictures on my personal Google Plus stream and got loads of interaction, comments and pluses. The model I have is black and looks the business, really. I was also using it as a stand with a keyboard and mouse when some relatives arrived at my house. Straight away they were commenting and asking what it was. That's cool. " Ste and his toys" It looks and feels a premium stand, honestly. This isn't going to snap under pressure or anything.
Materials
Built from Aircraft Grade Aluminium and plastic this is lightweight and highly durable. I've tried to bend it out of shape and there's no give on the Aluminium and a little bit on the plastic plate. I tried to actually snap it to see, you can't.
Size
I'd say as both plates are nearly the same a guesstimate of 100mm wide by 140mm tall. Wafer thin in the middle but the curved edges at the bottom act as feet to keep it from slipping on your desk or whatever. I'd say they'd be small enough to throw into a bag for work or going away for the weekend. Possibly tie them together, you know. That's what I'd be looking to do.
Conclusion. 
Now for that one issue.. Because these aren't purpose built for the Nexus7 and more a universal product for tablets of this size.. When setting it to view mode, just as you're setting it up and getting it exactly right. It touches the volume down button. Not a massive deal but be aware that it does it and only once that first time. Wouldn't stop me from buying it but this is a review and I noticed straight away.
You can buy the stand from MyTrendyPhone.co.uk priced at £25.90. They also stock accessories for GalaxyS3 iPad3 and iphone5. You can also like them on Facebook and circle them on Google Plus, to show them how more awesome it is there.