MINIX NEO X8-H Plus – Review
MINIX has refreshed their NEO series Media Hub by introducing the MINIX NEO X8-H Plus. This Android-powered device transforms any conventional TV or monitor with an HDMI connection into a SMART TV. Enabling you to run Apps, browse the Internet, access Google Play Store, Netflix, Skype and even comes pre-installed with XBMC Media Center (MINIX Edition) supporting full hardware decoding.
This new model in the NEO Series is built upon Amlogic's latest 4K chipset, Amlogic S812-H, featuring identical Quad Core processors (CPU) clocking in at 2.0GHz and Octo-core Mali-450 GPU capable of video playback upwards of 4K Ultra High Definition (UHD).
The spec for this entertainment behemoth include, 2GB DDR3 RAM, 16GB eMMC Storage, HDMI 1.4b (up to 4K @ 30fps), one gigabit Ethernet port, dual-band WiFi 802.11n, Bluetooth 4.0, three USB 2.0 ports, one OTG port, SD/MMC Card Reader, Mic Jack, Headphone Jack and IR Receiver.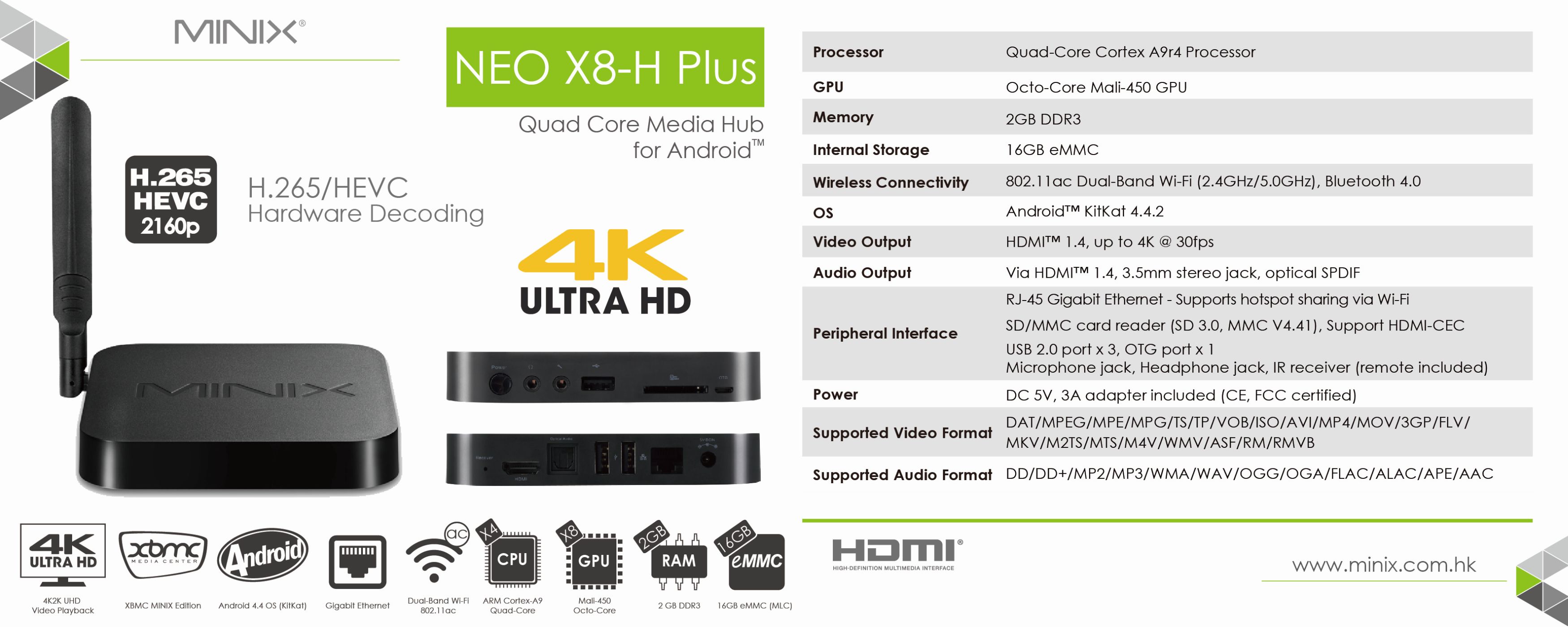 Contents of the box has everything you need to get started. One MINIX NEO X8-H Plus Media Hub, IR remote controller, WiFi antenna, HDMI cable, Micro USB cable, OTG cable, multi-language setup guide and power adapter. The whole device is covered in a matte black housing, and is constructed of formed plastic making the build quality exceptional. Top of the unit has a MINIX logo which looks nice. It also has a detachable external WiFi antenna which is positional which makes it easy to tuck the unit into a small vertical space.
Power button and all input/outputs are well labeled in clear white writing on that black matte finish, however I do have a small issue with the illumination of the power status LED. I can understand the reasoning, as it is built to be left on and consumes very low power, and when watching in the dark it could be annoying if it was bright. But this one stage blue LED is barely visible when the device is powered on, making it extremely difficult to determine status at a glance. This could be fixed with increased illumination and the addition of a two stage LED indicating both powered on and stand-by status.
MINIX wasn't the first or will be the last manufacturer of Android boxes with these specs. But there's something to be said about taking your time designing a quality product both inside and out. In my opinion, MINIX produces some of the best Android devices out there. I will continue to use this box and will will probably upgrade when a newer model is released. Using this for a couple of weeks, makes you think what you did without it, and thats the sign of a great product.
The official MINIX NEO X8-H Plus page provides an great explanation of the performance packed hardware within X8-H Plus, I would recommend referring to this information if you're seeking further commentary. Their support team and second to none and Jon Scutt is a great marketing manager and has been more than helpful with arranging this review.
Also included is an infrared (IR) remote control powered by two AAA batteries (not included). Conventional menu, home, power, return, volume, navigation and return buttons are available. Nothing out of this world, but certainly capable of navigating the Android interface, providing you're in line-of-sight.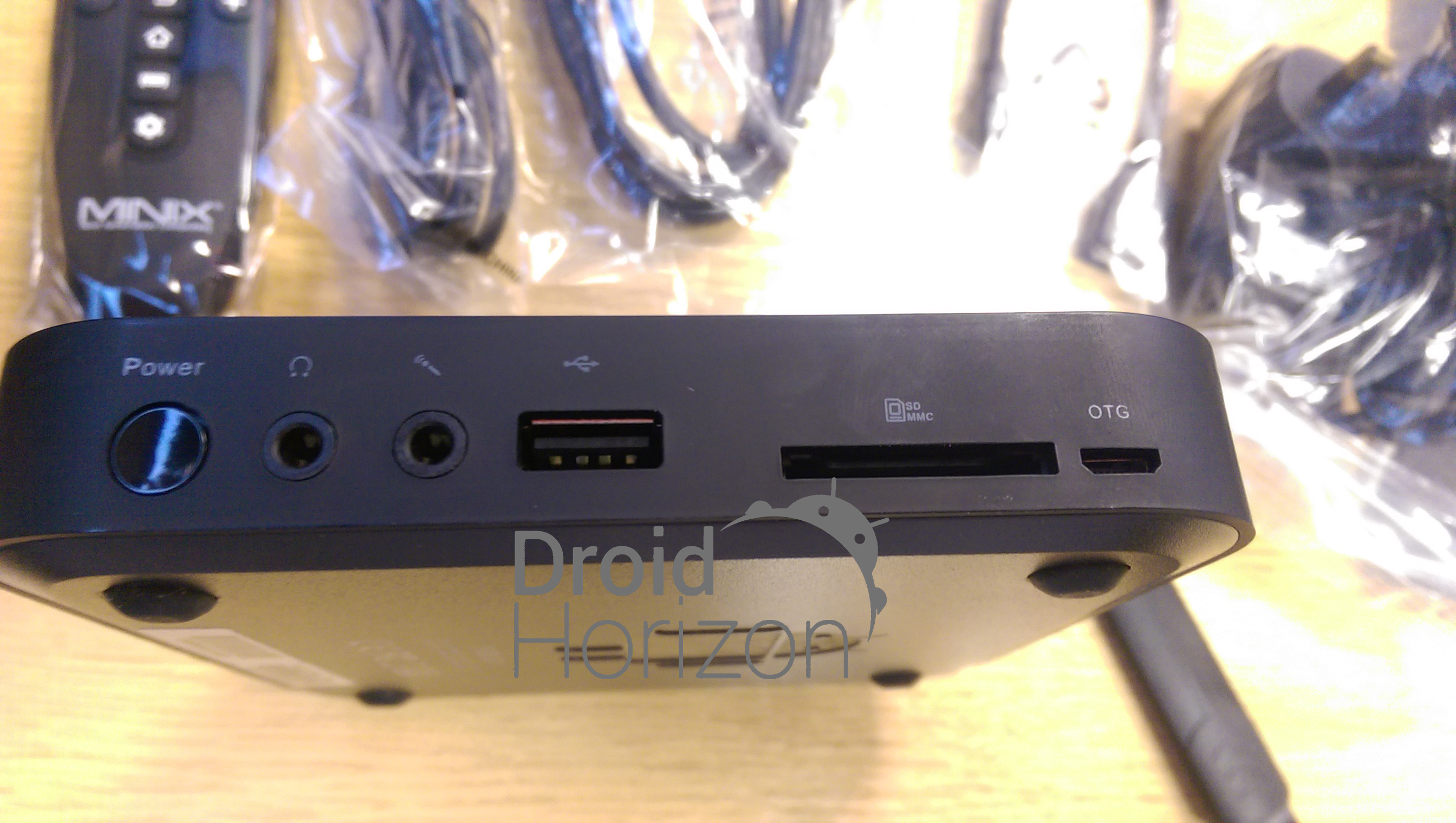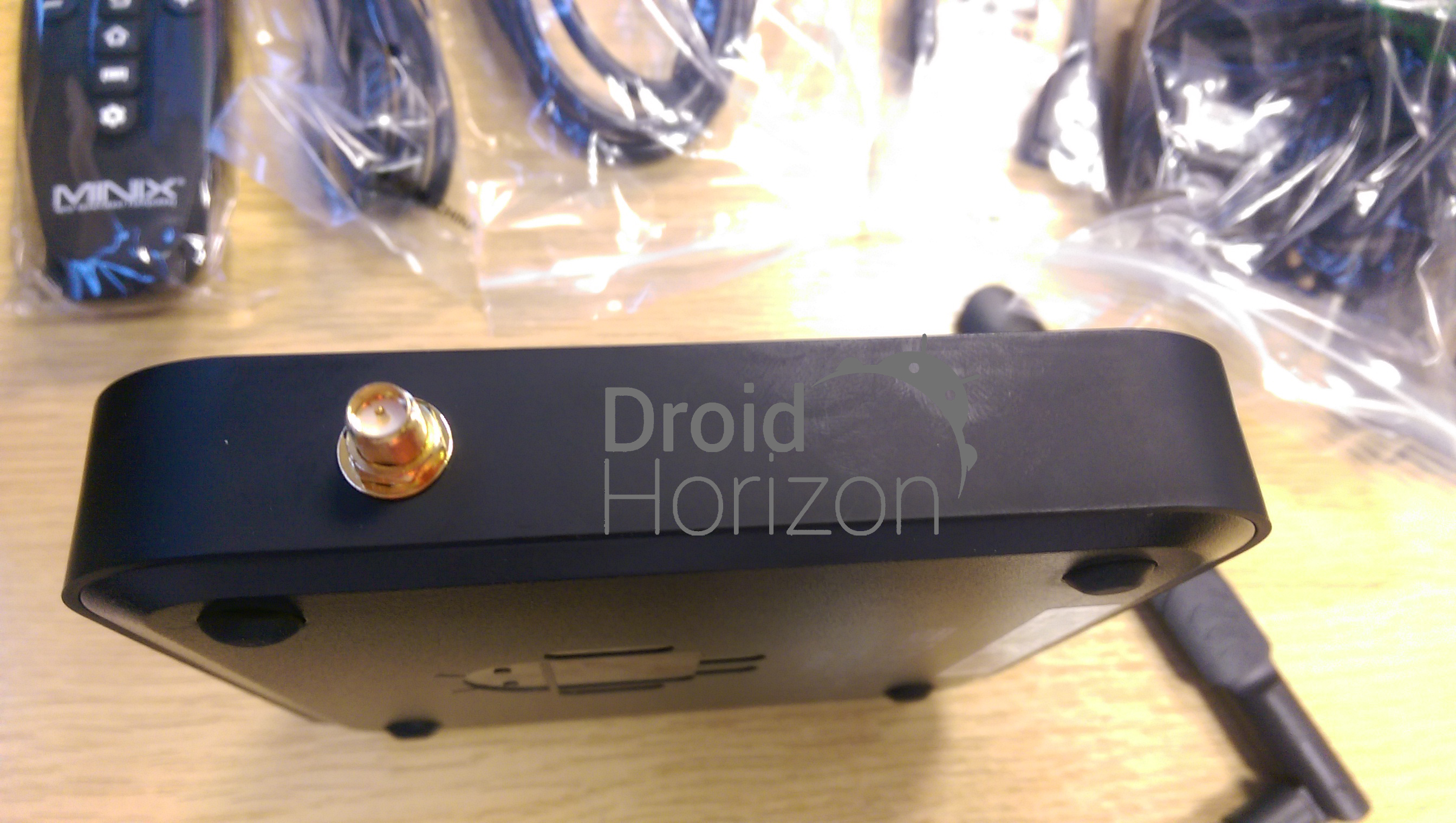 Included in my delivery where two additional remotes the NEO M1 and NEO A2 Lite. The NEO M1 has its power is supplied by a built-in rechargeable lithium battery and with ordinary use (I found) can be used for 14 days before needing a charge. A recharge takes roughly 30 minutes to fully charge again. Pointer sensitivity is worked really well and can be adjusted via Android settings if not to your liking. Pointer alignment from time to time strays, but easily readjusted with the flick the the wrist. Range of the remote was perfect, and could be used from every corner of the room.
The six-axis gyroscope & accelerometer are only good for navigating interfaces and applications such as XBMC, YouTube, etc. But I found it very difficult to use with steering games. I highly recommended this as an upgrade over the standard MINIX NEO X8-H Plus IR remote.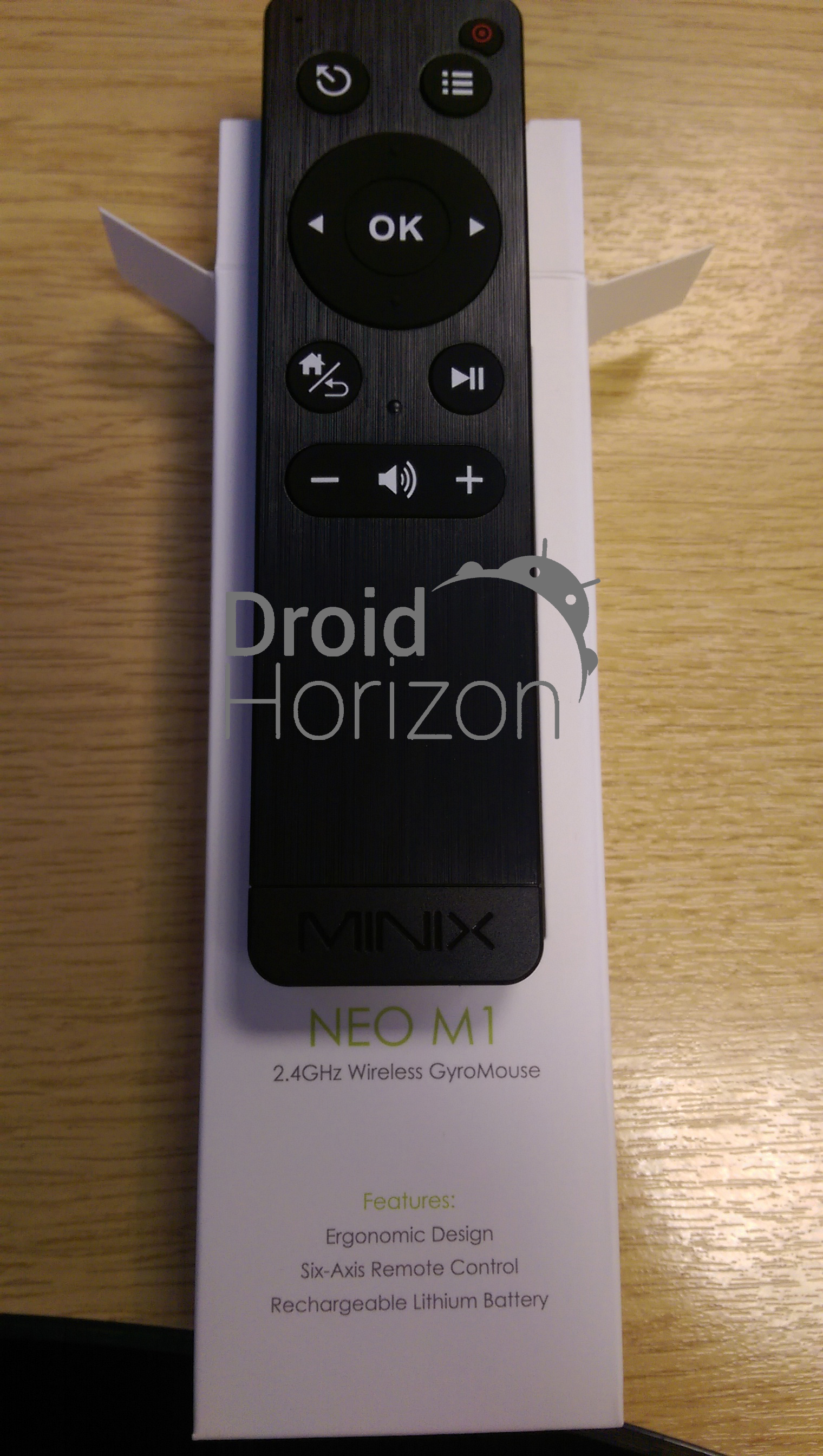 I was very surprised to get the NEO A2 Lite in the post, it is based upon feedback MINIX received from end-users about NEO A2. The NEO A2 Lite is the same shape and size of the original A2, but without the mic or speakers. This has been done to greatly improve the battery life of this remote, whilst keeping 95% of the functions.
I thought the M1 was a good remote, but the A2 Lite blew it out of the water. With the added benefit of the keyboard on the back, I was able to navigate the Android OS with ease, and also set up a lot of accounts, folders etc. I'm also a fan of the bigger remote, it feels better in the hand and I found it easier to use.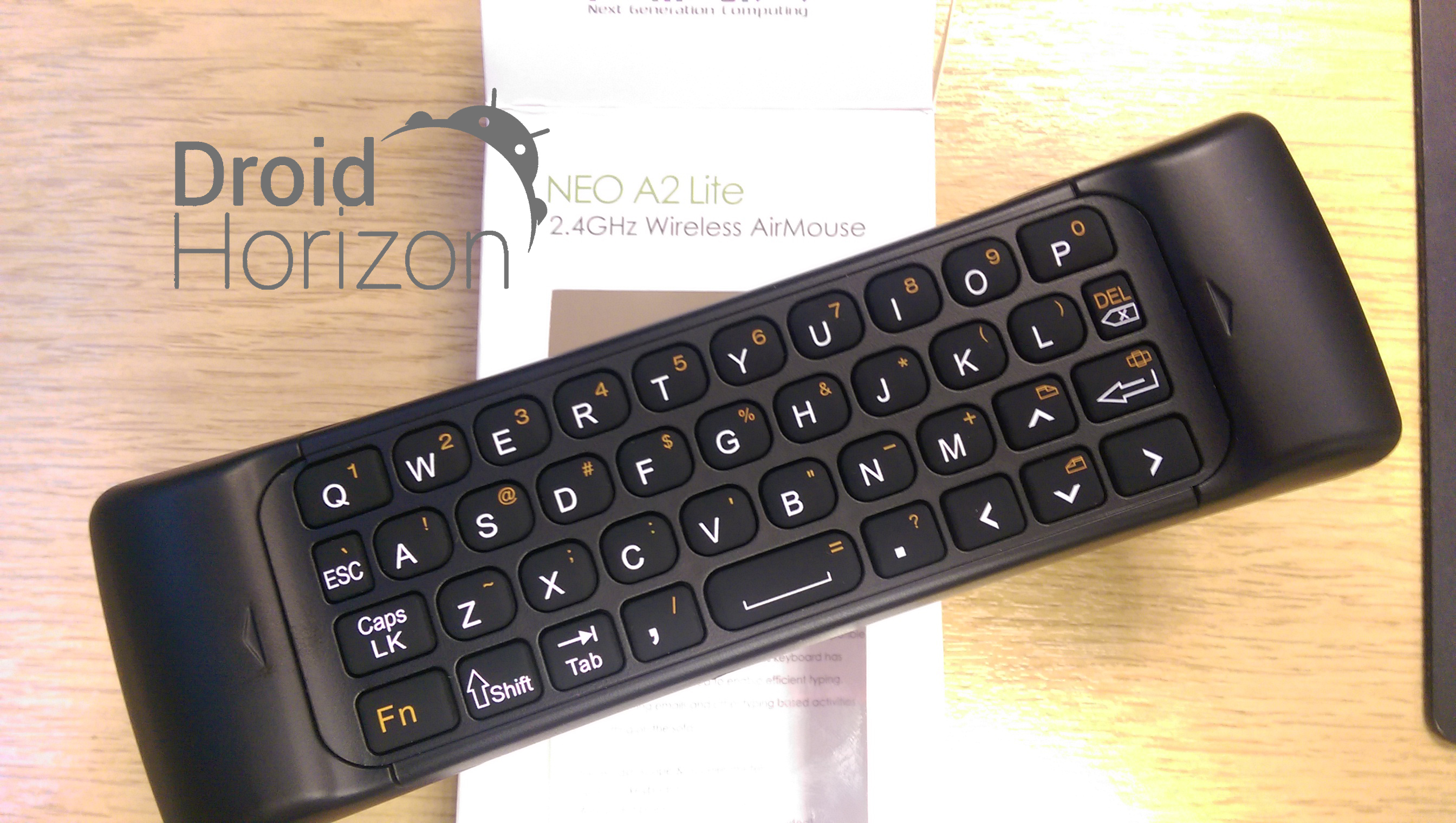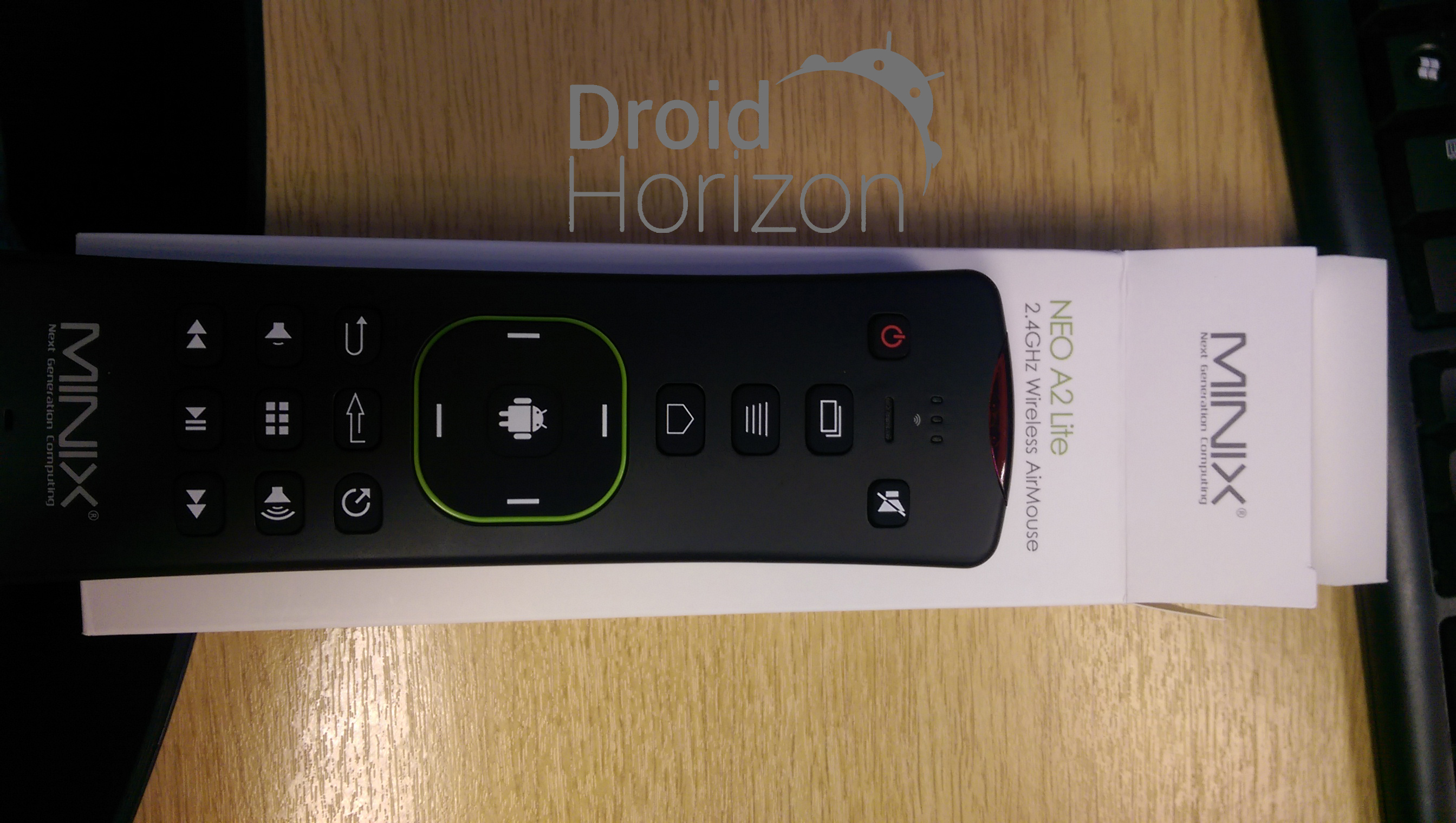 The MINIX NEO X8-H Plus runs Android 4.4.2. On first boot you'll be presented with an initial system setup, this is really simple to fill in and was done in no time. The box comes with two home launchers, a standard android home screen and a MINIX own brand one. MINIX Metro looks like it has taken design advice from the Microsoft Metro team. The interface is straightforward and works great for a television format. Eight of the nine predefined categories allow for easy addition & removal of application shortcuts to their associated sub menus. Direct quick launch shortcuts can also be managed and placed directly on the Home screen too. In the end though I went for Nova Launcher, and this worked really well on the box.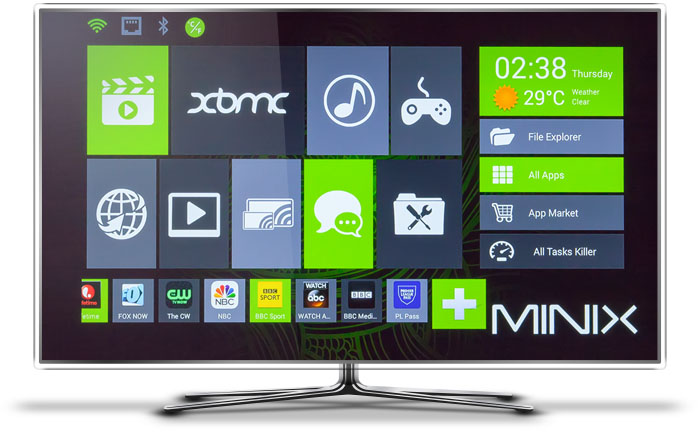 Aside from the standard Android settings, there is another MINIX branded application named Mbox. This App provides straightforward configuration options for networking, display, advanced control, system information and Over the Air (OTA) system updates.
The box comes with some pre-installed apps such as Netflix, Skype, Gmail, Google Maps, AirDroid, Miracast and custom a build of XBMC. These can be removed though if needed, but you have complete access to Google Play, so you can download all your favourite Android apps too. There is no bloatware installed, and nothing to slow up the box.
XBMC is the main event on using the NEO X8-H Plus, for those of you living under rocks, XBMC is an Open Source home theater application which is freely available for Linux, Mac/iOS, Windows, Raspberry Pi and Android. I used to use this way back on my original Xbox (hence the name Xbox Media Centre)
At the time of writing XBMC isn't available through the Google Play Store, but official APK packages can be downloaded directly from the project homepage. Though this is moot as XBMC MINIX Edition comes pre-installed. This custom build is based upon the XBMC 13.1 (Gotham) in partnership with the developers at XBMC. Modified to provide the optimum experience and boasting the world's first true 4K Ultra High Definition (UHD) XBMC player on Android, it is highly recommended keeping this installed version.
XBMC takes a bit of time to configure and customize, but in the end, your efforts will be rewarded with an outstanding entertainment center. With links to my movies and tv shows as well as iplayer.
Now for the price it comes in at £112, and you get the box and the M1 remote. Which is an absolute steal, I cannot recommend this box enough, it has to be one of the best things I have ever reviewed and will be my main media hub for a long long time.
Checkout MINIXs main site:

Grab the X8-H Plus from newtech.co.uk/minix-neo-x8-h.html