New Year Swag – The SteelSeries Apex M800 Mechanical Keyboard Review
I'm sure like a lot of other people who work in an office environment, you are probably using Dan's old keyboard before he left. It's black, shiny, you can tell he liked going online as the "W" key is worn down, and suspiciously so is the "X" key. So like the MX Mouse before, I was looking to up my game in the keyboard market and thought that I should try out what was punted as the "Worlds Fastest Keyboard". The Apex M800 keyboard is mechanical and has a software package that looks like it's come out of NASA, this is a perfect keyboard for gaming, but it may be too much power for an office worker.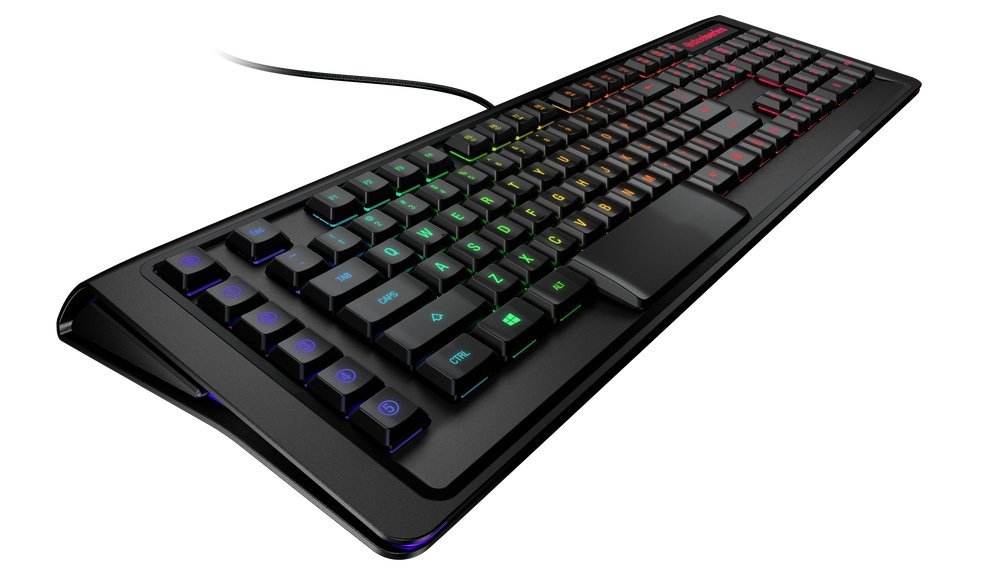 Now the unboxing experience with the Apex M800 was really good. It came in a huge bright orange box, with a section cut away allowing you to tap on some of the keys. This is obviously for store browsing and a great idea so you can actually feel the keys before you buy. But this gave me a sneak peak at the keyboard before opening. Installation was easy, I installed the Steelseries software off their site, then plugged in the Apex M800 keyboard. There are two usb plugs which can be plugged into your computer, but don't worry as there are two USB points on the keyboard itself, so you don't ever lose any ports.
The Apex M800 Keyboard has some tricks up its sleeve in regards to layout. It has the standard layout which includes numpad, arrows, F buttons along the top, extra large space bar and 6 macro keys. What's that? You don't have an extra large space bar or 6 extra programmable keys on your keyboard!? The space bar is 5 buttons long and 2 buttons down, that's an extra "row" of keyboard to click on. I assume this must be good for gaming, if you're jumping a lot, but this is also good for touch typing, as missing the space bar can be an issue sometimes. It look a little getting use to, and it is so sensitive that for the first couple of days I had some trouble. But after a while it just feels good, and means that normal keyboards are now difficult to use.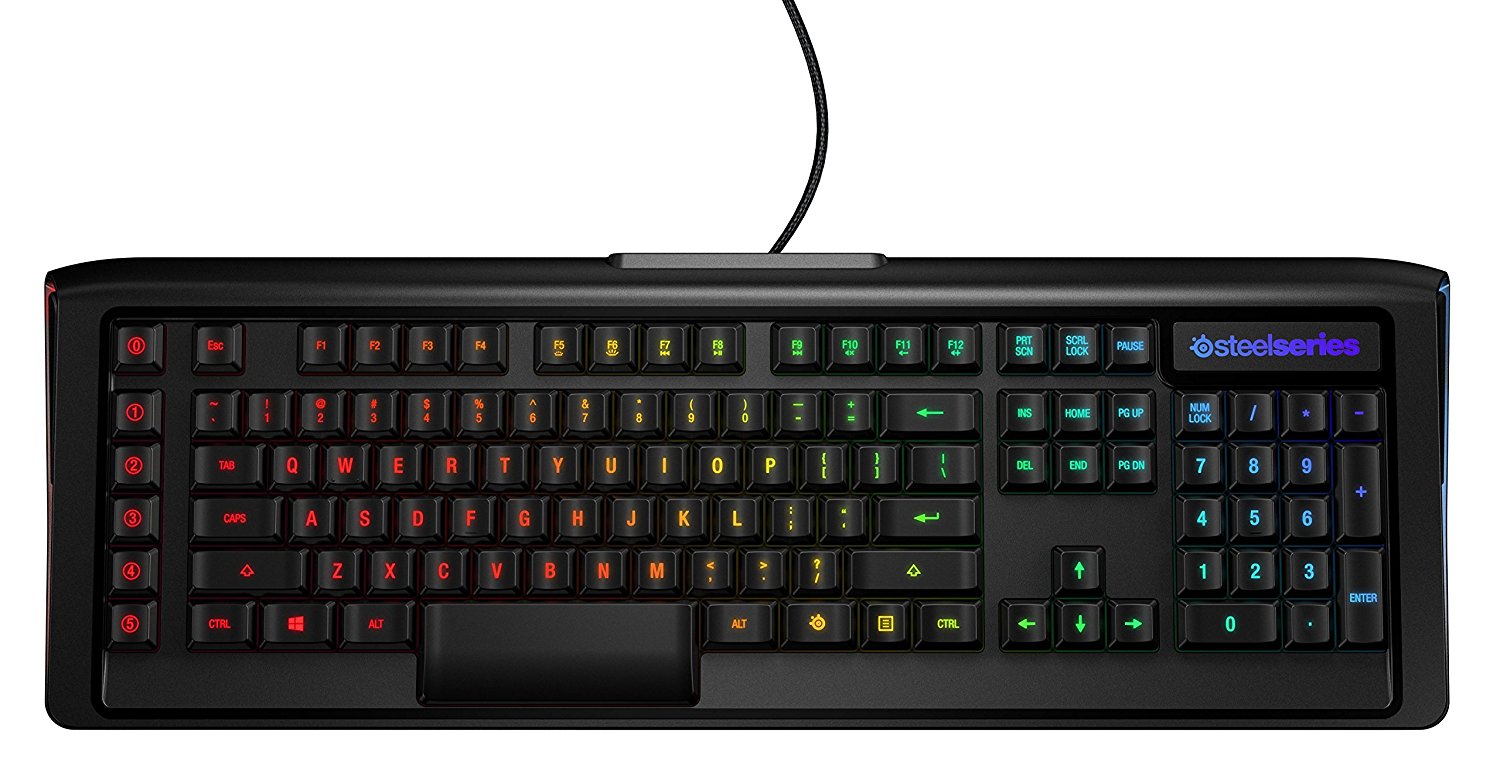 The 6 programmable buttons, run along the left hand side, and this is what causes the keyboard to be overall a bit longer than most. Now all the buttons on the keyboard are programmable, but I will get into that later, but the 6 buttons are good to have them there and ready to go. I have been using them for mapping html commands to help speed up my coding.
At the time of writing this up, Steelseries are throwing in a free arm rest with the purchase of the Apex M800 keyboard, and it needs it. I got serious wrist aches using this keyboard without an armrest, I had to go out and buy one. It must be due to the angle of the keyboard, but I would say if you don't get one free, buy one!
The SteelSeries Engine 3 software is where this keyboard really starts to show off. The Apex M800 has an LED under each key, this means that the it comes to life when plugged in. By default the software loads a soft orange light on each key. When pressed down, the key then turns blue, which when typing a sentence causes the keyboard to come alive with blue and orange lights breathing on your desk. Then blue light then fades back to orange, its a great effect. This obviously means nothing to the performance but adds another dimension to the keyboard.
I am able to set each key to have its own colour, this can then be spread across profiles for different programs and games. There is a huge opportunity here to customize the whole gaming/working experience. You can set the active and rest colour, you can using a palette guide, RGB number or even a hash colour code. I have spent two months with this keyboard and software and only really starting to scratch the surface.
They are different levels of customizability, if you want just have a normal active colour across all keys with a different rest color. You can then go up a level, and have individual keys with different colours, you can then go up again, with different profiles with a wide range of different colours. This really has something for everyone.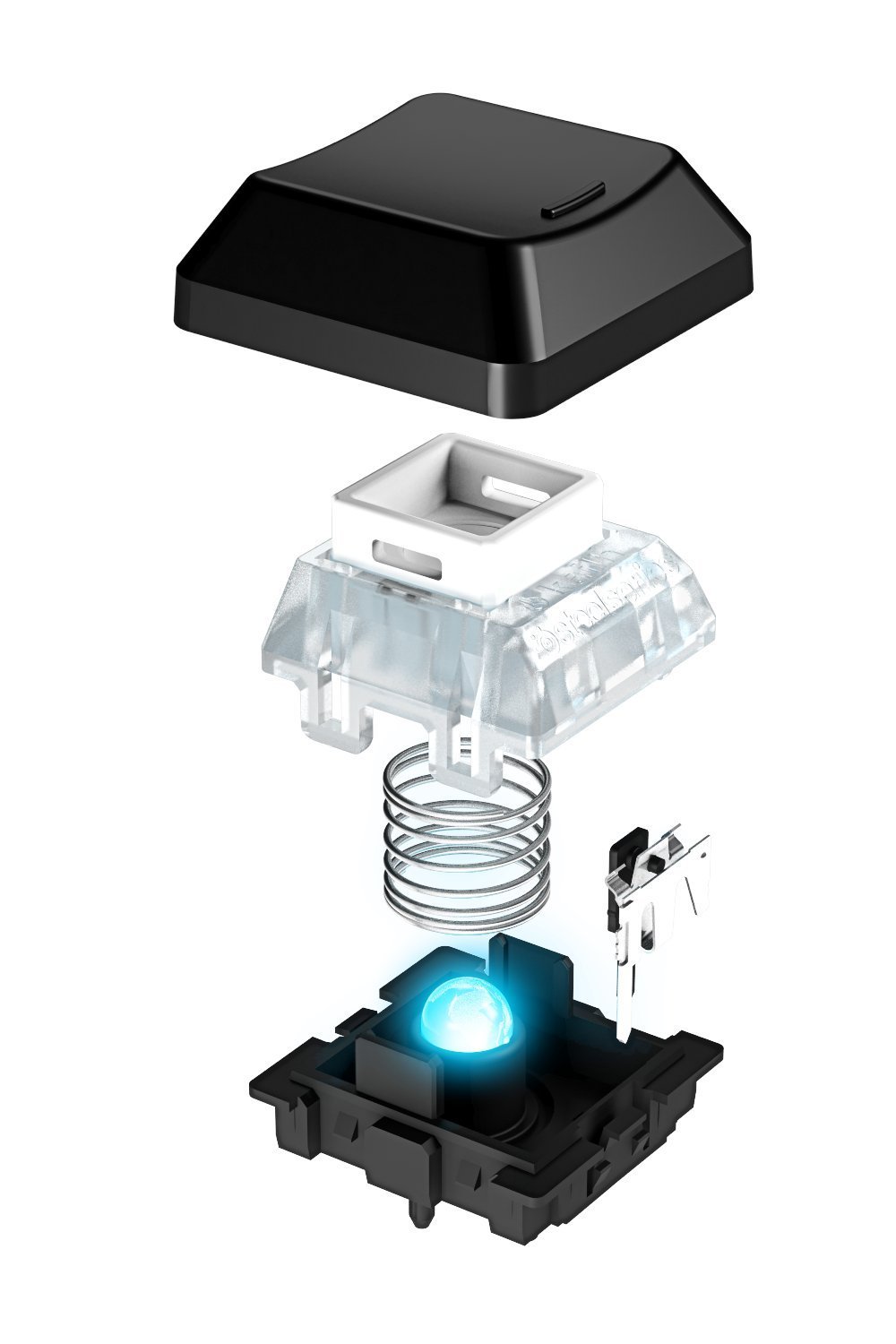 A huge advantage of the Apex M800 is the key mapping software. As you can see in the image below, you are able to record a macro for any key on the keyboard, though I would think this would mostly be concentrated on the 6 macro keys. In gaming this may be good for ducking, and reloading at the same time. In a work environment I use this to save some common HTML tags, over a whole day this can save a lot of time.
As with the illumination, there are levels of skill associated to this configurator. You can use it in a similar aspect as me, with recording common commands, or you can go up to a completely different level and have a huge page of macros for every occasion.

Specs:
DESIGN
N-Key Roll Over 256 Key
Programmable Keys Full, every key re-mappable
USB Hub Two USB 2.0 ports, powered
Weight 1390 g, 3.06 lbs
Height 174 mm, 6.85 in
Width 510 mm, 20.08 in
Cable Length 2 m, 6.5 ft
SWITCH
Type & Name Mechanical, SteelSeries QS1
Throw Depth 3 mm
Actuation and Reset Depth 1.5 mm
Actuation Force Needed 45cN
Lifetime 60 Million Keypresses
CUSTOMIZATION
Lighting Individual key, whole-keyboard patterns, reactive keys
Macros 6 dedicated keys, every key re-mappable
Setting Configurations One on-board, unlimited with SSE3
Now for the reveal, the price for all this power is €149.99. As like a lot of stuff we review here, there are many alternatives for a lot cheaper, but not that many with the amount of time and energy spent in developing a product over this many years. There is obviously a lot of work in the Apex M800 keyboard, it's solid, the software is fantastic and offers a little something for everyone.
steelseries.com/gaming-keyboards/apex-m800