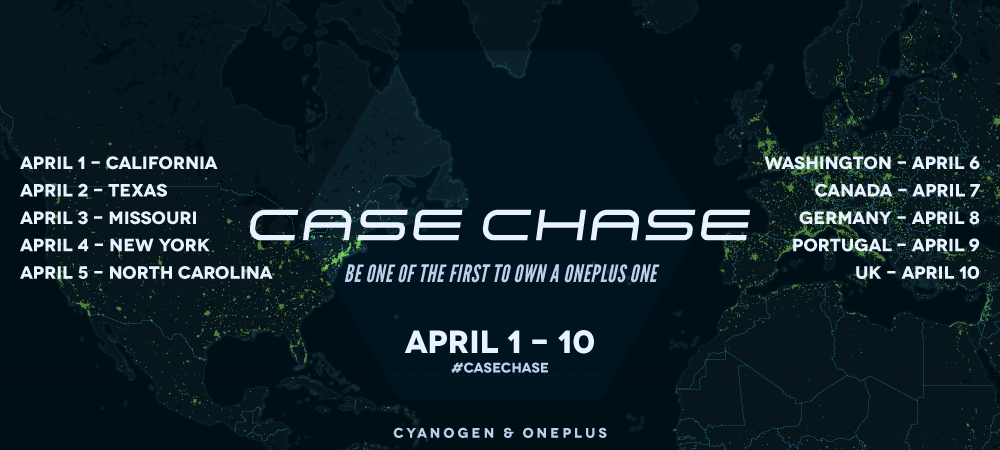 One Plus Case Chase
Ten days. Ten locations. Ten chances to be one of the first to own a OnePlus One.
One Plus are having a treasure hunt, so to speak. Using Twitter, the company will provide clues for people to follow and you could win a One Plus One. You'll have to follow One Plus and Cyanogen Mod on Twitter first but we'll provide the press release below and the links you'll need to get started. One Plus are a small manufacturer based in China and the first OEM to supposedly launch with Cyanogen Mod OS installed. If you have them circled on any social network you'll know they do a lot of teasing without really giving much away and use their accounts and pages to gain interest. Most users are getting a little peeved, you could say, but a small company like this with likely very little advertising money haven't much choice compared with the big boys like Samsung/HTC/Sony. I'll hold back any judgement until I see anything official.
'Case Chase 2014' – a contest being held around the world starting today (1st April,) winners of which will be among the very first people in the world to own a OnePlus One.
The Cyanogen and OnePlus teams will be tweeting out clues on ten different days. Contestants can use the clues to determine a specific location – the first person to arrive at the location will find a package awaiting them and be one of the first to own the OnePlus One.
There will be a different location each day, spanning North America and Europe, running April 1-10. Clues will be tweeted from the following accounts: @CyanogenMod, @CyanogenInc, @OnePlus. The contest will take place in the UK on April 10th.
More information can be found at www.oneplus.net.
Dates and Locations:
April 1 – California
April 2 – Texas
April 3 – Missouri
April 4 – New York
April 5 – North Carolina
April 6 – Washington
April 7 – Canada
April 8 – Germany
April 9 – Portugal
April 10 – UK
Are you going to participate? Case Chase 2014 is certainly unique and I love the Mission Impossible-esk of it all.