PROBOX2 EX+ Review
For the past month I have been using the PROBOX2 EX+ as my daily Android TV box. It's had some fantastic reviews, and looks like a great option for people wanting an Android box to plug into their TV.
Specs:
Operating System: Android 5.1.1
Chipset: Amlogic S812
CPU: Quadcore Cortex A9r4 Processor
GPU: Octa Core Mali-450 GPU
Memory: 2GB DDR3
Internal Storage: 16GB eMMC + Micro SD card slot
Connectivity: Gigabit Ethernet, Dual Band 802.11 b/g/n/ac Wi-Fi , Bluetooth 4.0
Audio/Video Output: HDMI 1.4, SP-DIF, Composite AV
Interfaces: 2 x USB 2.0, 1x Micro USB OTG
Power Supply: DC 5V/2A
It sports a rather sleek black square case, with an oddly placed power button, which is a little bit in the box. The ports are positioned on the back and on the left and right of the PROBOX2 EX+. On the back, there's the power port, video out, Ethernet, HDMI and audio.
On one side there is the microSD, OTG port and 2 USB ports. The other side is used for the wifi antenna. The IR remote that comes in the box is standard and does its job. It's got media controls, Android buttons and mouse mode. There are 4 colored buttons which allow you to go directly into apps like Kodi.
The Remote+ controller I was hugely impressed by. Its small and basic, It's got controls for volume control and Android buttons. But it works perfectly, I mainly use the air mouse feature to navigate the OS, and the arrow keys for Kodi. I'm not a huge keyboard user, but the integrated mic means I can voice type when I need to.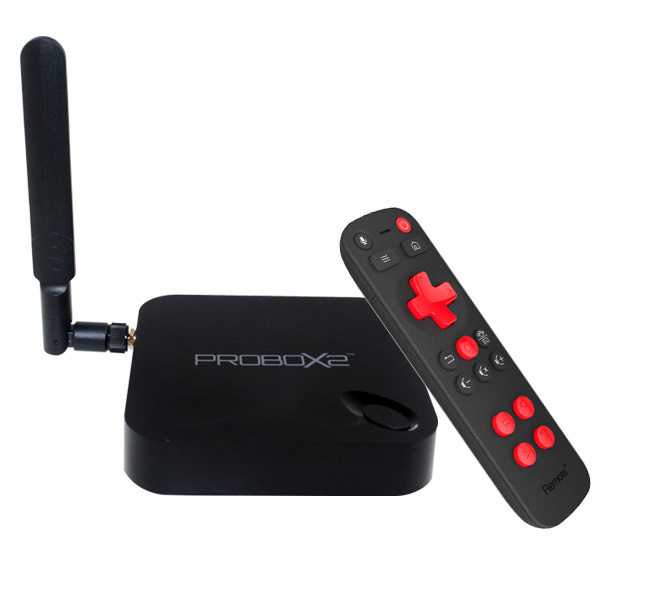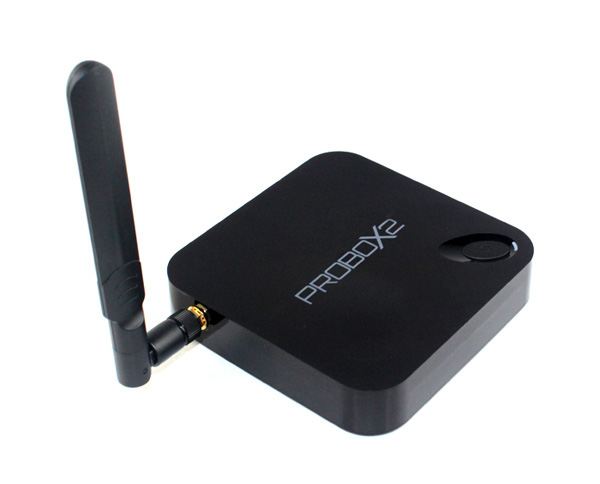 The initial boot took around 1 min to do, but it can go into standby which means It can be "on/off" instantly. PROBOX ships the EX+ with a custom launcher. I am still waiting to be impressed by a custom launcher, and this wasn't one of those occasions. I ended up installing Nova Launcher and works wonders.
PROBOX have included Hulu, Netflix, MX Player, some games and Kodi 15.2. This pre-installed version of Kodi is customised, with PROBOX preinstalling a number of add-ons for video sites.
The processor on the PROBOX2 EX+  handled Android Lollipop with no issues. There were no noticeable problems when using the OS. Though they are not pushing out Firmware updates every day, the system feel stable. I was also happy to see that it came pre-rooted, I was able to install and run Titanium backup, and Adaway.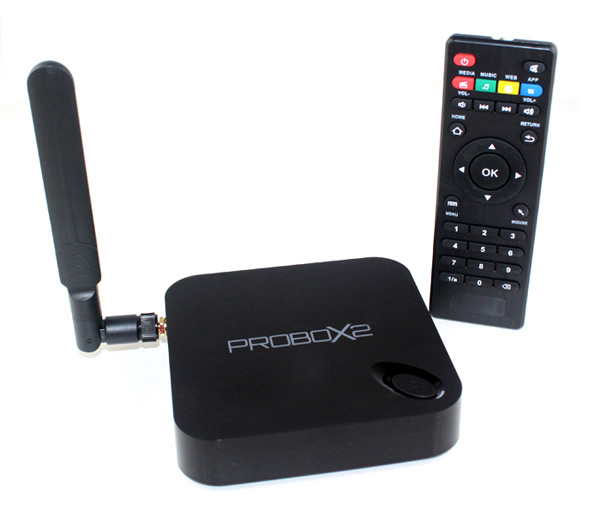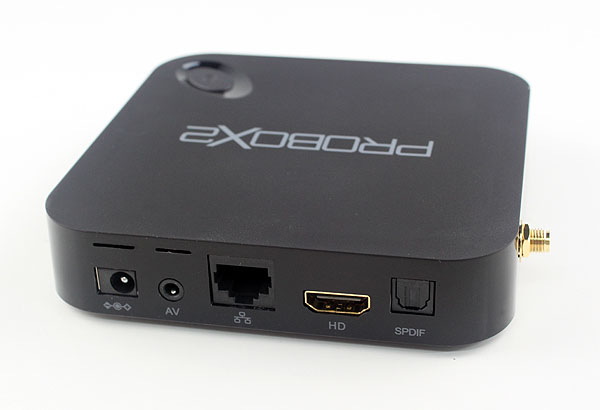 720p, 1080p and 4K 30FPS all played fine within the most recent version of Kodi. I did have issues with 4K in 60FPS, where audio was faster than the video. Overall media playback was excellent, and all played as I had expected.
I used the internal storage for my apps, and a USB hub with a 1TB 3.5″ drive, which stored all my media and I had no issues with playing at all. Gaming performance exactly what I expected for this spec. Most games played smooth, even on 1080p. Though some 3D heavy games did tend to stutter.
The PROBOX2 EX+ is a fantastic and solid Android box. The PROBOX2 EX+ is available for £89.58
w2comp.com/probox2-ex-plus-remote