Today we'll be taking a closer look at an EarFun Go branded portable waterproof bluetooth speaker. Generally speaking, portable bluetooth speakers are a great addition to an everyday carry gadget bag. They're small enough to toss in your vehicles glove box, or a beach bag. Although, many times with these budget range portable wireless speakers, you could be sacrificing sound and build quality. Often not being loud enough for an open area and outdoors, or too fragile to take a beating. Also at full volume, the speakers, could possibly not handle the sound, and quickly break down and not sound good at all. This isn't the case with the EarFun Go portable bluetooth speaker.
The EarFun Go speaker comes nicely packaged with everything you need to get the party started. I opened the box, pulled out its contents below. You'll notice all the documentation, and the pill shaped dual speaker. The USB-C charging cable not show, because I forgot to display it along with the rest of the contents. That's my only excuse! But it's there, I promise.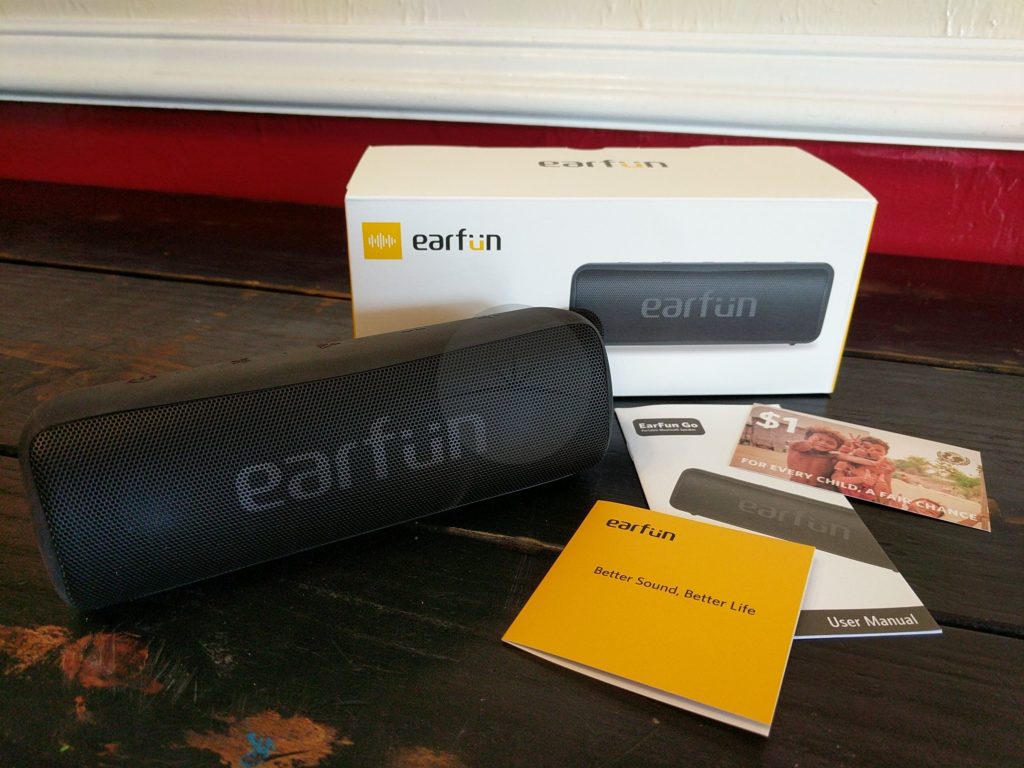 The Package
The 6.7″ x 2.2″ x 2.2″ speaker is black with "earfun" printed on the front grill so you'll never forget its name. Held in the hand, you'll notice a small lanyard to help you handle it easily, or add a carabiner and hang it from the backpack. The speaker feels very well built with a silicon backing that is anti-slip and will stick in your hand and will not slide easily off a smooth surface. The housing is sealed tight. Although I didn't test it out, it is IPX7, so it should be completely waterproof, able to resist any splashes from the pool, rain, and even water immersion for a short time. As a budget friendly speaker, it comes well equipped with features that definitely impress!
The Insides
The EarFun Go speaker offers 24 hours playtime from a 4400mAh power source (dual 2200mAh batteries). I was happy to see that the charging port was USB-C, since my main devices also use USB-C, i'll always have a charging cable handy. There's also an auxiliary jack just in case you need it wired. The speaker sports Bluetooth 5.0, giving you the ability to pair with any device, and a bluetooth range of up to 100ft. I tested this range, and I did get mighty close to that distance with is awesome! It features digital speaker technology that will give you a deep stereo sound. This will ensure your tunes are heard throughout the room. I've listened to the speaker in various rooms of my home and can attest to its quality.
You can also achieve true wireless stereo with "Pair two Play" if you have a second EarFun Go speaker for true left/right channel output, delivering great stereo sound. As of right now I have it bluetooth connected to my Nvidia Shield TV, pretending to be a single small sound bar. Even in this main screen setting, it upgrades the quality of sound, above and beyond the built-in speakers of my LG TV. Seriously considering buying a second for that stereo quality.
The Verdict
If you're on a budget, looking for a quality bluetooth speaker that is durable, waterproof, with great sound for a bluetooth speaker, this could be a great choice. It run $34 on Amazon and ships Prime.