Ember Mug² lets you enjoy your favourite hot drink at a constant temperature that you can control from a smartphone app. While Ember's range includes 14 oz and travel versions, we've been enjoying our cuppa from the 10oz (295ml) size. This model comes in a choice of black, white or special edition copper colours.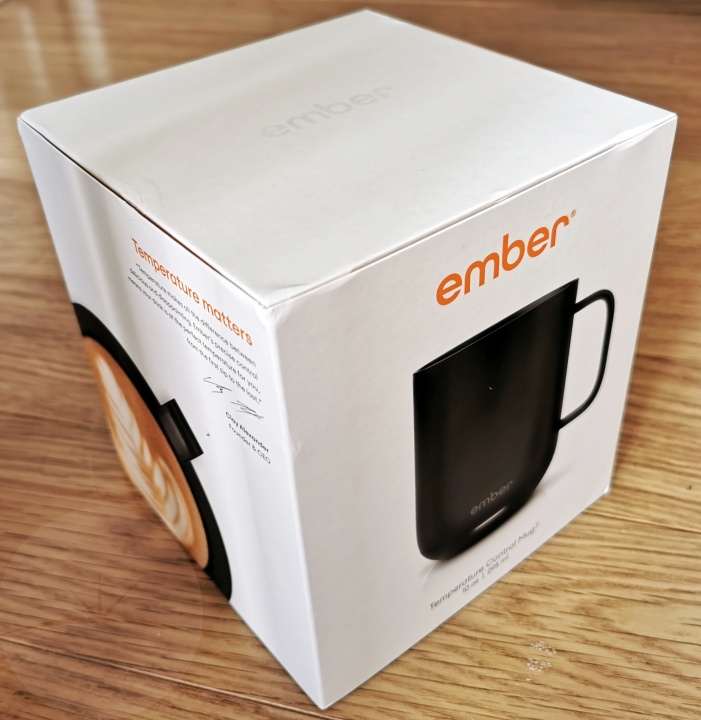 Inside the box you get the mug, saucer, power adapter and a getting started guide. At first glance we thought we'd been sent the US version of the wall charger but you can actually switch out its prongs with the UK or European socket adapters included – a nice touch if you intend bringing this on your travels.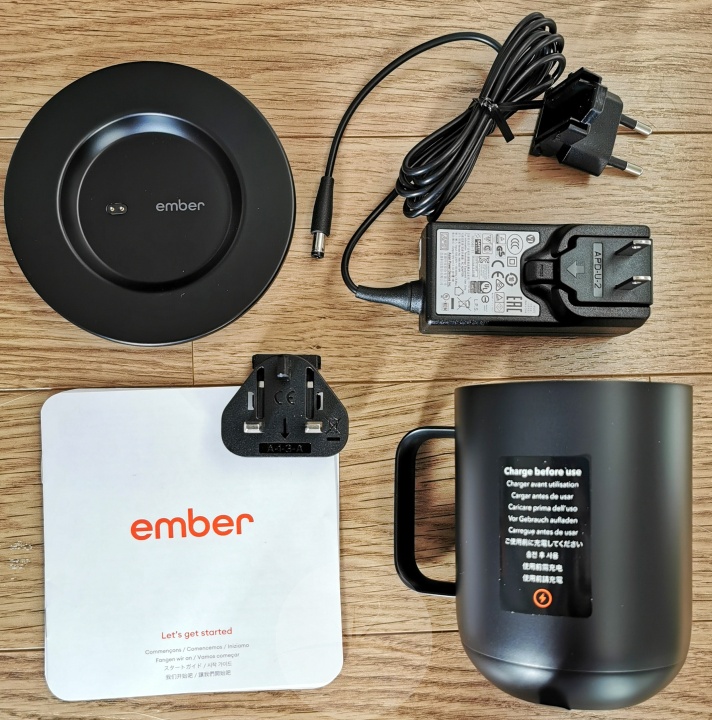 The Mug² resembles your everyday tea/coffee cup, but is actually made from stainless steel with a ceramic coating. Besides a LED indicator near the base, the other big giveaway that this isn't your regular cup is the extra weight. The cup is a little bottom-heavy thanks to a thicker base. This houses an internal battery and heating element which enable the contents to stay warm away from the charger for up to 1.5 hours.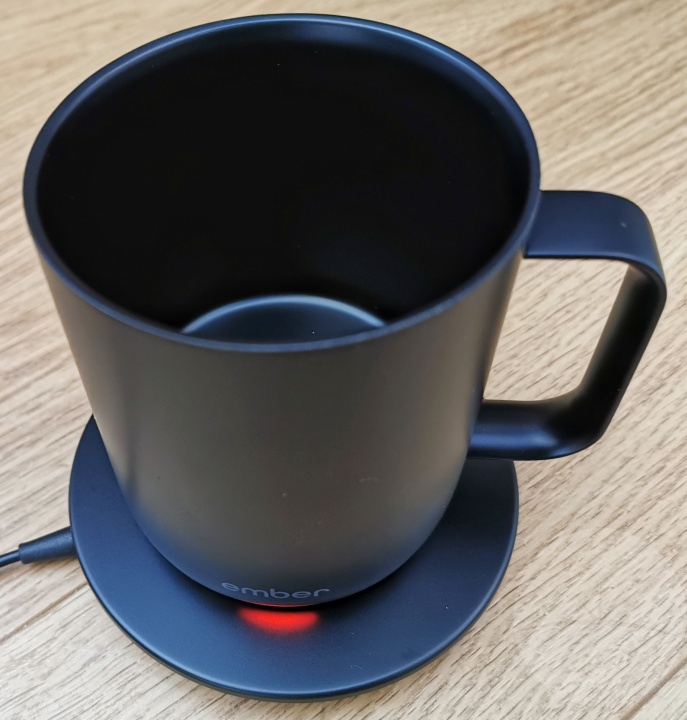 To charge Ember Mug² you simply place it on the saucer. We usually find water-friendly products use wireless charging, but instead this charging plate has two small Pogo pins that make contact with a couple of metal rings on the base of the cup. This setup allows the mug to recharge in less than 2 hours, but made us a little concerned about spilling any water on the saucer while in use. The cup's LED pulsates red while charging and turns green when fully charged.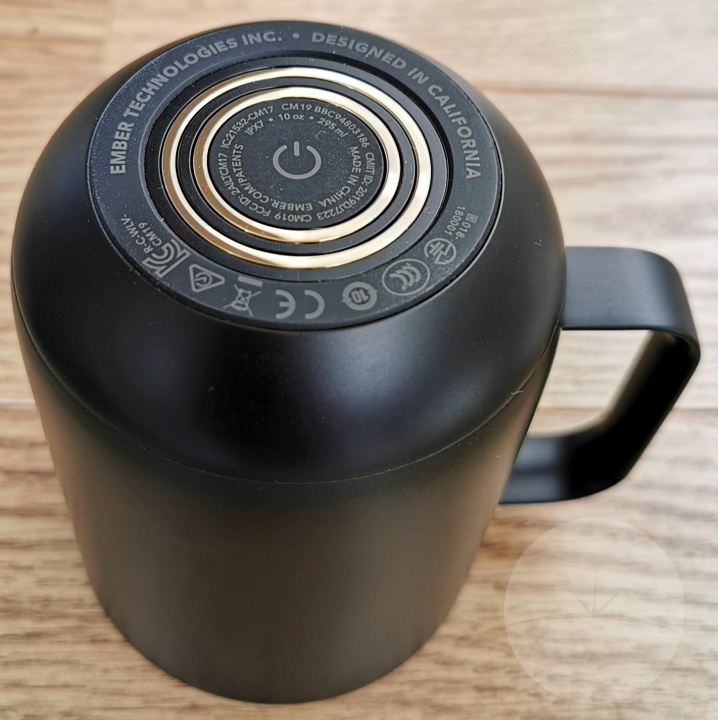 The power button is located in the centre of the metal charging rings on the bottom of the mug. Switch it on and it's ready for you to pour in the boiling water. It will then monitor the temperature until it drops to the target (57°C/135°F by default) and then fires up the heating element so that this temperature is maintained.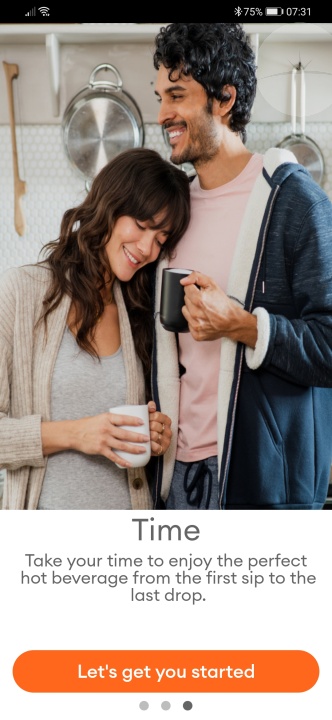 Install the Ember app and you can pair and control the mug with your phone. You can select from various presets that give the recommended temperature and brewing times for different types of tea and coffee. Alternatively you can set up your own custom preset for anything between 120°F – 145°F (49°C – 62.5°C). You can keep an eye on the temperature dropping, or go about your business and wait for the notification that your target temperature has been reached. You also have the option of changing the mug's LED indicator to your favourite colour.


We found the Ember Mug² pleasant to drink from as the ceramic coating makes it just like drinking from a proper tea cup. However the thick base and extra weight can be deceptive – leaving you into thinking you've more left to drink than is actually the case. We also found this 10oz capacity a little on the small side – if you need plenty of caffeine to get you going then you may want to go for one of the larger options.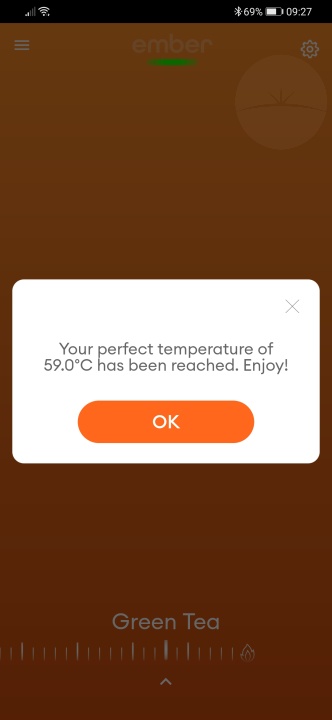 The big advantage with the Mug² is that there's no hurry to drink up quickly before the contents gets cold. Being busy or distracted doesn't mean you'll come back to a cold cup of coffee. With the charging plate installed in a convenient location on your desk, the cuppa can sit all day – ready to pick up and drink without reheating. You're not tied to your desk though as the battery means it'll also keep warm as you walk around the office or attend meetings.
There are a few disadvantages with this solution though. It's only powerful enough to stop a drink from cooling and won't heat a colder liquid. Leave it off the charger for a couple of hours and you also won't be able to pop this in the microwave for a reheat (it's also hand wash only). Despite the recommended temperatures (and probably due to having become resistant to increasingly scalding drinks over the years) we also found even the 62.5°C maximum a little on the cool side compared to what we are used to.
The £100/$130 asking price is certainly a lot of money for a mug and may discourage folks from trying an Ember Mug² for themselves. However it does work well as a solution for busy office-workers whose hot beverages always end up getting cold. If you're struggling to find a gift for the gadget lover who has everything, then this fancy smart-mug may be the answer you've been looking for.