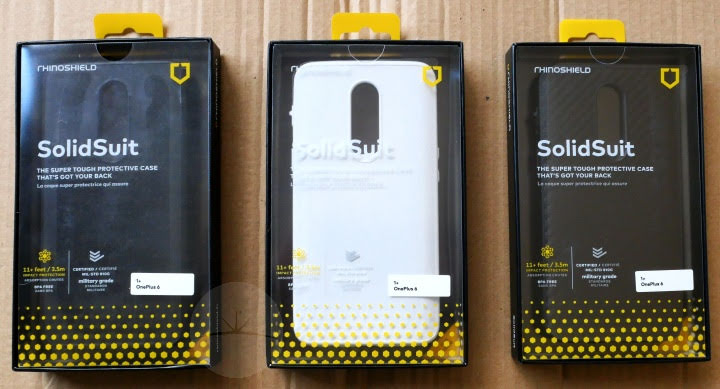 The selection of cases available for OnePlus phones is a lot more limited compared to the likes of Samsung and Apple. The silver lining is that this has pushed us to reach out to some case manufacturers we haven't reviewed products for before – one of which is RhinoShield, a company that originated from a Kickstarter raised by a number of students from the University of Cambridge in April 2012.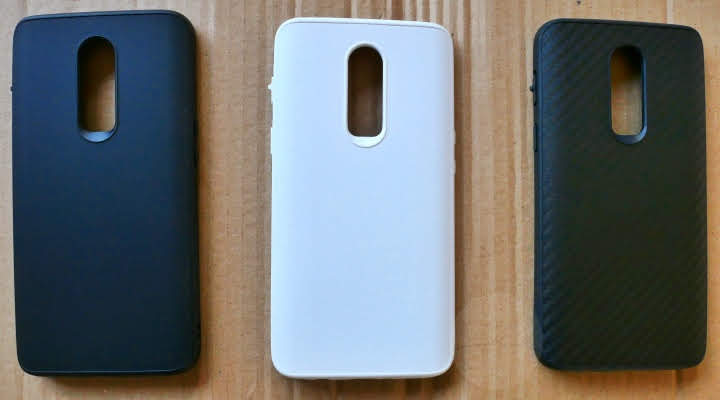 SolidSuit is their solution that has been designed to offer full body protection for your phone. For the OnePlus 6, it's available in the choice of Carbon Fiber Black, Classic Black, and Classic White finishes. These are made from their proprietary ShockSpread polymer blend that is claimed to absorb up to 11 feet of impact while remaining 22% thinner than other cases that offer similar levels of protection. To help protect your phone, the inner surface of the case has a honeycomb structure and a raised lip around the screen prevents the front of the phone coming into contact with flat surfaces.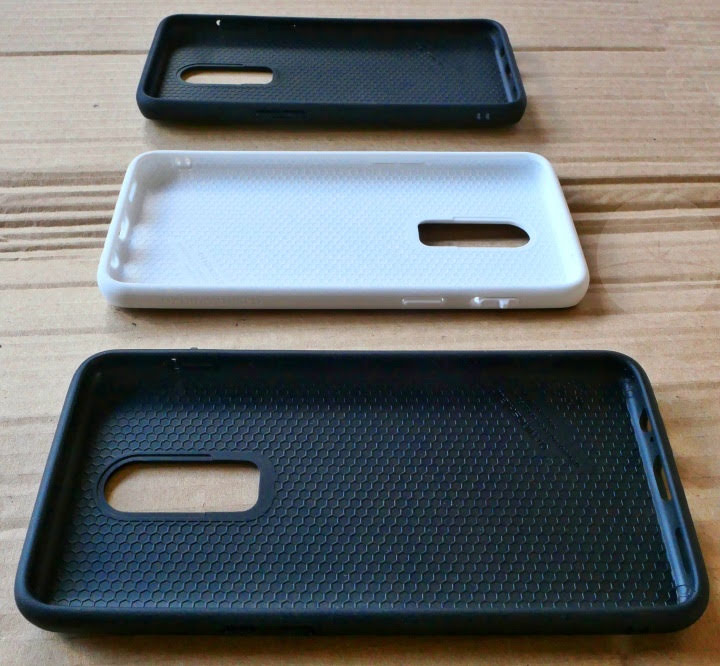 This flexible one-piece case is lightweight and I'd say (at 3mm) it has a medium thickness – certainly not the slimmest case available, but thin enough so that it doesn't make the OnePlus feel bulky. It's fairly easy to snap onto the back of the phone and provides a very snug fit (making it much harder to remove).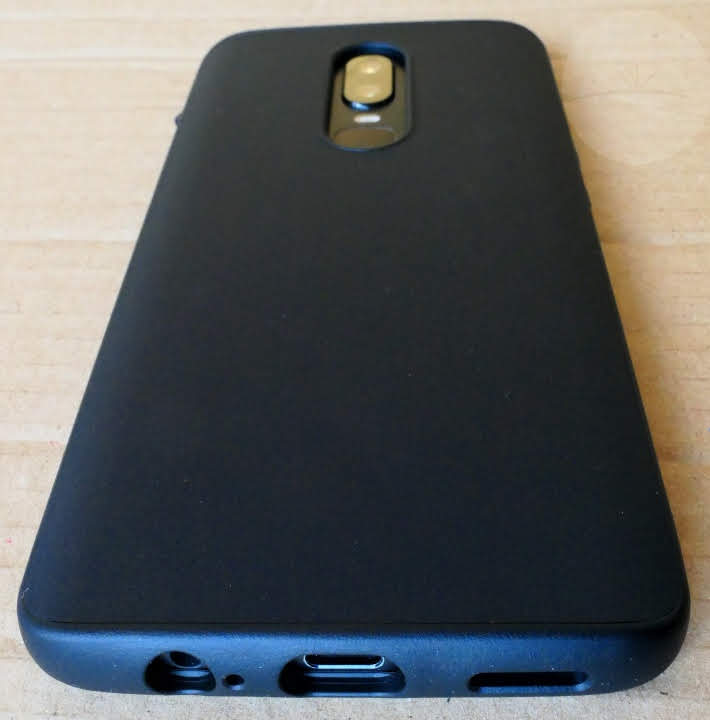 There are precise cutouts for the top microphone and bottom speaker, USB-C and audio ports. These didn't restrict the use of any of my cables. Along with a switch covering the alert slider, the side buttons are covered in plastic that protrude slightly from the rest of the case so that they're easy to locate by touch. I found these covers do make the buttons slightly stiffer to press, but not enough to be an annoyance. If you'd like a really distinctive looking case then when ordering from their website, RhinoShield also offer the option to mod the colour of these buttons (at additional cost).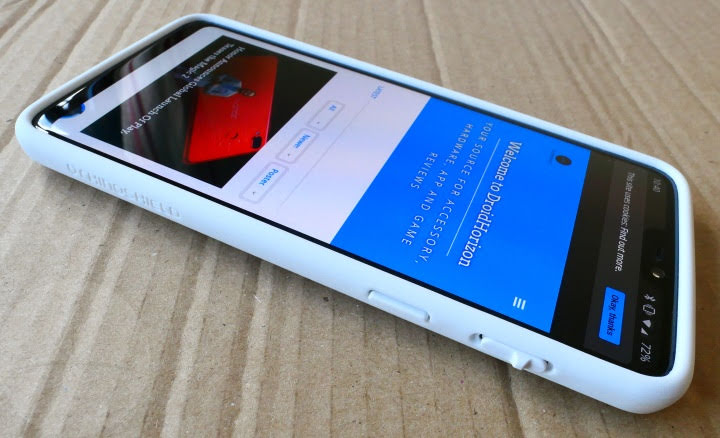 Otherwise I'd consider the SolidSuit a fairly plain looking case with a discreet RhinoShield logo embossed on one side. My personal preference would be the more expensive black Carbon Fiber version, but I've been sporting the classic white to test for any discolouration over time. While I tend to keep my phone out of the dirt, so far the white polymer has resisted any signs of marking or denim pocket staining.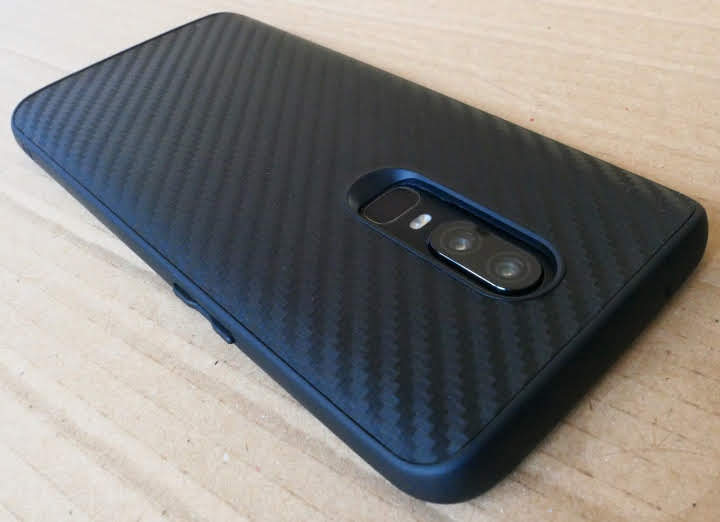 My OnePlus still slips out from my pocket smoothly, with this case feeling good in the hand and adding a significant amount of grip. TPU cases would have a grip advantage when the phone is left on a flat surface, but overall I'd say the harder ShockSpread material offers a better compromise between grip, protection and durability.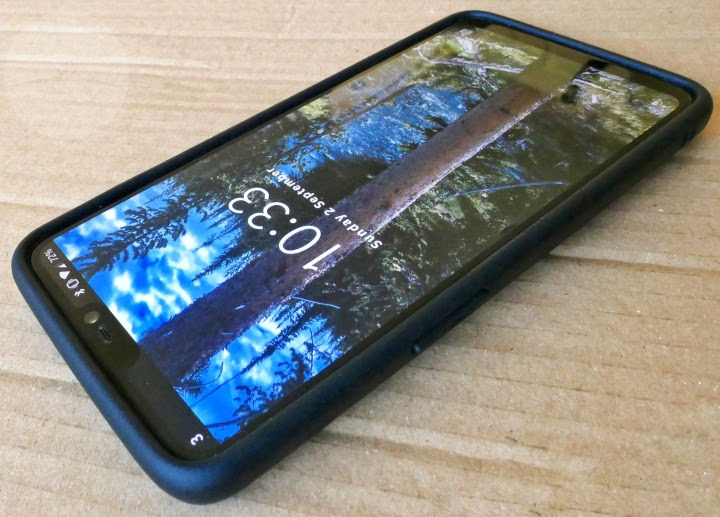 RhinoShield's SolidSuit OnePlus 6 case starts at $29.99 for the classic black and white versions and $34.99 for the carbon fiber black. I was impressed with the overall design and quality which undoubtedly offers great protection and usability in a sturdy case that should easily last you throughout the lifetime of your phone.
Follow the link below to check out these cases from the RhinoShield website…