Up until fairly recently you'd need to spend hundreds of pounds to get a video projector, but as the technology has advanced the price has been coming down and as a result this projector is available for under £100 (~$128) which I'd consider an incredible price – especially considering it has Android KitKat built in allowing it to play or stream media, and run loads of apps just like a tablet.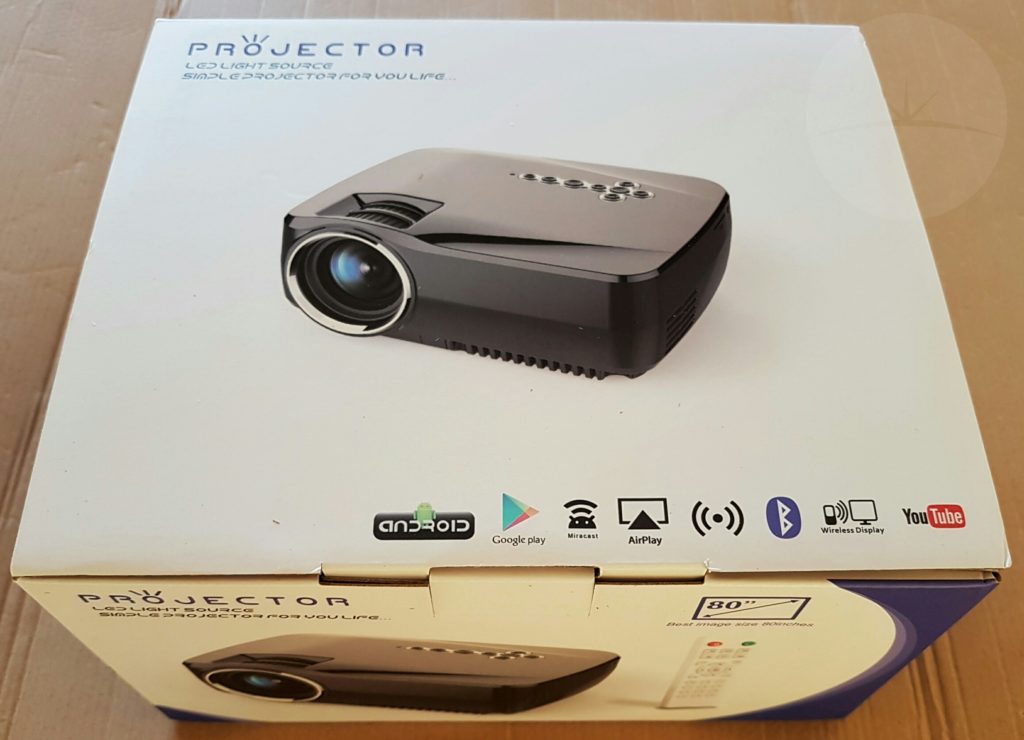 The device comes packaged in a cardboard box along with a remote control, power cable, HDMI and RCA input cables plus an instruction booklet. There was no branding on the box or instructions, but the projector has a Simplebeamer logo on the front.
The projector is a small box just over 7" long with a shiny white plastic shell. The front is dominated by a large projector lens, while the back has a socket for the RCA cable, an IR sensor for the remote, two HDMI sockets, USB socket, VGA input socket, "figure 8" power socket and even a coaxial aerial cable input for Digital TV. At one side there's also a SD card slot and a standard 3.5mm audio out jack.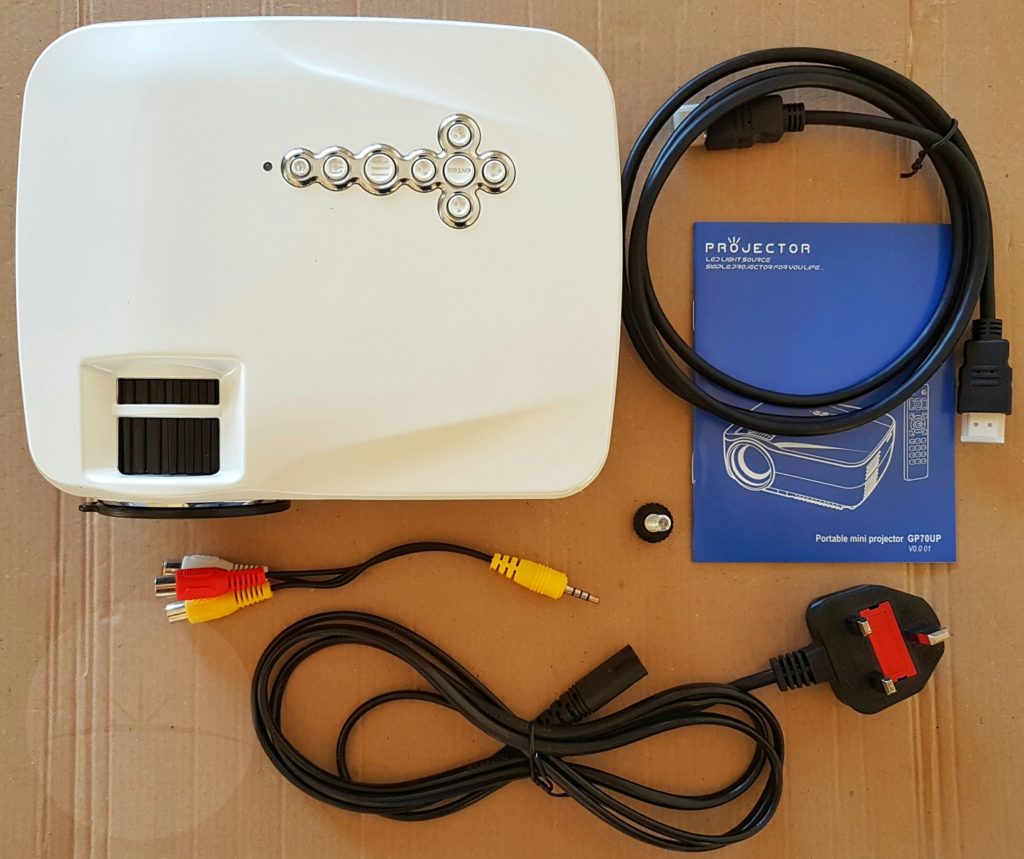 Control buttons are on the top for powering the unit on, menu navigation and an input selection button. These and more functions are also available on the remote control which just needs a couple of AAA batteries. There are also a couple of wheels above the projector lens for adjusting focus and keystone correction.
I turned the unit on and shone it at a white wall (you could also buy a projector screen). Using the focus and keystone wheels it was fairly easy to focus the image as long as the projector is at least 4-5 feet from the wall. Screen size was impressive but the room needed to be fairly dark before I could see it clearly. This projector has a LED bulb which isn't quite as bright, but uses a lot less energy and will last for years unlike regular bulbs.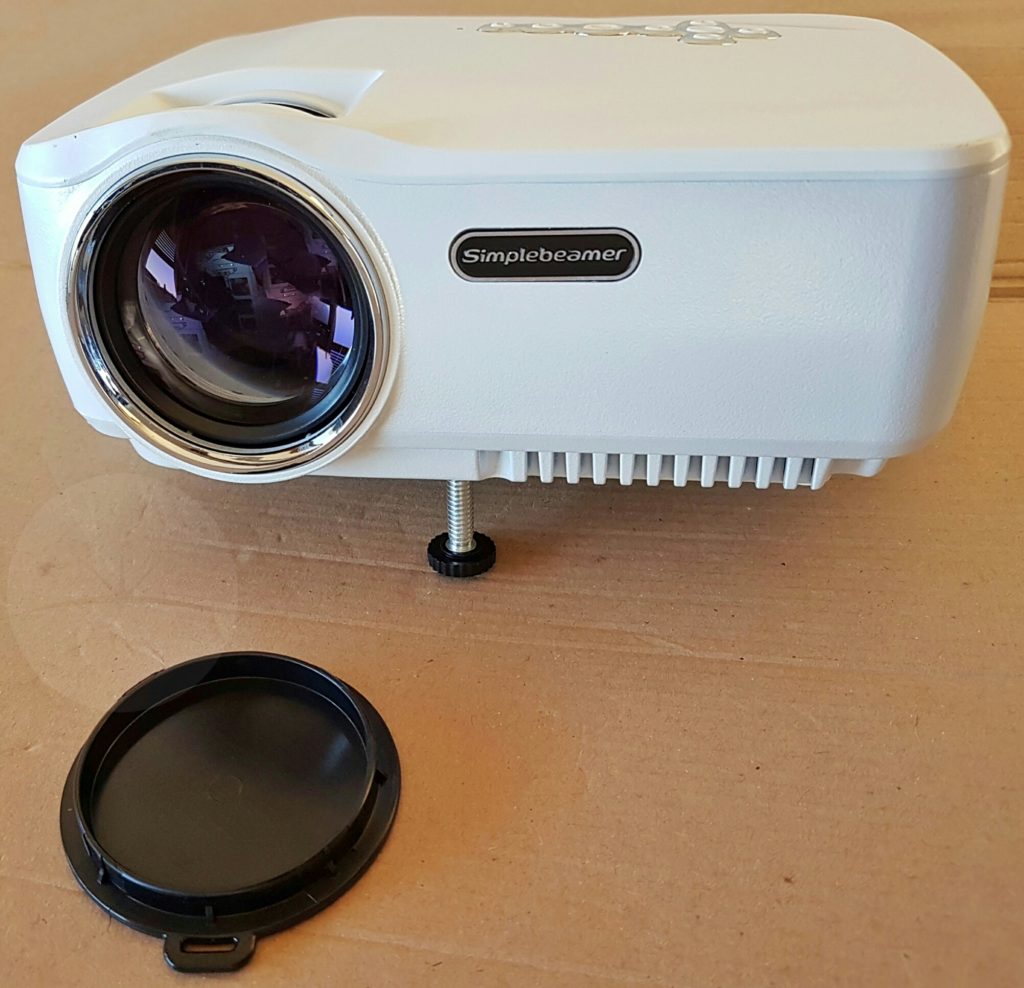 By default a simple menu appears on the screen that lets you play video and music files or view photos or eBooks. This menu is easy enough to navigate using the remote and I soon had a movie playing from my USB thumb drive. However I was more interested in changing the input source to Android and running some apps.
This projector basically has a mid-range TV box built in with a Cortex-A5 processor, 1GB of DDR3 RAM and 8GB of eMMC storage. While there are certainly faster devices available, I was happy with the overall speed.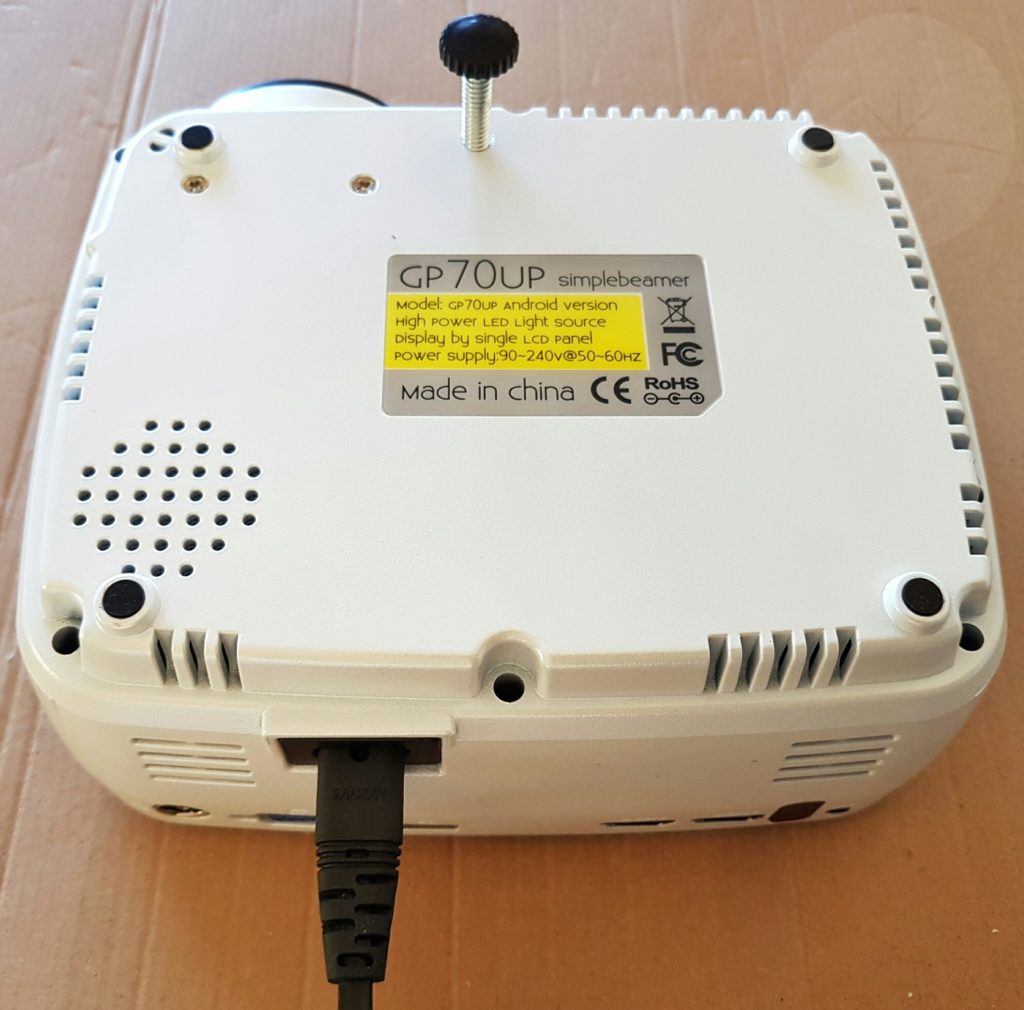 I also had no network connectivity issues and despite the lack of an external antenna the projector still had strong WiFi performance. Bluetooth also works well and I was able to pair my wireless keyboard without any problems.
The device has a basic launcher and the Play Store comes pre-installed giving you full access to all its apps as long as you have a Google account. This box handled every app I tried with ease. A few other useful apps also come pre-installed but overall the box hasn't been bogged down with a lot of bloat.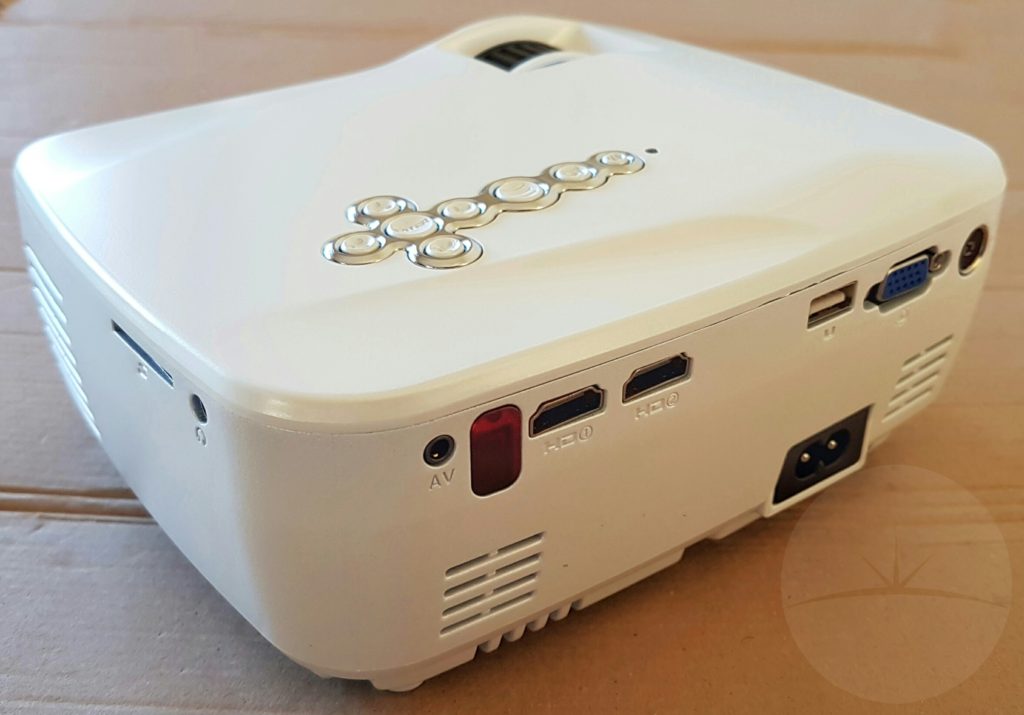 With some of us are getting Android 7.0 Nougat on our phones already, this is still on Android 4.4 KitKat which is getting a little old. While this would be a dealbreaker on a phone, for a media streaming device I found the older O/S version makes very little difference to me as I'm less concerned about security and it can run the same video apps just as well. The interface looks pretty close to stock KitKat.
While the unit is switched on the fan generates a bit of noise making it difficult to hear the internal speaker clearly over it. I found plugging in a good external speaker or headphones solved this problem.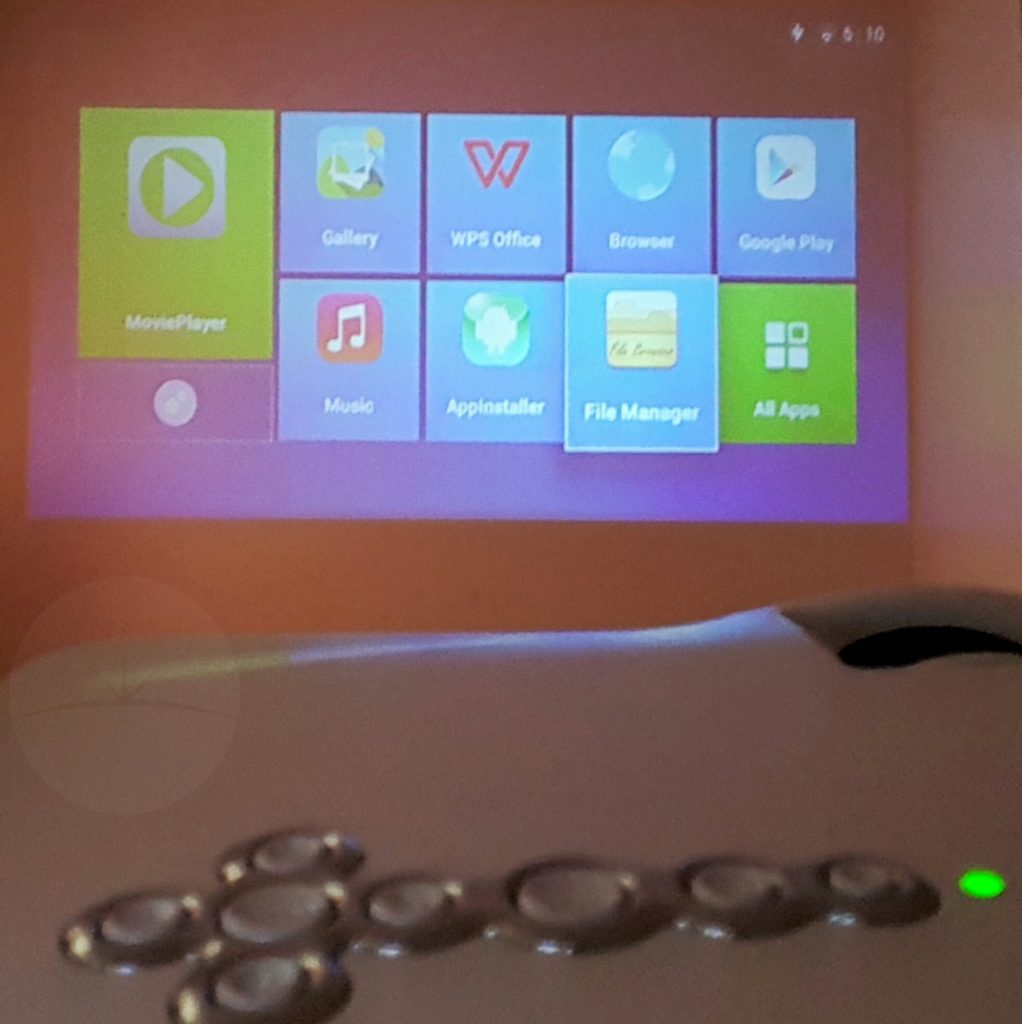 The 800×480 output resolution is fairly low-res and when a large screen is projected you can make out the individual pixels. While the resolution isn't high enough for reading small computer text and it may not be sharp enough for those who demand 1080p or 4K sharpness, I had no problem reading text and found video very watchable.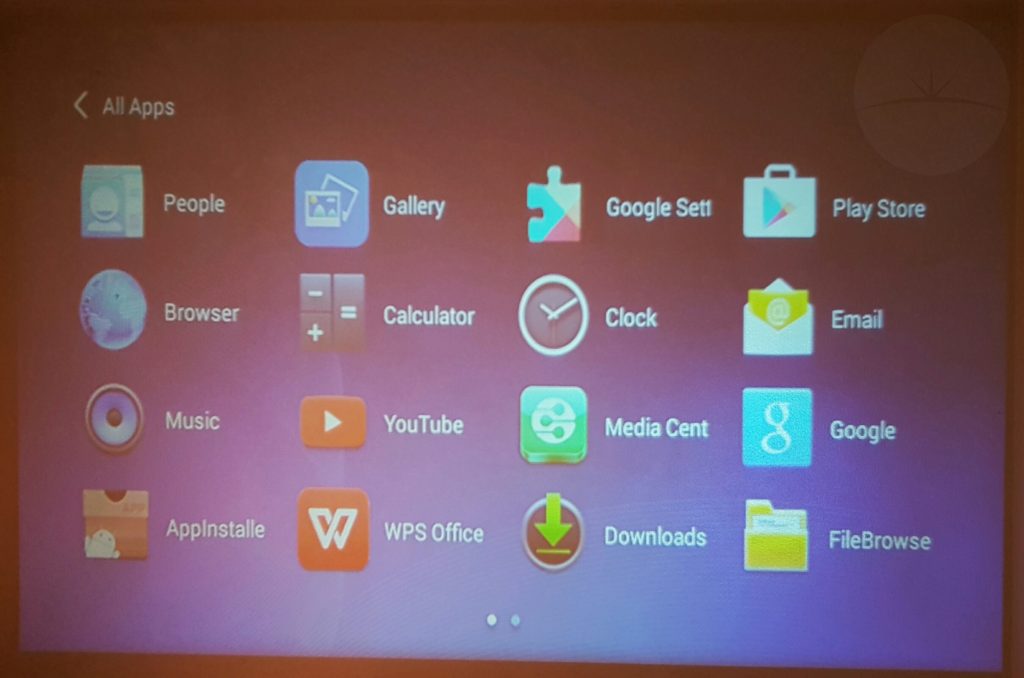 Overall the GP70UP is a fully featured little projector that delivers great performance for the price. Once you get it set up properly in a dark room with an external speaker, it lets you stream video from your favourite apps and offers a cinema-like big screen experience that my whole family really enjoyed. Check it out from the Amazon link below…