Sandisk Ultra Dual USB Drive 3.0
Early in the year Sandisk showed off its new dual USB drive at CES2015. With the amount of chatter about it from Android blogs its far from surprising it picked up an award for "Best Business Gadget". 92 days have past since then and one has finally turned up on my desk.
So have Sandisk just upgraded it to USB 3.0? Is it worth the upgrade? Let's find out.
For starters it looks very different from last years model as it's shorter, the texture is half patterned and half high gloss plastic separated by a metal lanyard loop. They have dropped the dual sliding covers and opted for internal sliding by using a small nipple on the side to firmly set the extended ports into place. One side is your high speed USB A male with your chosen GB size printed on it. The other side is a rather long male micro USB. It does look a bit silly when fully extended but there is a good reason behind this. Sandisk have listened to fans. Fans who use cases and don't want to remove that case just to use the USB drive. Their answer was to make it longer but it's good to know that you don't have to extend it all of the way if you don't use a case.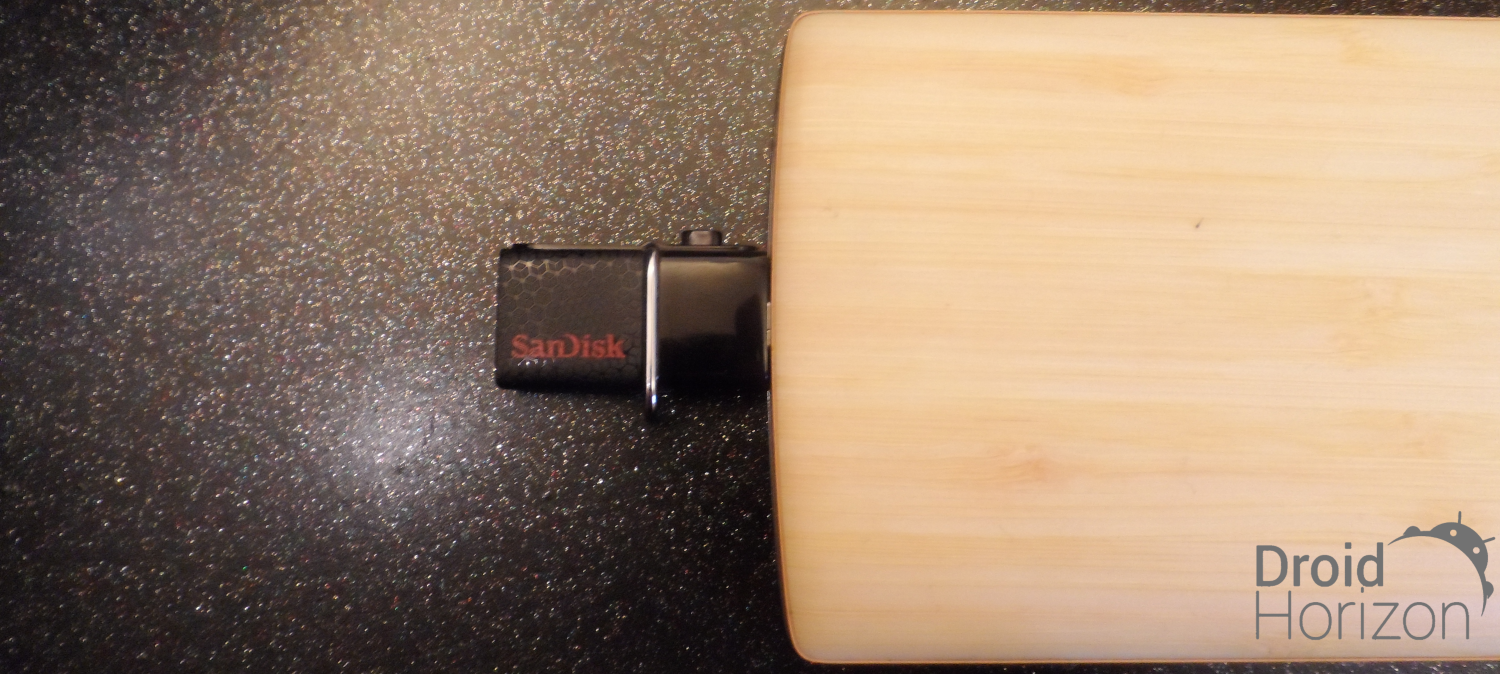 So the Ultra Dual USB Drive 3.0 has had a fancy makeover piece of blue plastic to show it's USB 3.0, but does it perform any better than last years Ultra Dual USB Drive? In short, YES! The slightly longer answer, HELL YES! If you want the details keep on reading.
I used FlashBench to test the USB A end of the 2.0 and 3.0 versions. My mainboard is an EVGA Z97 Stinger so it can handle these little drives just fine. I used the same USB 3.0 port for both tests to keep it as fair as possible. The only unfair bit to the test is that my Ultra Dual USB Drive 2.0 has been in use for 8 months.


So onto FlashBench a free benchmarking tool for flash drives. We don't normally like benchmark tools at DroidHorizon but they have their uses. So the Ultra Dual USB Drive 3.0 has an advertised read speed of 130MB/s and the Ultra Dual USB Drive 2.0… well they didn't say as approximately 20MB/s won't impress anyone. The FlashBench results for the Ultra Dual USB Drive 2.0: read speed of 19MB/s and a write speed of 17MB/s. These speeds are fine for photos or watching movies but filling up that 64GB drive is going to take some time. The results of the Ultra USB Drive 3.0: read 144MB/s and write 99MB/s. With those speeds filling that drive won't take long at all! Even the micro USB end is quicker on the Ultra Dual USB Drive 3.0 with a read speed of 28MB/s and write speed of 20MB/s compared to the read speed of 15MB/s and write speed of 10MB/s on the Ultra Dual USB Drive 2.0. I also moved a large video file onto each drive to check their real world usage. The 2.0 got a write speed of 13MB/s and the USB 3.0 got a write speed of 48MB/s which is still a very impressive speed jump.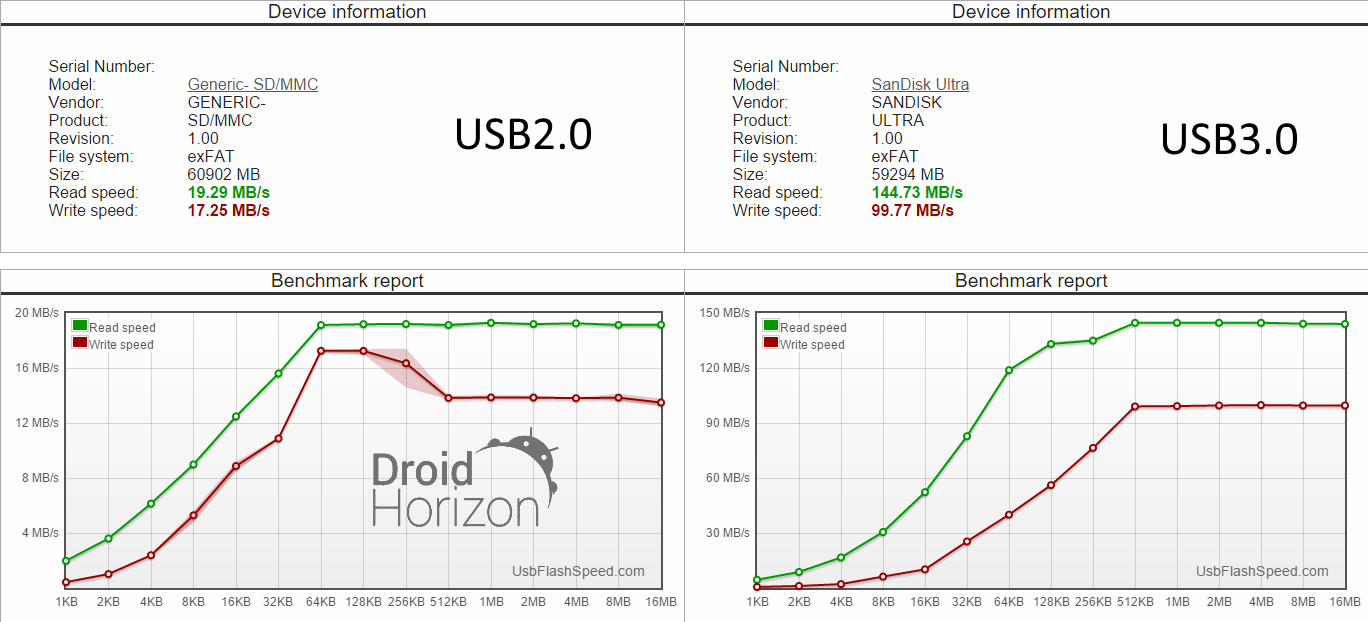 So with the smaller case friendly design and amazing speed jump this little device is well worth the £8.49 price difference for 64GB. If you're in the market for extra storage for your tablet and phone do check this out. I'm sure you won't be disappointed.