With the glimmering pearl X effect catching the light on it's curved glass back to the large end-to-end display that's unblemished by any sign of a selfie camera, the Honor 9X is an impressive looking phone – especially considering its £249.99 price tag. We put it through it's paces to see if this budget handset is more than just a pretty face.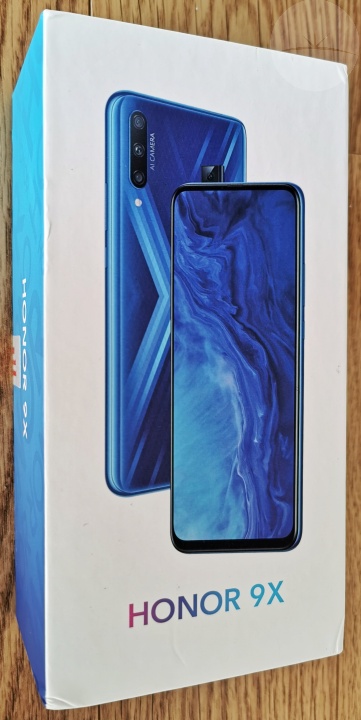 Quick Specs
Display: 6.59″ 1080 x 2340p IPS LCD
CPU: Kirin 710F Octa-core
GPU: Mali-G51 MP4
RAM: 4GB
Storage: 128GB (Micro SD expandable up to 512GB)
Battery: 4000 mAh
Rear Cameras: 48MP f/1.8 Main + 8MP f/2.4 Ultra Wide + 2MP f/2.4 Depth
Front Camera: Pop-up 16MP, f/2.2
Video: 1080p@30/60fps
OS: Android 9.0, EMUI 9.1
SIM: Dual Nano-SIM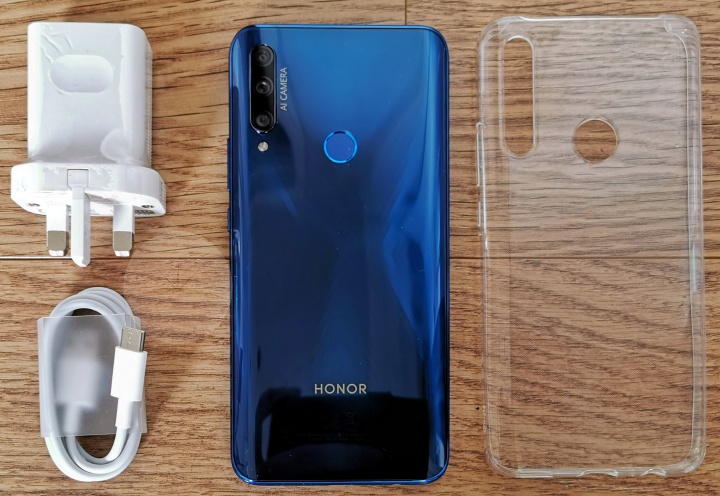 Honor have done away with any notch or cut-out front camera lens by having the little selfie shooter automatically slide up from the top of the phone. We've seen this feature in a few recent phones, but nothing at this low price point. Drop detection automatically retracts this lens, but the motor seems to be a little on the slow side – there's a good chance it won't make it all the way in time. This didn't worry us folks at the DroidHorizon offices too much since we aren't the most prolific selfie takers and can definitely appreciate the extra screen real estate this solution affords.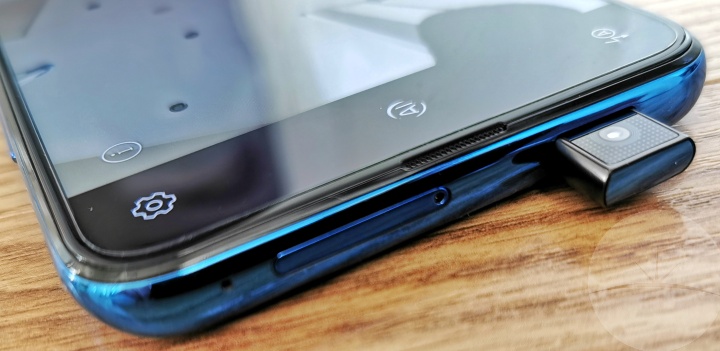 The top of the phone also hosts the dual SIM/MicroSD tray, with power and volume buttons located on the right-hand side. The USB Type C port is at the bottom, between the rear-facing mono speaker and 3.5mm headphone jack (woo-hoo). The back has a protruding strip of camera lenses down one side along with a fast, reliable capacitive fingerprint scanner in the centre that's perfectly positioned to be easy to reach with the index finger while holding the 9X.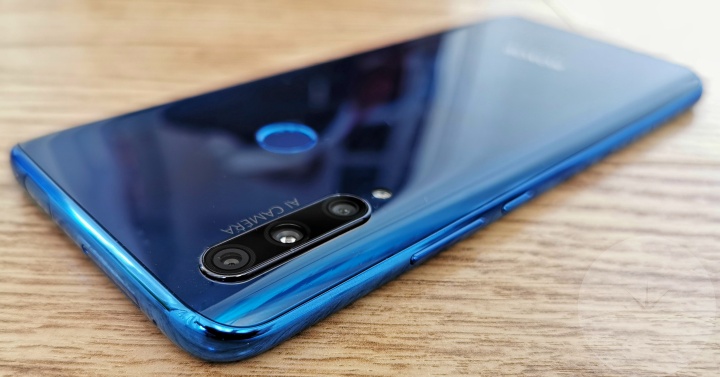 While front and back are glass, the edges are made from a shiny plastic material which we'd expect to be durable but also slightly cheapens the overall feel of the phone. This won't make much difference to case lovers and Honor even include a transparent TPU case with the 9X.
Apart from a slim bezel at the bottom, the 6.59″ IPS display is pretty much edge-to-edge. It's a sharp, bright panel with accurate colours and decent black levels. The 9X isn't an overly large phone, and this big, unobstructed screen is definitely one of it's highlight features making it ideal for those who like to watch a lot of media.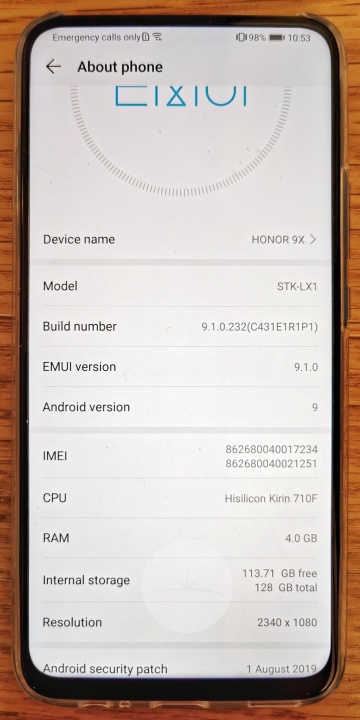 In terms of the software experience, the 9X runs the same EMUI 9 O/S we've seen on recent Honor / Huawei devices. We've no complaints as this is stable, easy to navigate and covers all our favourite features (including Google services). Hopefully we'll see this handset updated to the latest EMUI 10/Android 10 in the near future.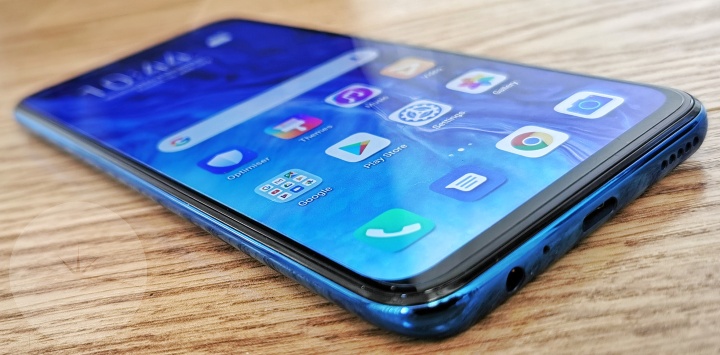 Honor have stuck with the same Kirin 710 processor as last year's 8X, and unfortunately this is now starting to show it's age. Apps take that tiny bit longer to open and respond – even compared to some recent phones we've seen in this budget price range. This won't really be apparent in general day-to-day activities such as watching media, checking the socials or playing basic games. However the 9X does tend to struggle with higher-end game titles.
Battery life is great, with the internal 4000mAh battery easily lasting over 24 hours with moderate usage. There's no quick charge support so expect it to take up to 2 hours for a full refill.
There are two full-blown camera lenses on the back (disregarding the 2MP depth sensor) – a main 48MP lens and an 8MP ultra-wide. Unfortunately no telephoto for optical zoom. By default the main camera uses pixel binning to deliver decent quality 12MP shots including accurate background blurring in portrait mode. However results tend to degrade quickly in lower lighting conditions – even with longer exposures using night mode.
The secondary lens ticks the box in terms of including a wide-angle option in a low-cost handset. However shots lack the same level of detail as the main camera and we also noticed extra noise and apparent blurring at the edges. Neither lens has OIS, but video does get stabilised electronically as long as you're happy to keep the resolution down at 720p. The selfie camera gives reasonable results, but again needs plenty of light if you want to be sure of a sharp image.
Honor 9X will appeal to anyone looking for an attractive handset with a large, notchless screen and resilient battery life at a bargain price. The specs include decent storage and RAM, but contactless payments are sacrificed (no NFC) along with general processor and camera performance. Overall it's certainly a good phone for the money, but for those whose budget can stretch a little further we'd still recommend going for something like the Honor 20/Huawei Nova 5T.