Charging your phone in the car can provide a welcome boost to your battery level, and is absolutely essential if you use your phone for GPS navigation.  However not all chargers are the same – with plenty of cheap, low-quality versions offering a low charge rate while looking untidy at the front of your car.  The TYLT Band aims to change all this by adding a bit of quality and tangle-free style to the car charger market.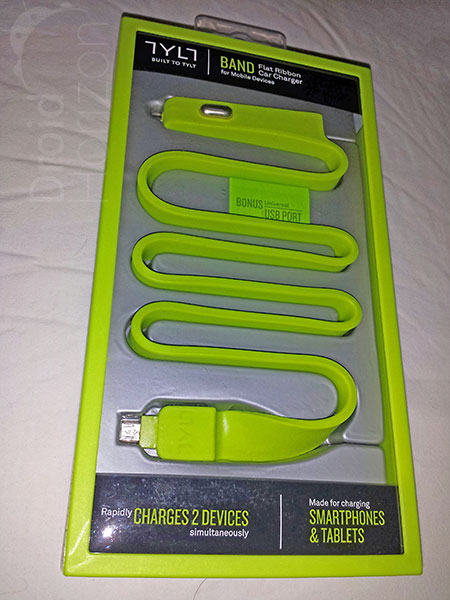 Build Quality & Design
As soon as you remove the Band from it's packaging you can tell that TYLT haven't skimped on the quality.  It consists of a flat, rubberized, 2 foot ribbon-cable design that won't get tangled up and lost between the seats.
Rather than only having your standard black cable which you'll try your best to camoflage against your dash, the Band is also available in bright red, blue and green versions.  Instead of keeping a low profile, TYLT are definitely trying to grab your attention here.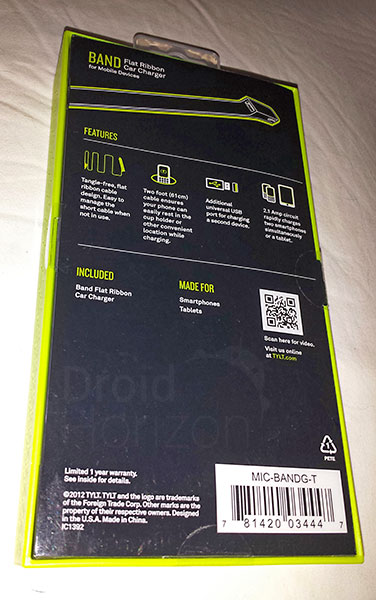 Performance
The wall charger and USB cable supplied with my Samsung Galaxy S4 provides a 2A charge.  This will fully charge my dying battery in a couple of hours which is really handy.  However there are a lot of chargers and cables that only deliver 500mA, which will charge much more slowly and battery level can actually decrease while the screen and GPS are in use.
The Band has an output rating of 2.1A but using this Galaxy Charging Current app I was able to determine that this is split between the cable and the additional USB port.  1A still charges the S4 pretty quickly, but with not quite the same speed as the original Samsung wall charger.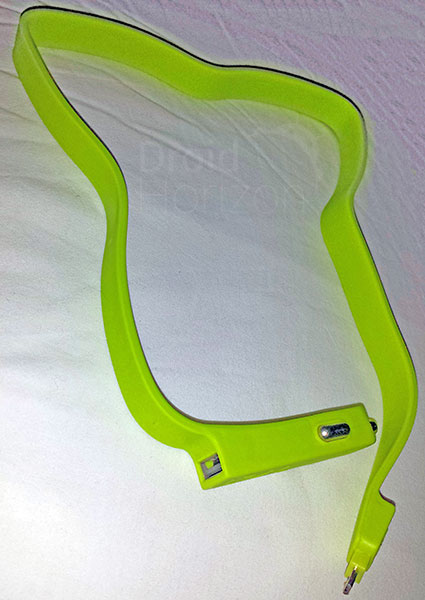 Features
As already mentioned, the Band includes an additional USB port built into the head allowing you to charge any combination of two smartphones, tablets or external batteries.
There is no charging LED which may or may not be a big deal depending on whether your phone includes one.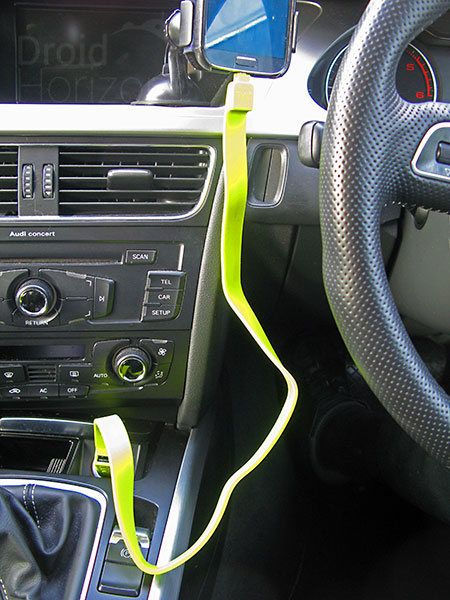 In Use
The innovative design of the Band pays off in general use, making it really easy to get your phone connected without having to untangle wires.  The bright colour makes the cable stand out, helping you grab it inside the often dimly lit car.
Connection to the lighter socket is very secure, leaving no doubt that you have it connected correctly.  The design means the Micro USB end is easy to orient, and inspires confidence that it will last a long time.
The flat ribbon cable is ideal for cars with a lighter socket within the center console, as you can pass the cable out without pinching it.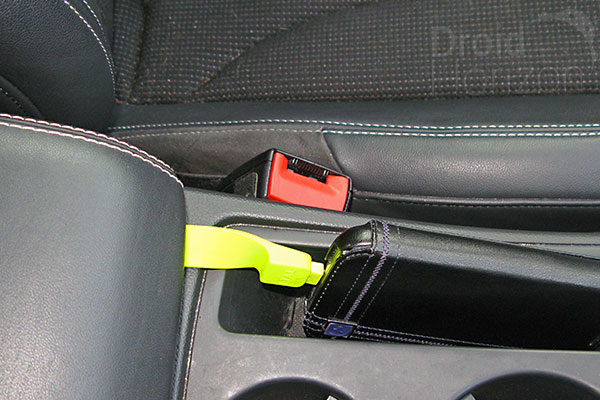 Price
The Band is priced around $40 which is on the high side for a car charger.  There are definitely cheaper chargers available which will perform the same basic function, so whether you can justify the extra cost will depend on your usage and how much the design appeals to you.
Overall
As a car charger, it's hard to find fault with the TYLT Band.  The price may lessen the appeal for some people, but is easy to justify for heavy use.  Premium quality with an innovative design, you'll have difficulty finding a better car charger.
Check out the TYLT website below for more details on the Band along with their other range of accessories.