Vieta One 2.1 – Review
The market is flooded with Bluetooth speakers these days, everyone wants to stream from their favourite music service to a set of speakers so the rest of the room can hear the tunes too. With most consumer electronics you'll get something at all price points to suit your needs at a range of prices to reflect that. You can pick-up a Bluetooth speaker for £20 on Amazon, it wont sound very good though, or, you can go above the mid-range accessories, where you'll find the Vieta One 2.1.
Vieta aren't very well known in most of Europe or the US. Massive in Spain and South America, they have only recently launched globally in the last few years. Starting to branch out in other parts of Europe, Taiwan, Hong Kong and China. They have a history of building great quality audio equipment dating back from the early 1950's to the present day.  We'll go ahead and offer a quick spec list then breakdown into the key points of what the One 2.1 offers and does it meet the expectations of what we feel a Bluetooth speaker should offer at this price point.
FEATURES & SPECIFICATIONS
Bluetooth 3.0 portable speaker with NFC
Hands free speaker phone
Recharge your smartphone
2.1 system with powerful bass
10 hours play time
Aux in
Battery charging time:3-6 hours
Bluetooth range: 8-10 m
Bluetooth version: 3.0 + EDR Support A2DP
Frequency Respònse: 70Hz-20KHz
Power voltage: AC100-240V. 50/60Hz
Dimensions: D251 x W103 x H67mm
Weight: 1,070 kg.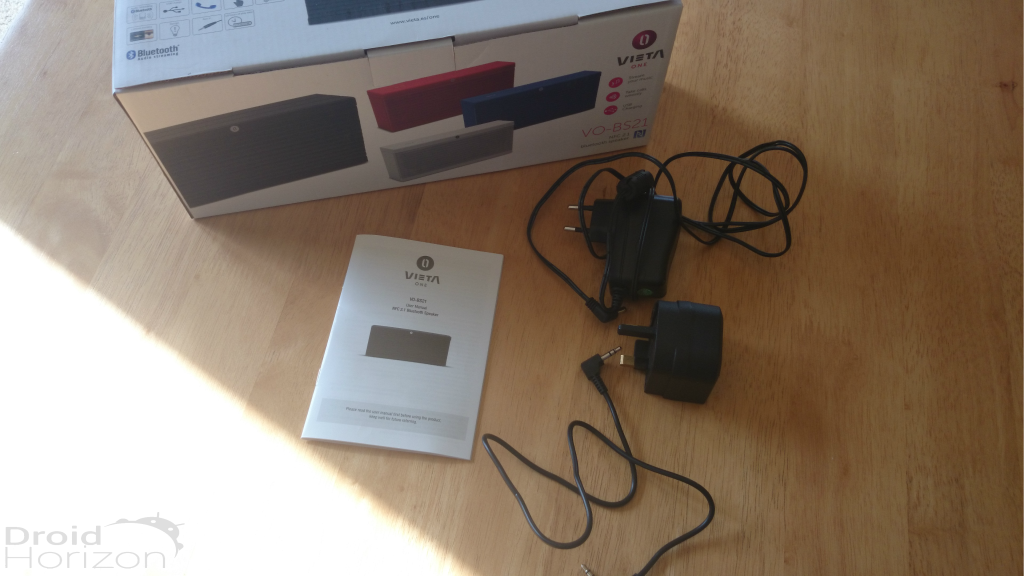 Covered in a soft touch rubber, the Vieta One 2.1 feels very solid. Pressing and squeezing the sides shows no signs of give. Any leaks in this part of the manufacturing would result in poor audio quality. A brick shape in design with the same in robustness. I'd nearly go as far as saying if the One 2.1 fell off a table or worktop, it would survive the fall and come out completely unscathed. When reviewing any hardware I put a lot of emphasis on "feel." No scientific measurements or results included, it's the initial first impression when you take the device first out of the box. The Vieta One 2.1, for me, instantly gives you a sense of a solid build with a minimalist design.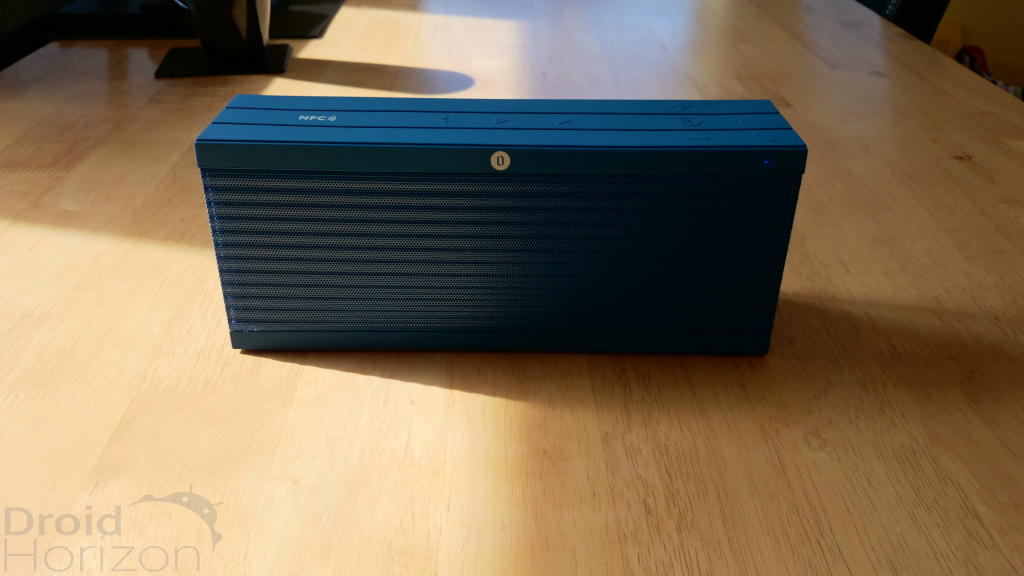 The Vieta One 2.1 offers a very nice soft key button layout, with only a few essential keys that one would need. Again, sticking to the minimal approach with the clean lines and less is more attitude. You'll find the Back Skip, Play/Pause and Forward Skip on the top centre. To the right side top edge you'll find Input (Switch from via Bluetooth to AUX in), Pair and Call. All the other sides are button free except round the back where you'll find DC Out via USB, AUX 3.5mm, On/Off switch and DC in.
Packed with the latest specs you'd expect from nearly a "high-end" device, the Vieta One 2.1 offers some great and unique features that certainly adds more to a great user experience.
NFC

  Tap to pair. Pairing your device to the Vieta One 2.1 couldn't be easier. If your phone or tablet has a Near Field Communication chip, simply tap on the little icon on the top and you'll be paired instantly. You'll hear a reassuring audio effect. This is a great feature in my opinion, because on other speakers you usually have to watch for a serious of confusing light sequences.

Hands Free Phone

. Any incoming calls that your device receives can be answered on the One 2.1. This could be a useful feature for some users, but probably not something I'd prefer to use. The option is there however.

Recharge Your Phone

. The speaker provides a USB DC V5 out. If you have your Vieta out and about (at a friend's BarBeQue) and need to get to a charging point quick, the speaker provides an emergency charge that you might need. Handy feature to have here.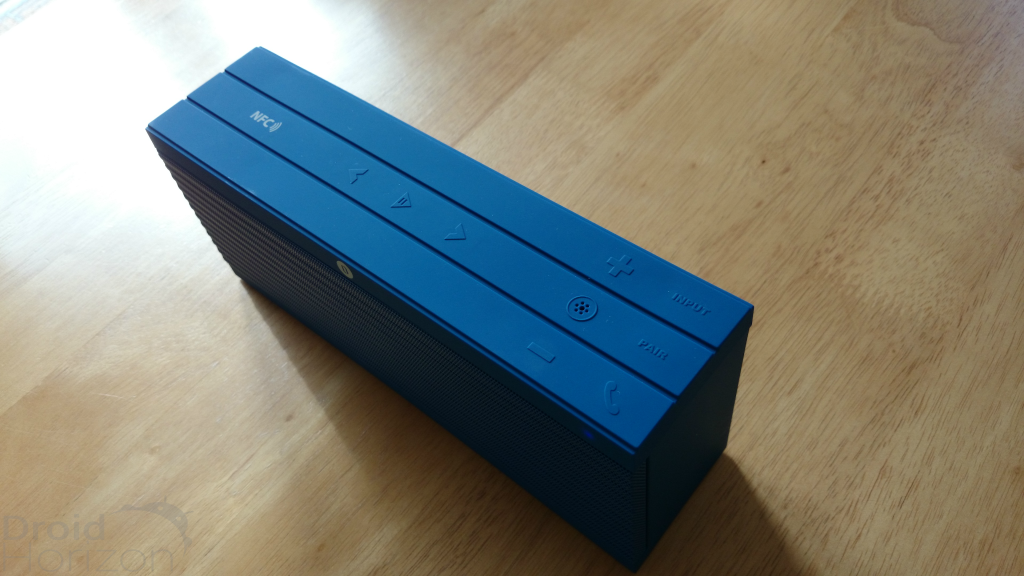 The sound quality of the Vieta One 2.1 is good. It's meaty enough and the top volume sounds surprisingly well. The 3.5 W subwoofer adds a nice bass tone without being over heavy. Without atpX  or any dynamic 3D features, the One 2.1  will offer a great audio solution for your kitchen or bedroom. For non audiophiles like myself, I find this speaker to be more than adequate, you get bang for your buck with the Vieta One 2.1. Maybe the mid level could be a bit less flat when you listen to something with lots of vocals but it has replaced my previous Bluetooth set-up and when I'm in the kitchen cooking or whatever, it's the first thing I'll turn on.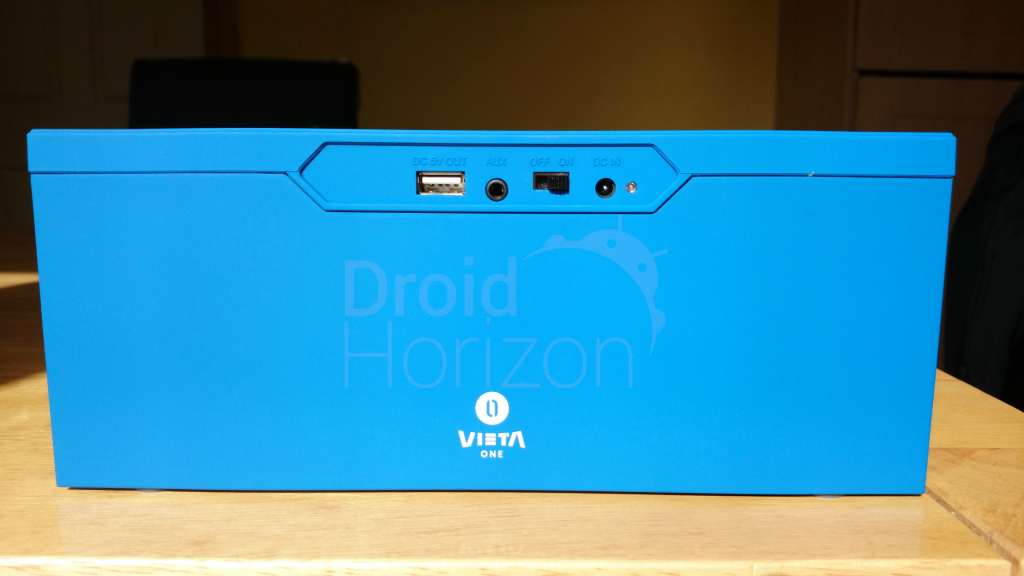 So, it comes down to the question. "Would I recommend our readers to purchase the Vieta One 2.1?" The answer would be yes. If you are in the market for a high quality Bluetooth speaker and have £150 as your budget, I'd be more than happy to give my full backing to this speaker. I know added software improvements aren't present with the One 2.1, if they were, you'd be adding another £100 on top of the price tag. I really feel Vieta have came in here and priced this speaker aggressively to fill the in-between space from the not great low end and the (if I'm honest) over expensive high end. The One 2.1 target market is me, the average Joe, who enjoys his music and wants the best value for money.
You'll get your deep clean bass and clear highs, with an affordable price tag. 
You can purchase the Vieta One 2.1 from AQSound.com priced at £129.95. Different colour choices are available. Black, White, Red & Blue (Which we reviewed). AQSound.com have a 5* trusted shop review to ensure a safe and hassle free buying experience.