Review: CHIPS The Hi-Fi ALL-IN-ONE Headphones from Outdoor Tech
Outdoor Tech has made a name for themselves by producing products for the outdoorsy tech heads out there. Their latest release was on Kickstarter, and is an expansion of their already popular CHIPS headphones. Now they come with a set of accessories and means that with one purchase, you have headphones for helmets, wooly hats, and bandanas.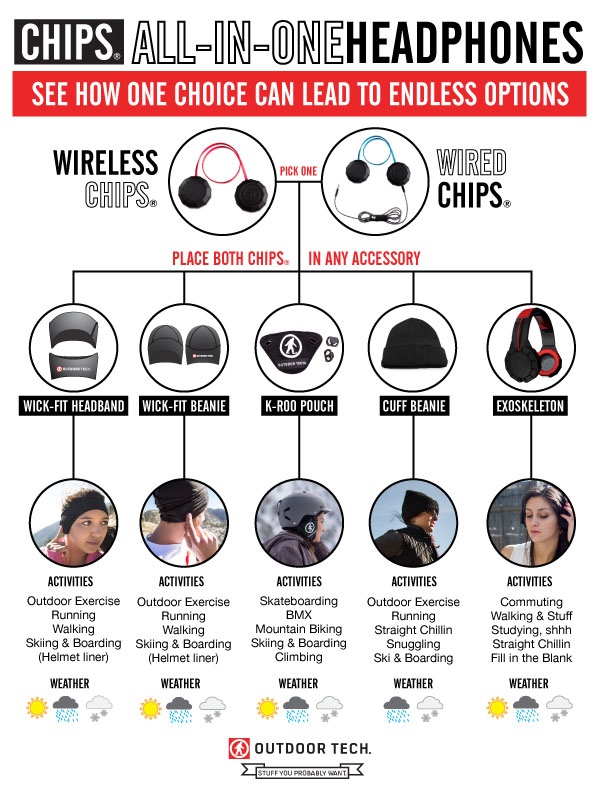 The chips themselves are two black disks with a red flat cable joining them. They are incredibly minimalist and only display the company's logos on each one "engraved" into the matte black finish. One of the CHIPS has the charging port covered up, which uses a 3.5mm to USB charging cable. Next to it is the mic, which allows you to make calls from the tops of mountains.
Outdoor Tech have also supplied headwear for the CHIPS, which include a woolly hat, headband, beanie and the K-Roo Pouch. Most of these are pretty self explanatory, but the K-Roo Pouch is the stand out accessory. With it, you can use your CHIPS with any Y-Strap helmet. So this means for people who cycle, ski, climb etc, these can be used on those helmets and allow you to make calls and listen to music.
Each CHIPS earpiece features a large, single button that may be operated from outside your helmet, even if you are wearing gloves. This shows how much thinking has gone into the development of these ear pieces.
As these are for extreme sport junkies, they are water resistant to the IPX4 standard. So you can sweat all over them, and cover them in snow if you want, and they will still be rocking. If it ever comes up they can also work to -4f.
The controls for the Chips are (like I said) made up of two big buttons. Controls are pretty easy to learn, Outdoor Tech supply a little guide (see below) which explains what presses activate which function. Takes 5 mins to learn and then it was like second nature to me.
The sound and call quality was fine, when cycling the wind did get through a bit, but this is standard with this kind of flat cup shape. People could hear me fine when I was speaking, not so much when I was cycling at the same time though.
Sound bleeding was an issue, but only when stationary. When turned up people around me could clearly hear what I was listening to, but when on the move I wasn't around long enough for people to hear me.
Stats for nerds:
Connect to any Bluetooth-enabled device with easy one-touch pairing.
Rechargeable lithium-ion battery.
Patented 2-button control system allows you to adjust volume, change tracks, play/pause music and answer calls from outside your helmet knit without removing your gloves.
Rugged, minimal design fits into virtually any helmet designed to take audio drop-ins.
IPX4 sweat and water resistant.
Reconnects automatically to previously paired device.
Play Time: 9-10 hours.
Standby Time: 280 hours.
Bluetooth Profiles: A2DP for high quality stereo sound streaming & AVRCP to control track and volume remotely.
Wireless Range: up to 30 feet.
Size: 2″ x 2″ x .5″.
Tested to work perfectly at -20° C/-4° F.
Weight: .18lbs.
Driver Size: 40mm.
Max Volume: 112 decibels.
I like these, but for £130 I couldn't justify that cost. I think if I was a skier or snowboarder, then I could see the massive appeal of a IPX4 headset, which allowed you to listen to music and make calls with gloves on. These are definitely geared at the extreme sports crowd, check them out below: