When my power bank's charging port fell apart I decided to check out what Amazon had to offer as a replacement.   I compared the prices against the rated battery size while avoiding those with too-good-to-be-true sizes and questionable reviews.  Top of the bang-per-buck chart was this 12000mAh battery for £16.99 from a manufacturer I hadn't heard of called Breett.  A little Googling found positive reviews of their stuff, and so I made it mine.
The PB202 comes in non-frills cardboard packaging with a micro USB cable, a card requesting an Amazon review and a booklet giving instructions on "Returns & Exchanges" which apparently can be made at any time after purchase.  No other instructions are included.
The battery itself is covered with glossy white plastic with a silver metallic edge.  The form factor  resembles a large smartphone, being around the same width as my S4, half and inch longer and about twice as thick.  While weight-wise you will be aware you're carrying it, it won't really weigh you down.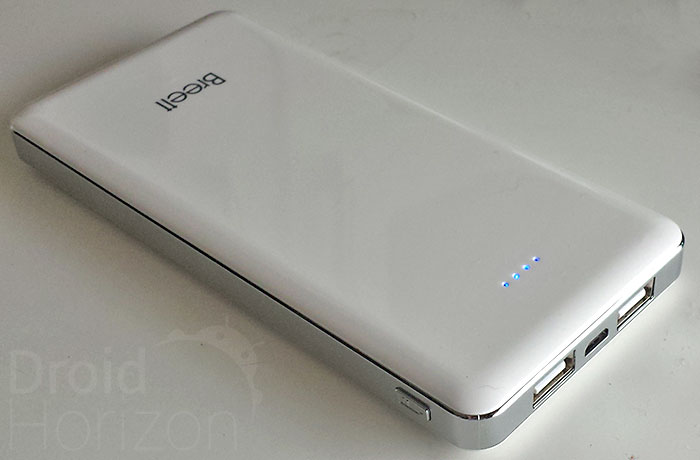 There is one button which illuminates up to 4 blue LEDs to indicate charge level.  These LEDs also light up when you plug in a device to charge.  The battery came fully charged out of the box which is a good indication that it can hold a charge for a long time.
During charging an LED flashes continuously and shows charging progress.  The large capacity means it will take time (14 hours+) to charge from flat.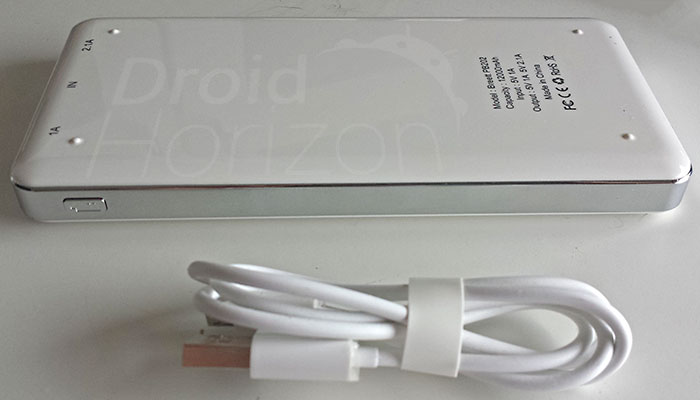 The ports are at one end with a micro USB port that takes a 1A charge as input and two standard USB ports which deliver 1A and 2.1A outputs.  Once a cable is connected your device begins charging automatically, and shuts itself off once disconnected.  Everything worked flawlessly and I was able to charge all my devices quickly.
Overall I was extremely happy with the PB202.  Some of the competitors offer extras such as a flashlight function but Breett have focused on delivering a high-performance, quality battery at a fantastic price and form factor considering the capacity.  Check it out by following the Amazon link below…
(Update. Currently out of stock but an alternative is available)