Brinell Tower Wireless Memory Review
With some phones now not including any expandable memory, we look to outside suppliers to give us ways to get round this. Brinell have solved this problem with the Brinell Tower, this is a USB stick, but not as you know it. It can work with Android by using an app, that connects to a tower via a dock and the tower can be connected to via WiFi for remote file sharing.
The Brinell Tower is aimed at the armani business people, the guys who's suitcase costs more than my flat. The whole device is coated in a black carbon skin, and then protected by a leather sleeve. There is a micro-usb port at the bottom, a battery charge indicator on the side and the USB port. Along the top is the Brinell Tower logo and a switch for off, charge and wifi. The top and bottom are covered in a metal plate.
The USB stick included with the Tower can be used as any normal USB stick can. But when placed in the Brinell Tower, it can be accessed wireless directly through your phone. I did this by turning on the Wifi, connecting to the Brinell Tower and then using an app like ES File Explorer I was able to access the content of the USB stick.
The Brinell Tower also has a rechargeable battery, so when I unplug the USB stick I can plug in my phone and charge it. Being able to remotely share files with a device that's this small is pretty cool and not really seen around a lot. The dock and USB stick together come in at about 105 grams, so I didn't find it that heavy to carry around.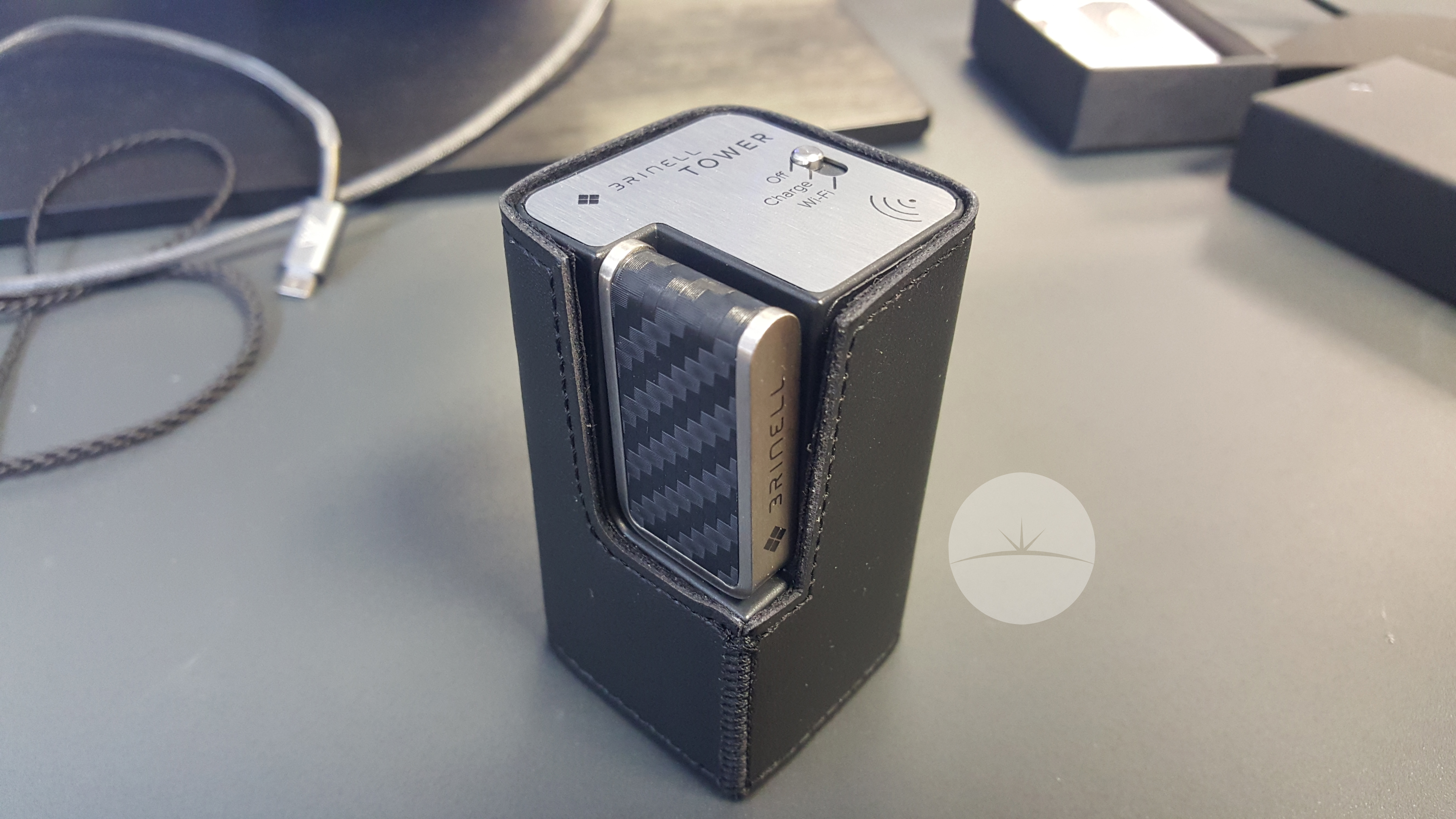 Surface in modern Carbon-Look-and-Feel
Smart concept with integrated tiny stick
High-speed WLAN data transfer
Dimensions: 75 x 40 x 40 mm
Weight 105 g
Delivery incl. leather pouch
The Brinell Tower can be bought for €219.00, this is including the USB stick which alone goes for €89.00. These prices aren't miss types, that's how much they are on the site. I can see they are going for a premium look and so the cost has to be premium. But putting a carbon skin on a box and giving it a leather sleeve doesn't mean you can charge that much money for it. I am not sure the audience these guys are aiming for.
brinell.net/collections/brinell-tower/products/brinell-tower?variant=6108503299