In our latest smartwatch review, we're taking a look at the Honor MagicWatch 2. As we usually do, we'll give you a tour around the watch, share some of the best and worst features and give our honest opinion after 3 weeks of testing. This innovative timepiece has up to 14-days battery life enabled by the Kirin A1 chipset, intelligent and well-thought fitness and health monitoring technologies, as well as customised clock faces. With all these functions packed in one, the brand-new Honor MagicWatch 2 is available in the UK in Charcoal Black 46mm priced £159.99. The Agate Black 42mm version will be available in early 2020. Pricing for this variant will be confirmed closer to the time of release. It's impossible for us to ignore the similarities between the MagicWatch 2 and the Huawei GT 2, you can read Roy's review from October 2019 here. I'm (Ste) reviewing Honor's MagicWatch 2 on it's own merits.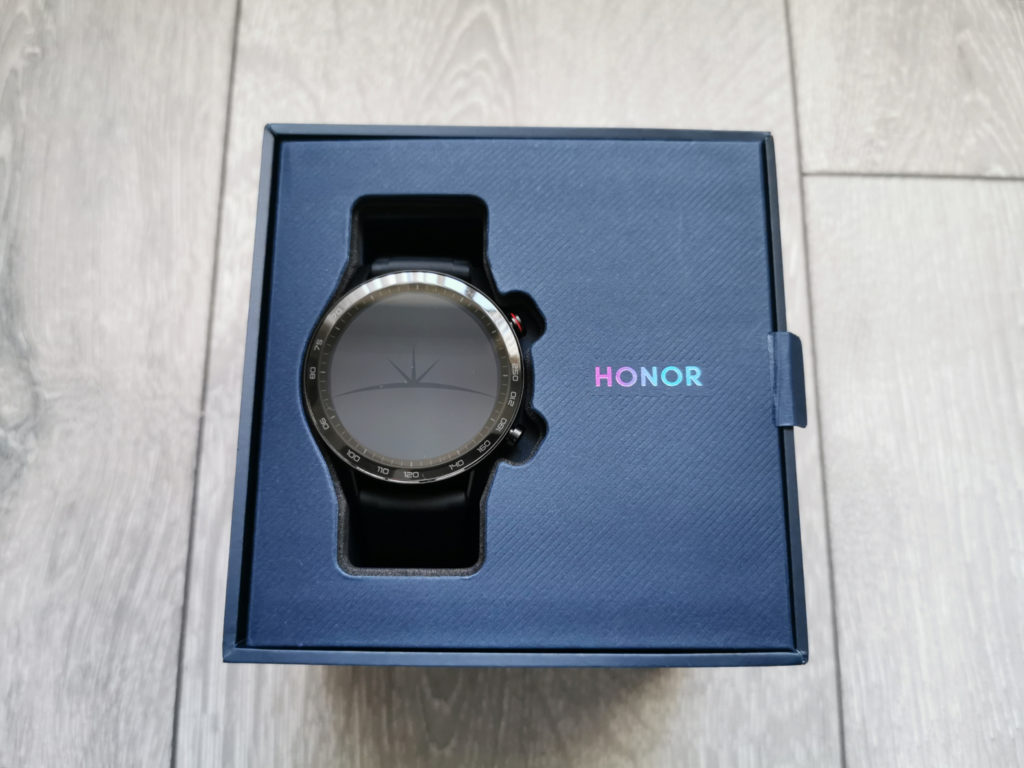 The exact dimensions of the 46mm body are 45.9 x 45.9 x 10.7mm and comes with two different strap options, the model we tested is like a silicon material called fluoroelastomer. This material can get a little sweaty if you're keeping the watch on all day and night. I found myself taking it off for a little while in the evening whilst relaxing on the sofa, then back on to measure my sleep pattern at night. I've skinny wrists for a man and my wife has even more so, we both found a comfortable fit with no issue. You can just see in the picture above that the top crown has a red ring around it, which acts like a launch button to access features and then a back to main watch display. Bottom crown is quick access to settings.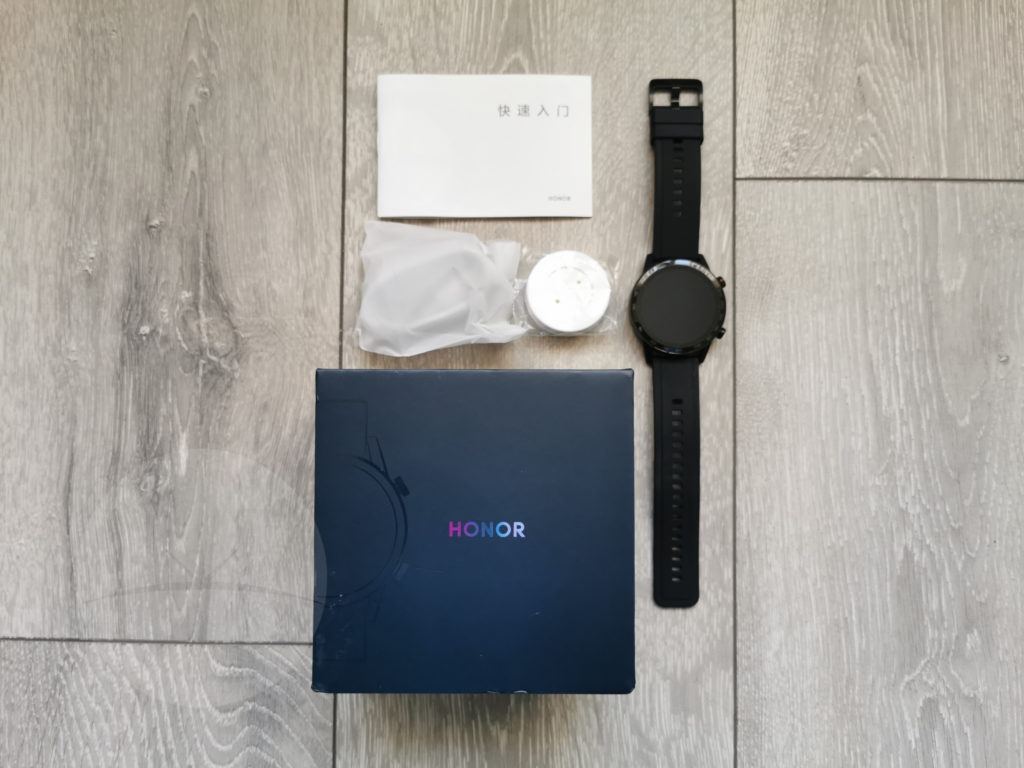 Inside the neat presentation box you'll find a USB-C cable, Quick Start guide (ours was in Chinese)  and a little magnetic disc that you set the watch on to charge. In our testing… To charge from 5% battery to 98% took roughly 1 hour 25 minutes. Which is great considering the MagicWatch 2 doesn't need charged often. Although we're on the other side of Christmas now, this watch would certainly be a fantastic gift for a person looking to improve their health. New Year – New Me. The MagicWatch 2 would certainly look smart at the gym and even later in the evening at dinner with friends.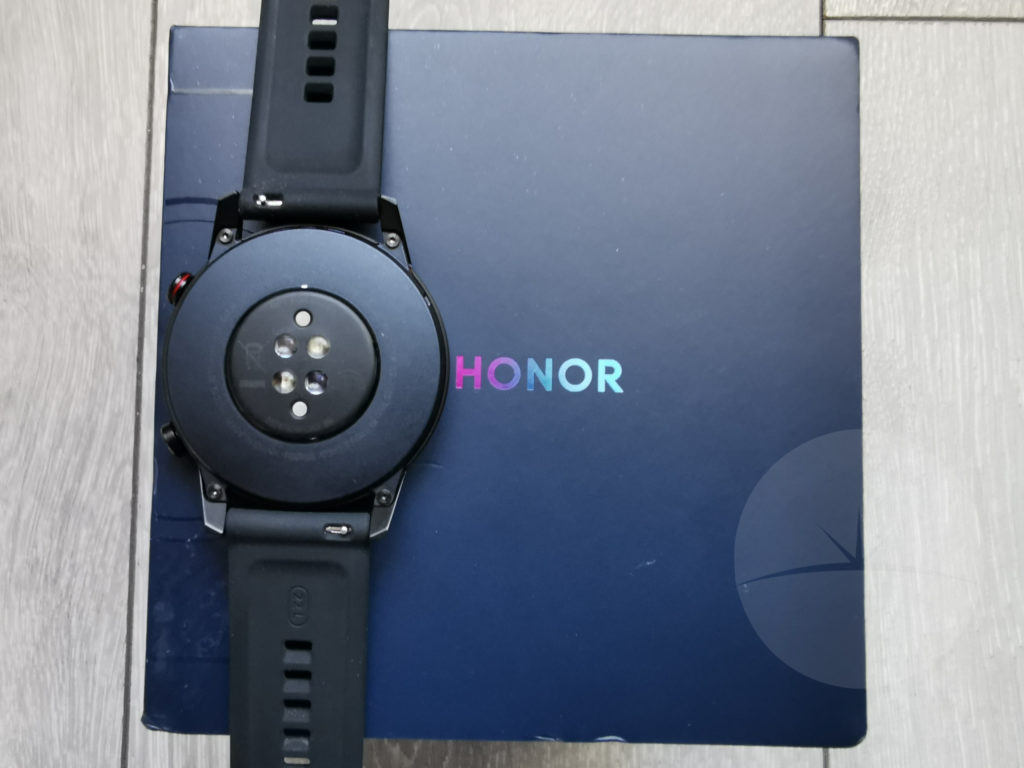 On the rear side is where all the sensors are, we'll be honest we can't really tell which one is which but one is certainly for Sp02. SpO2 stands for peripheral capillary oxygen saturation, an estimate of the amount of oxygen in the blood. More specifically, it is the percentage of oxygenated haemoglobin (haemoglobin containing oxygen) compared to the total amount of haemoglobin in the blood ( oxygenated and non-oxygenated haemoglobin). Mine is a healthy 97% by the way.
Connecting to the Huawei Health application opens even more options for watch faces, precise graphs that couldn't possibly be shown on a watch and reports / achievements. We'll now list some but not all that can be measured;
Work Out
Running Courses 13 courses
Outdoor Run
Indoor Run
Outdoor Walk
Indoor Walk
Outdoor Cycle
Indoor Cycle
Pool Swim
Open Water
Climb
Hike
Trial Run
Triathlon
Elliptical
Rower
This is along with Heart Rate, Sp02, Activity Records, Sleep, Stress, Breathing and then the standard smartwatch features like compass, music control etc etc. Far too many to mention but will certainly cover what activities you enjoy.
The MagicWatch 2 is certainly aimed more at the fitness enthusiast but with features that also cater to regular smartwatch users. You can still control your music (which can be clunky) and glance at your notifications. Answering phone calls is possible if you want to look like Dick Tracey, along with weather updates and the usual features you'd expect. The main selling point is that long battery life! That Kirin A1 chipset never stutters, the swiping and scrolling is super smooth, touch is precise and connecting to your phone is super easy. We've watched smartwatch products mature over the last few years and my biggest gripe was charging every other day, not now with the Honor MagicWatch2.