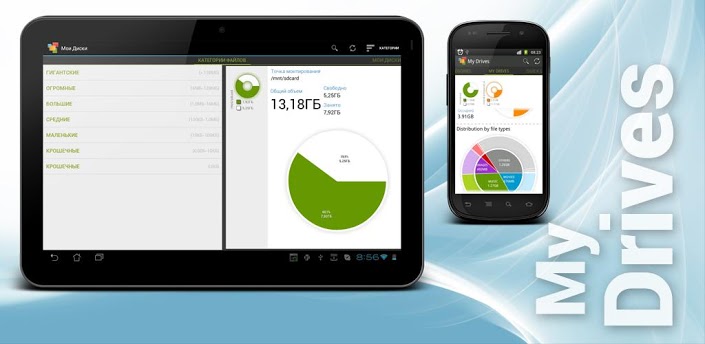 My Device Storage Analyser displays information on SDcard, USB devices, external and internal storage in a simple and clear graphical form (infographs). 
★ It's the MOST ADVANCED and INTERACTIVE DISK SPACE VISUALIZATION on Google Play. 
★ "Finds lost cache files. It helps me to free up disk space by quickly finding and deleting big files."
★ "This application is an essential addition to any file browser. it is very simple and convenient tool to search for files by size."
I came across this application from a share on my personal stream on Google Plus, thanks to whoever that was. A visually attractive and interactive app for accessing what files are stored on your device. A breakdown of what's included and a short description is provided…
File Categories     Movies, Music, Images, Docs, Others
My Storages          Mount Point, Total Drive Space, Free, Occupied, Distribution By File Type. (Via a very neat Pie Chart)
Drive Usage Starburst  The killer feature and the most visually appealing of the entire app. Fully interactive with tapping sections for more information and entering folders beneath. (Very cool and something I haven't seen before. Maybe it's well known but I'm very impressed anyway.)
Directory Files      Like any other standard file manager that's available in Google Play. (Very boring)
Top 10 Files          Largest to smallest of the top 10 files on your drive.
Quick Search        Self explanatory. Search for files..
Settings Options   Categories (By type & By size)  Rate it. A link to Google Play to leave a review.
No ads, no funny business,highly pleasing to look at and free. This application works well for viewing what's on your device or external drives attached to it.  Maybe a tiny bit slow at first launch to pull all the information and make those pretty graphs and sunburst but maybe I'm being overcritical. Not slow but I noticed it.
As always we have provided a link for you to download, below.