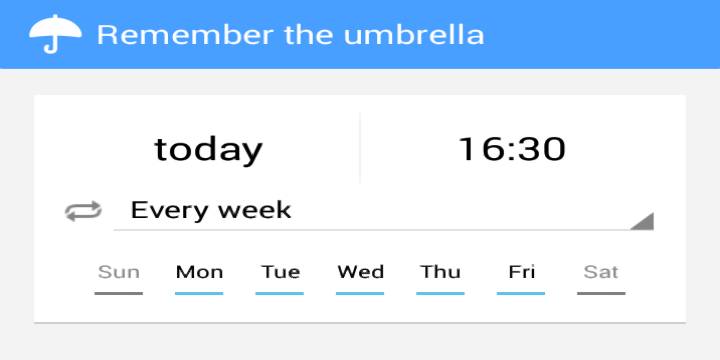 Remember The Umbrella – Review
Is it going to rain today? Should you grab your umbrella? With Remember The Umbrella, you don't have to guess.
Remember The Umbrella is an application that notifies you at a pre-set time what the weather is like. The app sticks to Google's guidelines through-out. More the design of the application that attracted me at first, then, when in use, I actually appreciated what the app was offering. The notification it's self is very pleasing on eye with an option for an audio "alert" as well. The app uses two types of Text-to-Speech APIs, Google Engine and Pico TTs. You'll be familiar with these if you use Google Now.
The way Remember The Umbrella works, is very simple.
You set a time from the dial and the application will notify you what the current weather condition is.
 You'll hear the audio first. (If you have this option set,) then a very detailed break down of temperature, condition, chance of rain, humidity, cloud cover, visibility, dew point, wind speed and direction. If this isn't enough information for you, I really don't know what else you need.
You'd think with all this data presented that things would look pretty messy, this couldn't be any more further from that. The notifications are stunning!
I've went ahead and set two different times, one when I leave for work in the morning and one for when I finish. (That's the 16:30 shown in the screen shot examples.) This is my daily routine that I'm sure a lot of people have too, maybe not the same time but a typical Monday to Friday working week. I know I can just look out the window before I leave in the morning and being from the UK, you'd expect it to be raining, but, where's the fun in that? Remember The Umbrella is far more cool.
You'll see that an advert is present, this can be removed in the Pro version, which costs 50 pence in my money. Pretty sure that's under a Dollar US. I'd certainly recommend going pro here to show the developer some support for making a stunning looking and very useful application that Remember The Umbrella is.  Okay, we'll link to the free version for our readers to test first. We'd love to hear if you enjoy this application as much as us.
Download Remember The Umbrella below;