Anker PowerConf is a new Bluetooth speakerphone that's ideal for your home office. It offers smart voice enhancement, 360° pickup (using no less than 6 microphones), direct USB-C connection to your computer and a large internal battery for up to 24 hours of wireless talk time.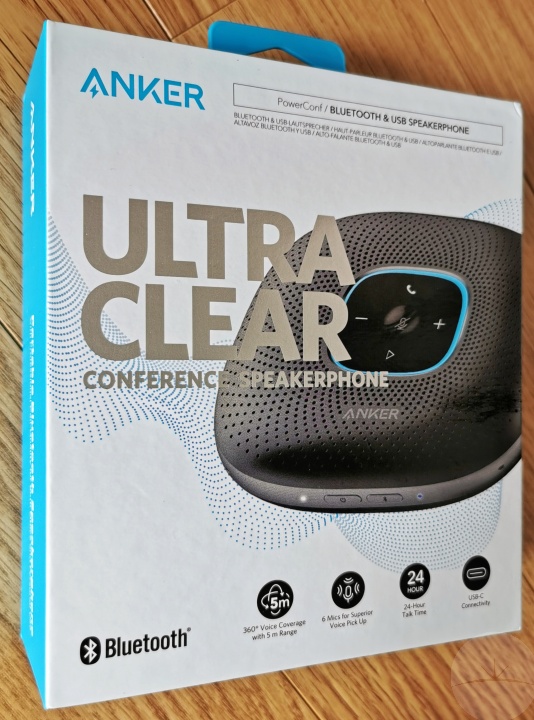 Along with a USB Type C cable and instruction booklet, the PowerConf also comes with it's own zipped carry case (handy for business trips). The device itself is relatively flat with a rounded square shape and a rubber pad at the bottom to stop any sliding around. The largely brushed metal construction gives the speakerphone a sturdy, premium feeling and we were very impressed with the overall build quality.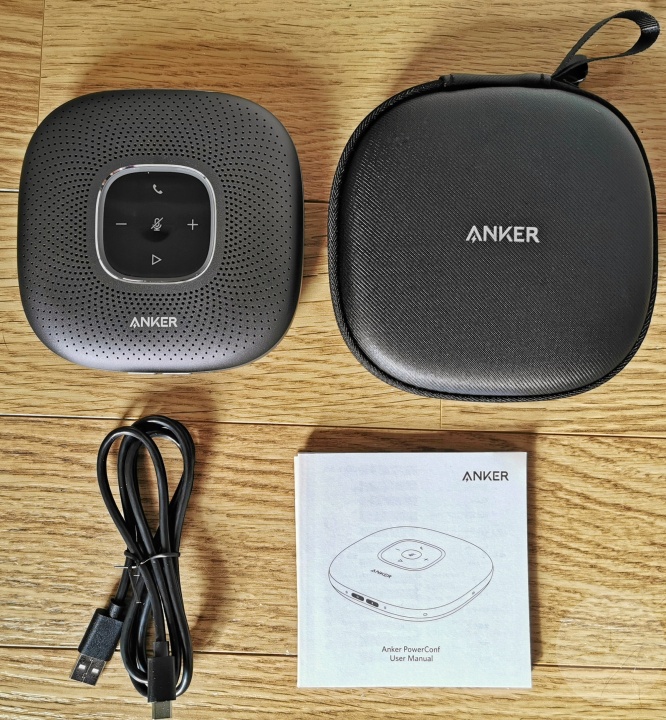 The speaker grill dominates the top of the PowerConf, with a glass panel positioned at the centre. This panel has touch controls for play/pause, answer, mic mute and volume. The edge of this area also lights up to indicate call status. Physical power and Bluetooth pairing buttons are located on the front edge of the speakerphone, while the ports are at the back – USB-C for power/data, 3.5mm audio out and a full sized USB Type-A power bank port allowing you to use the internal 6,700mAh battery to charge your other devices.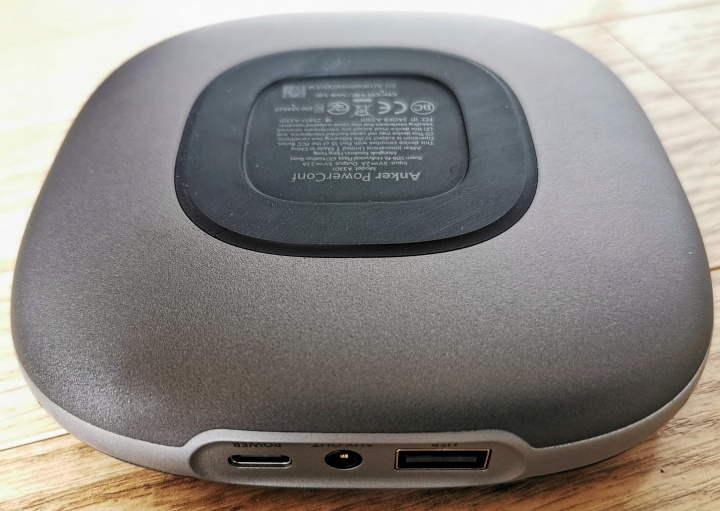 This speakerphone has Bluetooth 5.0 allowing it to be easily paired to your smartphone or laptop. Reception was strong and even at a distance we encountered no dropouts. Even without Bluetooth, PowerConf can be directly connected to your laptop via USB where it acts as the system speaker and microphone (no drivers required).
Dotted around the edge of this speakerphone are its 6 microphones that allow voices to get picked up anywhere in the room (of up to 8 people). PowerConf automatically adjusts the voices to compensate for differences in volume and distance, while smart voice enhancement also reduces echo, reverberation and background noise.
The result is superb voice clarity on both sides of the call. Speech quality is just as clear as you'd get with a high-end business speakerphone and the microphones do a good job of picking up voices from a distance while also filtering out background noise. Don't expect PowerConf to double as a music speaker though – music understandably doesn't sound the best due to the audio having been finely tuned for voice frequencies.
As confirmation that your voice has been picked up, the top panel's LED edging automatically lights up blue towards the same direction that the speech was detected. While you're on mute this changes to a ring of red to help avoid those notorious "oops, I was talking while on mute" mishaps. Sometimes when you're half asleep on business calls and you suddenly hear your name, there can be a scramble to find that mute control on some devices. However here, the convenient location of the controls makes this process quick and easy.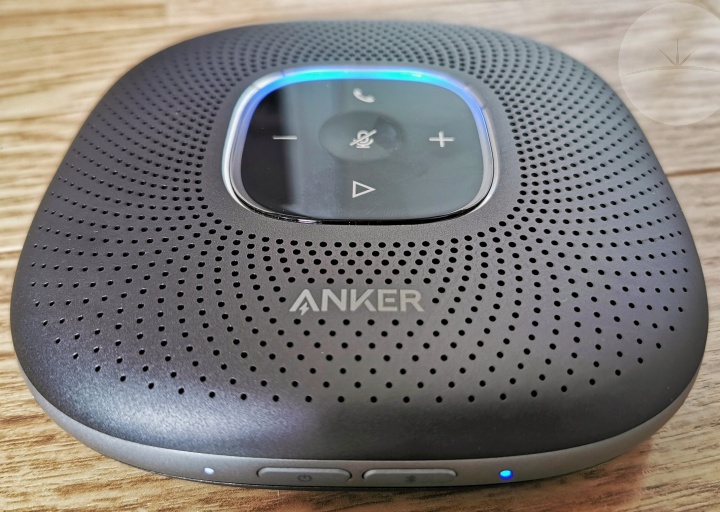 This speakerphone has proven itself during the COVID-19 lockdown. When working from home, it's great not having to constantly wear a headset during long business calls. It has also proven useful when the kids call their grandparents – everyone can hear the conversation and there's no need to pass the phone around.
While casual users may feel the current asking price of £99.99 / $129.99 a little steep, it should represent terrific value to its intended business audience. Overall Anker's PowerConf speakerphone delivers excellent call quality and battery life in a convenient, portable design with premium build materials. Follow the links below to find out more…