For most of us, music is an integral part of our lives. Wireless earbuds are great for hitting the gym, running, riding a desk for an 8 hour work day, or jumping on the bus for a commute across town. We could all use that barrier of our favorite tunes to block out the world around us. With me today, I have a pair of Axloie True Wireless Earbuds. We will take a brief look at how they've worked for me over the past couple of weeks. Hopefully giving our readers a little insight into these budget friendly wireless earbuds, and offering the chance to make an informed buying decision.
Upon opening you'll find the following:
Left/Right True Wireless Earbuds
3000mAh Portable Charging Case
3 pairs of earbud adapters (S/M/L)
Micro USB Charging Cable
User Manual
Carry Bag w/pull string
My Impressions
I've reviewed a couple other budget wireless bluetooth earbuds in the past. They all had a few advantages and a few disadvantages. These however, have impressed me over the previous brands I've reviewed.
These Axloie wireless earbuds connected immediately out of the box. They had about half a charge so I was able to crank them right up to get a first impression. I pull them out of the portable charging cradle and I put each earbud in the appropriate ear. I can hear the notifications announcing: "Power on….Device Connected….Right Channel….Left Channel".  Fully connected!
I jump into Google play on my device, roll the dice, and hit the I'm Feeling Lucky button. The player starts right of with some alternative rock. I was please with the quality of sound. The music came through crisp and clear. The bass was deep, and the highs were crisp. I proceeded to cycle to various genres of music listening for the clarity of sound. The combination of the 3D stereo sound, cVc 8.0 (clear Voice capture), and Bluetooth 5.0 was impressive. The cVc 8.0 cancellation technology did seem to improve on voice quality of the caller, reducing ambient noise on incoming calls.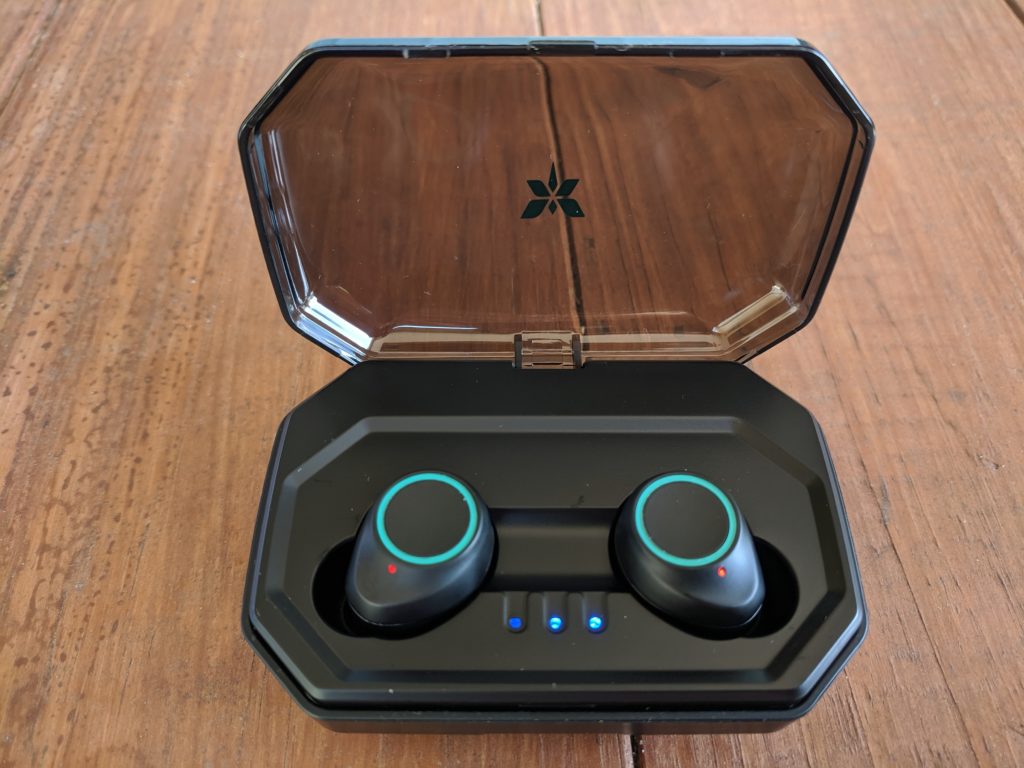 Battery life as I've noticed with all the "true wireless" style bluetooth earbuds is significantly shorter than the wired or connected style bluetooth earbuds. Axloie claims 4 hours of play time. I was able to get very close to that so I'll say their claims are accurate. Although, personally as someone who sits in front of a computer throughout the work day, I could use 8 hours at minimum. Then again, 4 hours is perfect for that afternoon jog, or early morning gym session. And don't hold back during those workout, because these earbuds are rated at IP65. Included with the earbuds as mentioned is a portable charging case. This charging case houses a 3000mAh battery with will get you 130 hours of total music time before you need to charge the case. An added feature which I found nice was an additional USB input on the case so you can use it as a battery back up for your other devices.
Overall, I consider the Axloie True Wireless Earbuds the best ones I've tested and reviewed to date. If you're active and want a small compact go anywhere set of earbuds that will compliment your daily routine, these are a great option. On top of the great features, they also offer a 12 month hassle-free warranty if you start having issues in the long run. At a $45.99 price point, you can not go wrong with these.