Introduction
Today we're going to give the Dudios Tic True Wireless Bluetooth Earbuds a go. Over the past couple weeks during my stint at home I've been using these earbud throughout my workday. Upon opening the packaging we find the following:
1 pair of bluetooth earbuds

Charging Case

USB-to-MicroUSB charging cable

3 sizes of eartips

User Manual

12 month warranty information

Form Factor
The pill box style charging case is compact and would fit nicely in any gadget bag, purse, fanny pack, or pants pocket. It's lightweight and wouldn't be a burden on a daily commute. Opening the charging case, you'll find both left and right earbuds sitting securely in their charging ports. Be sure to place them in their respective ports when not in use or they won't connect properly for a charge. The microUSB charging port is on the back of the charging case.
Although both earbuds are marked left and right, it's still pretty easy to push the wrong one into the wrong ear. After some use you'll soon naturally grab the correct earbud for the correct ear. These truly wireless earbud do actually fit better in my ears than others i've tried in the past. Although, I would have like to see these earbuds implement the internal earhooks, which in my case could secure the earbuds much better. I noticed that removing the Dudios Tic earbuds from the charging case took me a little bet of extra effort. The small void in the case where you would use your finger tip to grasp the earbud was too small, at least in my case. Larger hands may have some trouble scooping them out. I resorted to flipping over the charging case and dropping them into my hands.
Features
With consistent music playing all day, i would get just over 4 hours of use before full battery depletion. Personally I prefer a set that will support a full 8 hour workday charge, but that's my main use case. Workouts, bike rides, game play, 4 house could be just fine. The 380mAh charging case is said to charge up to 4 times before having to be plugged in again for a recharge. During my testing period this was accurate. Instant bluetooth 5.0 pairing couldn't be easier, entering TWS pairing mode and immediately paring without any effort. The Dudios Tic earbuds connect quickly to your devices and delivers crisp audio, with the help of CVC noise reduction so you can block out the noises around you and listen to your favorite music and take calls with quality sound and no interruptions.
Going though the user manual, Dual Mode and Game Mode are a couple other extra featured that can be accomplished with bluetooth 5.0. I was able to try the "Dual Mode" and share the L/R earbuds with 2 different devices. It worked without any problems, and with bluetooth able to uniquely identify the stand alone earbud in the device paring list, it was simple to chose the correct earbud. The left earbud is identified as "Dubios Tic L". The second feature is "Game Mode" where you can triple tap the smart control and expect delivery HiFi sound and low latency for game play.
All budget true wireless earbuds of this form factor seem to have one thing in common, the "smart touch" controls can be a little daunting at first. Just take your time and get the hang of it. These smart touch controls include single, double and triple taps at the center of the earbud for various functions, stemming from volume, pause, and fast forward to answer/hang-up/hold phone calls and even voice assistant.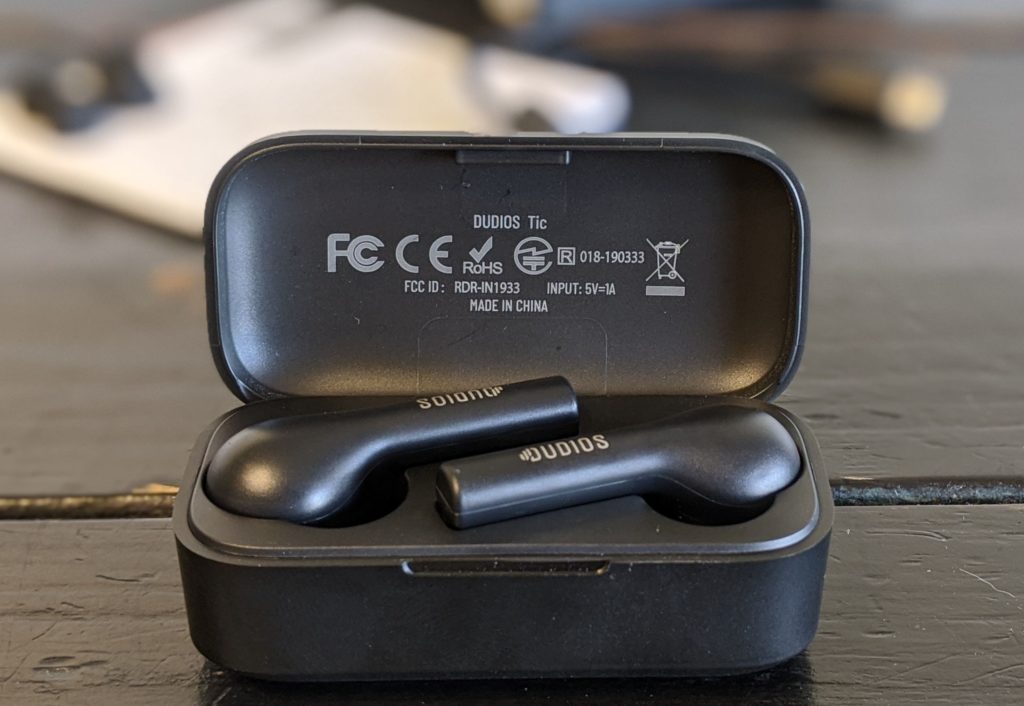 Conclusion
Overall, I was happy with these Dudios Tic True Wireless Bluetooth Earbuds. They are compact, produce a quality sound, and decent battery life. This device does "tic" all the boxes that make up a good pair of budget earbuds from Dudios. If you need some music in your ear, these could be up for your consideration. So check out the Amazon link below……Enjoy!