Home audio company Gear4 have their products available from a few major high street stores here in the UK. I was interested to see how their Soundwave speaker compares since I've found major chains often charging more for under-spec'ed products, assuming bricks-and-mortar shoppers will be less tech-savvy than online bargain hunters.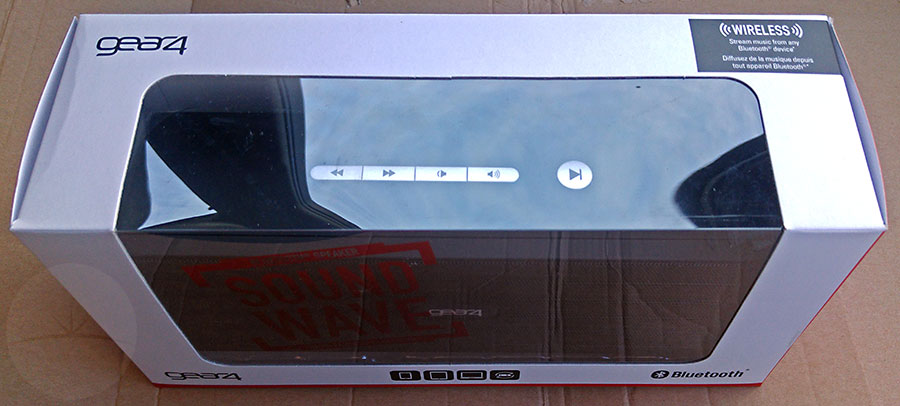 Build Quality & Design
Likely taking their design cues from the likes of Jawbone, the Soundwave is a black soft-touch plastic rectangular box with a Gear4 branded speaker grill along the front pumping out unidirectional stereo sound. Along with a tiny LED that lights up red while charging and flashes blue while in use, it's main controls are on the top with independent play/pause, track skip and volume buttons. Round the back we have an on/off switch, micro USB charging port and 3.5mm audio socket. The bottom has a pair of rubber strips for feet which are very grippy and will prevent the speaker from sliding around.
The speaker grill is aluminium, with the buttons and rest of the shell made out of plastic. Overall this has a nice weight to it and is well made. It's a decent (if understated) looking speaker, but the soft-touch plastic can be a little bit of a fingerprint magnet.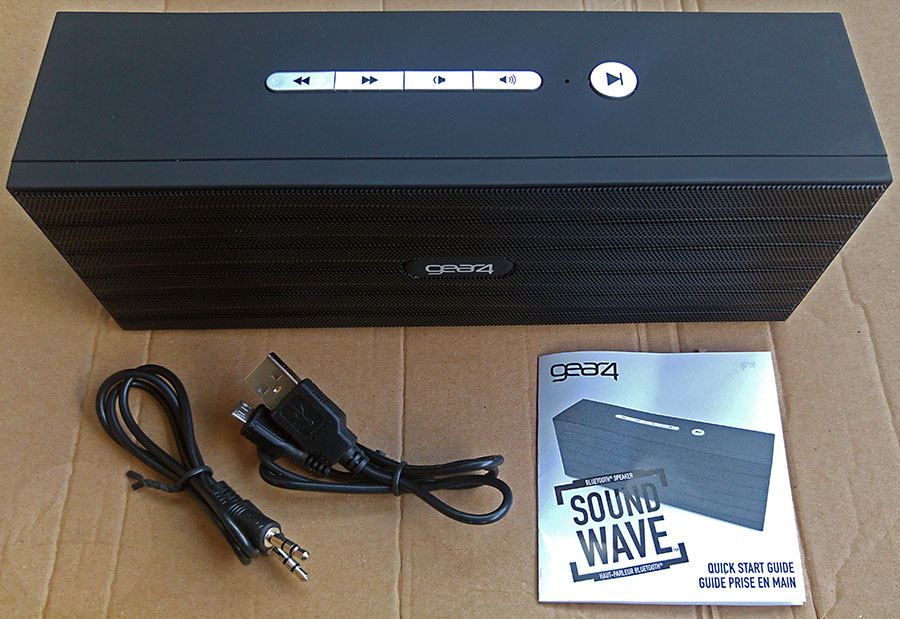 Performance
Audio performance is the most important aspect of any speaker, and here the Soundwave shines for a budget speaker. The stereo speakers have nice clarity, with crisp highs and punchy mids backed up by rich bass enhanced by its passive radiator. It can also be driven pretty loud without distortion, although the bass does deteriorate at extremes.
I did notice the speaker switches to silence any time music isn't playing (presumable to help with battery). This can occasionally be too aggressive and clips the fade-in or fade-out of some tracks.
As a Bluetooth 2.1 speaker with EDR, signal reception was good with music continuing to play without dropouts regardless of where my phone was situated in the house.
The rechargeable lithium-ion battery charges from the supplied micro-USB cable in around an hour, after which it's good for a further 6 hours use.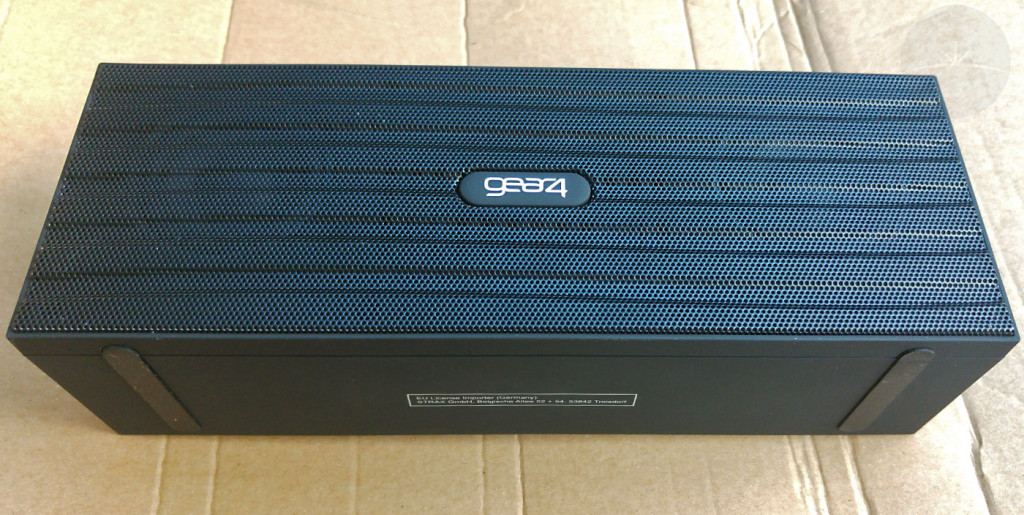 Features
I wouldn't consider the Soundwave to be feature-rich, especially compared to many of it's competitors. It's not rugged, no waterproofing, no microphone for calls and no NFC.  It does have a 3.5mm audio-in socket, and overall I'm glad they put the emphasis into delivering sound quality rather than piling up the list of features.
In Use
Pairing was straightforward, and the clicky buttons made this an easy speaker to operate.
As Bluetooth speakers go, the Soundwave is quite large and angular – not really bag-friendly. The lack of waterproofing also restricts its usefulness for outdoors or as a shower speaker. I'd therefore consider it more of a bedroom speaker as it's well suited to this purpose.

Price
The Soundwave can generally be picked up for under £25 – a definite bargain for a speaker with this sound quality.
Overall
If you're looking for a speaker for inside your home then the audio performance of the Gear4 Soundwave makes it a great option – it definitely delivers a lot of bang per buck.
The GEAR4 website is currently under construction and I couldn't find the Soundwave anywhere on Amazon, but if you follow this Google Shopping link it will take you to a number of online retailers.