Many gamers and typists swear by the responsiveness and durability of mechanical keyboards. For a reasonable price Genesis RX85 RGB aims to enhance your desktop PC experience using a combination of advanced switches, customisable RGB backlighting, programmable macros and an innovative volume knob.

This keyboard has a black and red shell made from a combination of brushed aluminium and ABS plastic materials that make everything seem robust and high quality. A separate wrist rest is included that attaches to the bottom of the keyboard using strong magnets. This rest is covered in a nice rubberised material and the magnets make it quick and easy to attach or remove as desired. The back of the keyboard can be raised using a couple of fold-out rubber feet on the base. Overall the RX85 has a fairly neat footprint compared to many gaming keyboards on the market.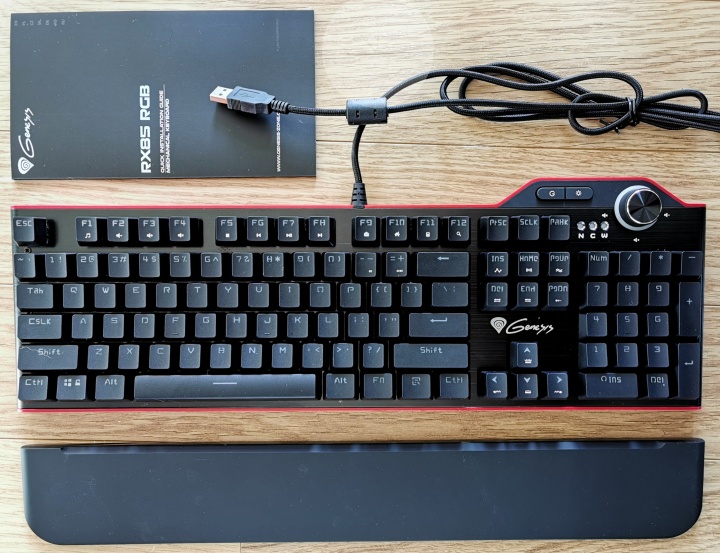 The RX85 RGB connects to your computer using a braided 1.6M cable with a gold plated USB connector. On my PC it was automatically detected and began working right away. It's not hard to see where the RGB name comes from, as the entire keyboard glows up with multicoloured backlighting effects. There are 20 different lighting modes in total – 8 default, 10 dedicated to games and a couple of custom options.
This is a 104 key keyboard with a US layout, so if like me you're outside the USA and want to get all the keys to map correctly then you may need to configure your computer's keyboard layout settings accordingly. UK keyboards have a slightly different layout and include a £ key, so this US style may be an inconvenience to some typists (but shouldn't bother gamers).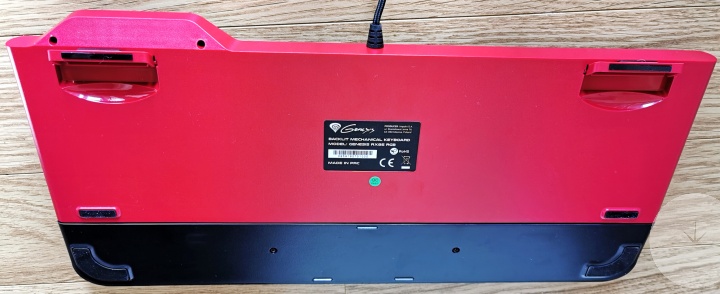 Unlike cheaper membrane keyboards, mechanical keyboards use separate switches underneath each key that require a certain amount of pressure to activate. The RX85 uses Kailh Brown switches – brown referring to the design of the switch rather than the colour. Brown switches are popular in gaming keyboards since they are tactile, durable (good for 50 million presses), don't make a lot of sound and spring back quickly after actuation.
I found this keyboard comfortable to use with nice spacing between the keys. The wrist rest also feels good and offers decent support to the palms of the hands. The keys offer a satisfying tactile response that's perfect for typing or gaming. As you'd expect, typing isn't as quiet as non-mechanical keyboards – you can hear the keys but they're not as noisy as most mechanical keyboards I've tried. All keys are fitted with N-key Rollover anti-ghosting functionality, so all keystrokes get detected regardless of how many are held down. There's also a Windows key lock that prevents the annoyance of accidentally hitting this key during gameplay.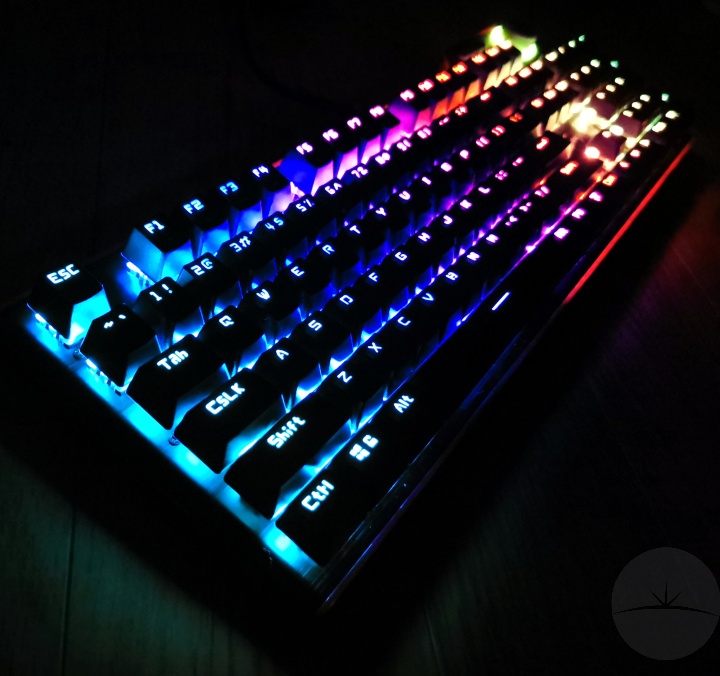 Between the right alt and menu keys is the "Fn" key that replaces one of the Windows keys on most standard keyboards. Using this key in combination with a selection of others allows you to select from 12 different multimedia keys or make adjustments to the lighting effects. There's a nice selection of backlight modes available – personally I'm a fan of the mode where keys only light when pressed and then slowly fade out after a few seconds.
For more advanced lighting configuration you can use the Windows software available for download from the Genesis website. This software also lets you set up 3 different profiles, reconfigure keys and even record macros for instantly delivering tricky key combinations inside your favourite games.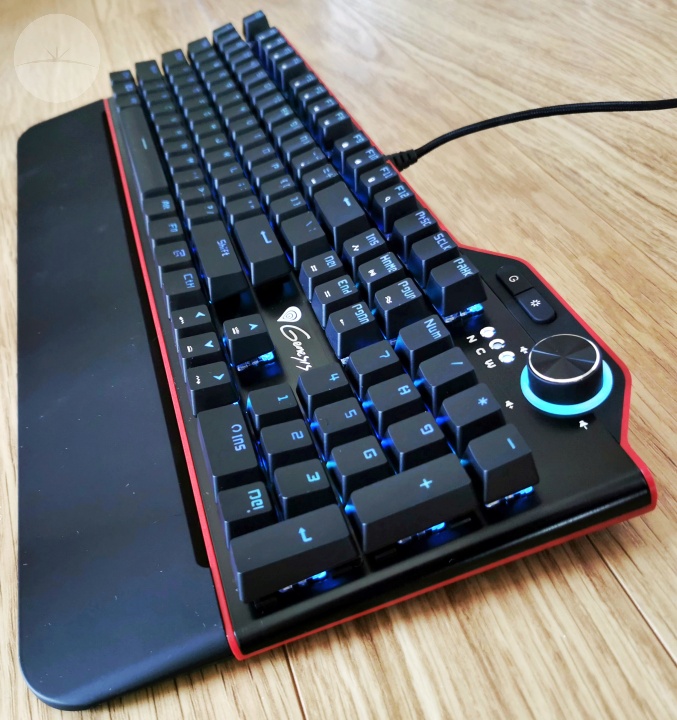 Looking at this keyboard it's hard to miss the volume control knob situated at the upper-right. While not quite a game-changer, this does make adjusting volume a lot more satisfying than using keys. You'll soon find yourself missing this feature when using other keyboards.
The Genesis RX85 RGB currently costs around the €70 mark, which may seem pricey if you're upgrading from a membrane keyboard. However in the world of mechanical keyboards it represents excellent value for money. Not only does it have that innovative volume knob, handy macros and dazzling lighting effects, but it's really well built and delivers a great overall typing experience. I can definitely recommend it.