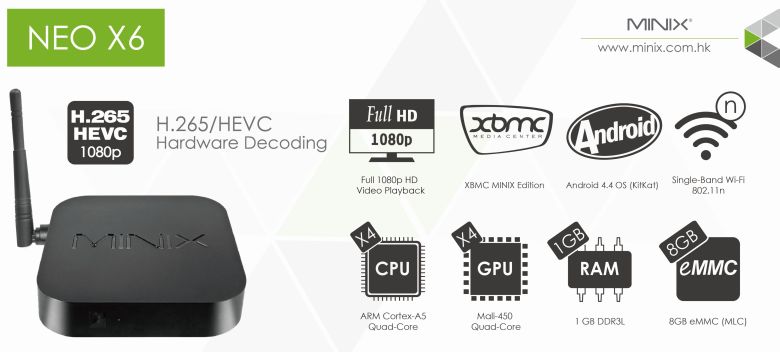 Review: MINIX NEO X6
Getting Android on every device out there is the recent trend, be it your watch, car, toaster or TV screen. Android TV it's self has it's own limitations in some forms, but, also offers a user experience that is at least consistent. We've reviewed a fair few MINIX devices already but this time we'll be taking a look at the lower priced option namely, the MINIX NEO X6. Please keep in mind the price tag whilst you read further, around the £70 mark is where we're looking. We'll have all the links at the bottom.
The entire MINIX range sticks to a familiar design. A flat-ish black rectangle with an antenna sticking out. All can be hidden behind your TV without much fuss, in a discreet way. You'll still want your WIFI to reach it, best not hide the X6 away too much. The device has a solid feel and would take a knock or two, it'll sit on any ledge nicely and won't budge an inch.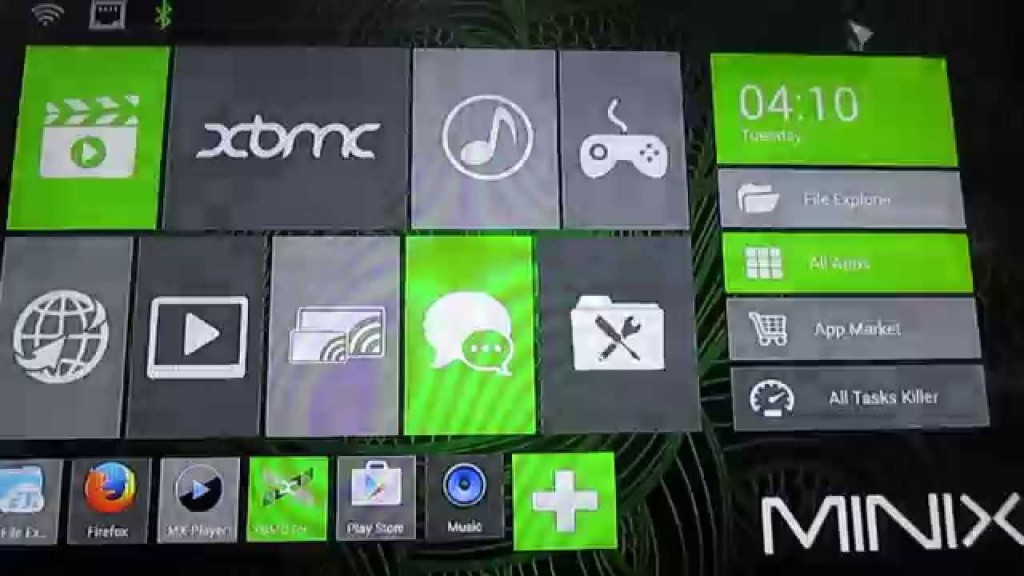 The awful picture above doesn't do much justice but all the large tiles you see are quick settings where you hide your favourite applications behind for easy access. The icons should be familiar to all Android users and even for anyone that's new to the whole "Android thing." You can mix things up a little to suit your needs or add extras across the bottom for even more ease. It's a standard UI across the range, it works, it's familiar.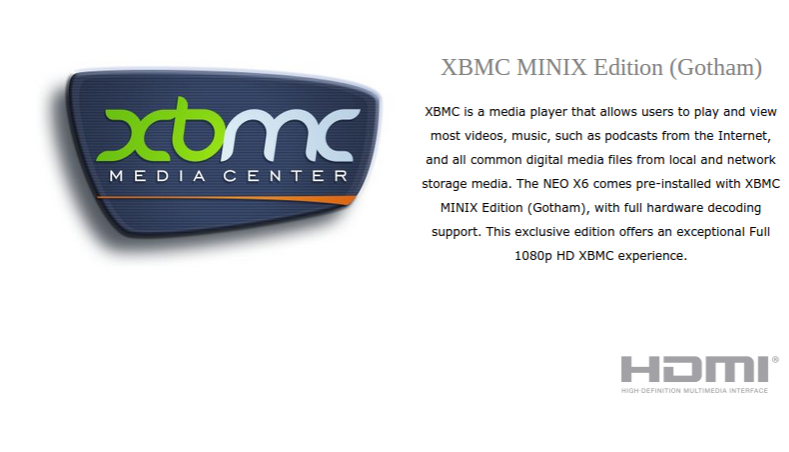 This (for me) is where you get the best of what the MINIX NEO X6 has to offer. Built with MINIX Edition XBMC (Gotham) inside. Now called KODI, this is where the fun starts with content, customisation, features and really the best thing Android TV boxes like this offer. I'll not get into the legal dispute and everything that's getting thrown at the service but if you're looking to get KODI on your big television in the living room on the cheap, this my friends should be your first choice.
See these links for more information:
MINIX Announces Diamond Sponsorship
You'll see from the specs sheet below that the NEO X6 doesn't offer the greatest in the range. High end games and browsing Chrome can be laggy. Having a lot of apps running can slow things down too, the manufacturers included a task killer to kill background processes. I'd thought Android dealt with this it's self many versions ago, I'm not entirely sure if the task killer actually makes things quicker, possibly a placebo effect. Still got the price bracket in mind? It's a £70 Android TV box.
Specs:
Processor
Quad-Core Cortex A5 Processor
GPU
Quad-Core Mali 450 GPU
Memory
1GB DDR3L
Internal Storage
8GB eMMC
Wireless Connectivity
802.11n Wi-Fi, Bluetooth 4.0
OS
Android™ KitKat 4.4.2
Video Output
HDMI™ 1.4b
Audio Output
HDMI™ 1.4b, 3.5mm stereo jack
Peripheral Interface
RJ-45 Ethernet jack (10/100Mbps)
Micro SD card reader, support HDMI-CEC
USB 2.0 port x 2
IR receiver (remote included)
Power
DC 5V, 2A adapter included (CE, FCC certified)
Supported Video Format
DAT/MPEG/MPE/MPG/TS/TP/VOB/ISO/AVI/MP4/MOV/3GP/FLV
MKV/M2TS/MTS/M4V/ASF
Supported Audio Format
MP2/MP3/WAV/OGG/OGA/FLAC/ALAC/M4A
The MINIX NEO X6 has been my gateway to KODI and all the things that the application and services offer. I knew before the device arrived that I wasn't going to play the latest high-end games or even use the box for anything else. The NEO X6 performs exactly like I thought it would, my WIFI connects quickly and I'm doing what I wanted the box to do a few nights a week. The product won't empty your bank balance but if you want a bit more power try the better specd models, if price is the key factor on your journey into TV boxes like this, I'd happily recommend the MINIX NEO X6 to potential customers in this bracket.